Stevens Model 15 | Weapon Trivia Wednesday
The Stevens Model 15, more properly the Stevens-Springfield Model 15,
Stevens Model 15| Weapon Trivia History
Mike the Mook
The Stevens Model 15, actually to be completely accurate the Stevens-Springfield Model 15, was released in 1938. First published in the Spring 1938 Sears & Roebuck Catalog, it was originally priced at at $3.19.
Stevens Model 15 | Single Shot Boys Rifle
The Model 15 was intended for the boy's rifle market, and was favored for use by the Boy Scouts of America. Most of the Stevens Model 15s had a 22 in. barrel and an overall length of 37 in. They usually tipped the scales at 3.75 lbs. Technically a bolt-action, it was a simple single-shot design, one that locked by turning the bolt handle downward. Its short design allowed the bolt handle to lie directly above the trigger. This Stevens-Springfield Model 15 rifle had 24 parts in total. For a boy's rifle that meant very few to break or lose.
Actually, in that regard, it's almost a perfect Marine's rifle!
The stock was made of birch, stained to a dark walnut color, and the metal was basic blue with some versions featuring butt plates.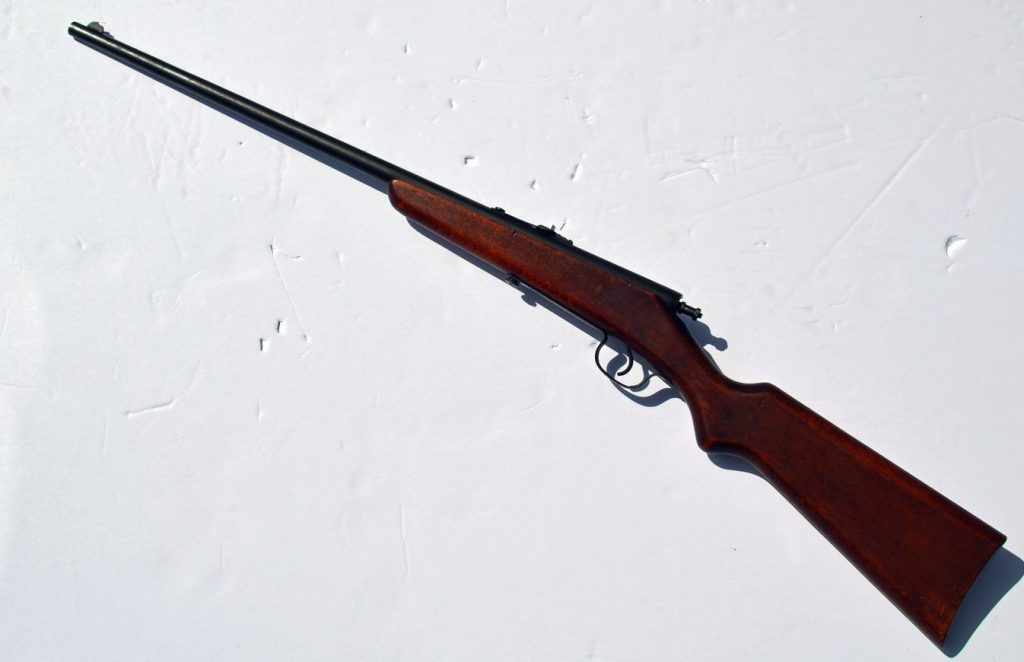 The shooter loaded a single round of .22 Short, .22 Long or .22 Long Rifle into the chamber and closed the bolt to shoot. With the bolt closed, a cocking knob on the rear of the bolt pulled back. Four and a half pounds of pressure on the trigger let the striker lose and the round went down range.
Wow, plenty fun!
Declining Interest in the Model 15
Many of these rifles were built over a long period, but they fell out of favor as new-fangled models came to market. Repeaters by other companies for a few dollars more in the post-WW II economy killed sales and desire for these little rifles. As basic as these rifles are ,and as many of them were made, there simply isn't much collector interest in them. We paid $20 for ours and the shipping cost more than that.
Still, they represent the first step many boys made on their journey to become shooters, hunters, or soldiers.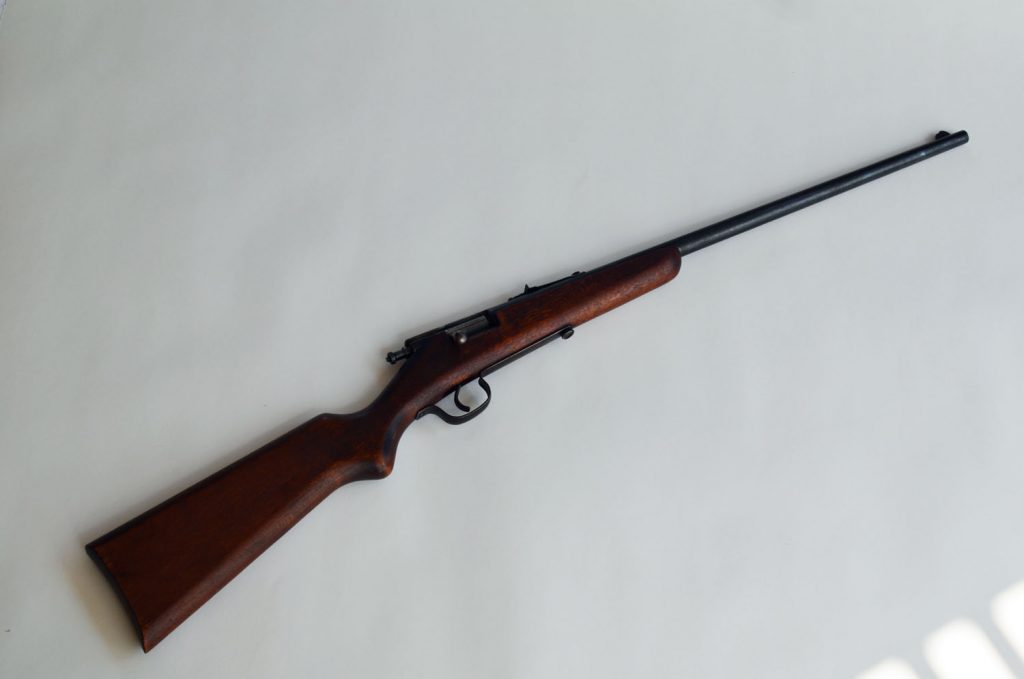 Actually, there is a lot of potential in these old rifles. They are surprisingly accurate and, despite being marketed as a boy's rifle, most adults have no problem shooting them.
Removing the stock screw on the Stevens Model 15 allows the rifle to be broken down into a small and compact package. This makes it ideal for the hiker or backpacker who wants to tote a small, single-shot .22 on the trail. Although it was probably made that way for cheap and easy manufacturing, it does show how a rifle most people would walk by 100 times at the gun shop could still find gainful employment!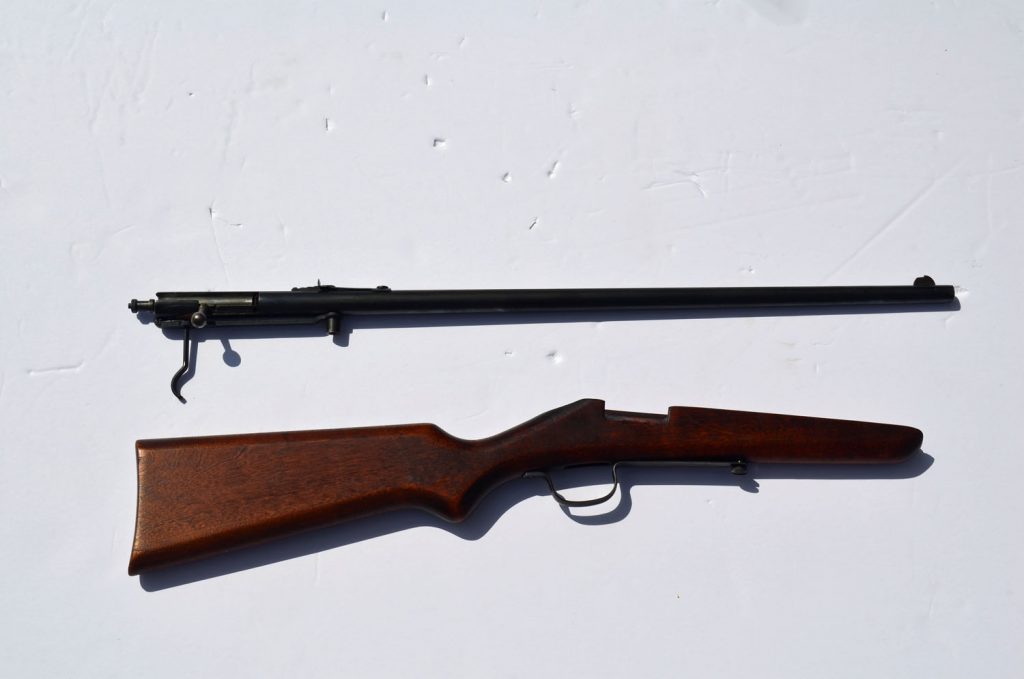 The quality of what was marketed as a discount rifle is surprisingly decent. The fact that the Stevens Model 15, though now an octogenarian, is still capable of accurately putting lead downrange is a testament to old-school firearms manufacturing.
SIG SAUER is a member of Joint Task Force Awesome. Find 'em on Instagram, @sigsauerinc, and on Facebook, /SIGSAUERinc/.
---
---
If you wish to share or repost, please so kind as to follow our terms and conditions.
Mad Duo, Breach-Bang& CLEAR!
Comms Plan
Primary: Subscribe to the Breach-Bang-Clear newsletter here; you can also support us on Patreon and find us on Pinterest.
Alternate: Join us on Facebook here or check us out on Instagram here.
Contingency: Exercise your inner perv with us on Tumblr here, follow us on Twitter here or connect on Google + here.
Emergency: Activate firefly, deploy green (or brown) star cluster, get your wank sock out of your ruck and stand by 'til we come get you.
T&C: All original material published by Breach-Bang-Clear is the copywritten property of Breach-Bang-Clear, Inc. If you wish to repost, republish, or otherwise share our content, feel free to reproduce an extract of up to 225 words and one complete, unaltered image, preceded by attribution crediting the source and author's name, to include a link to the Breach-Bang-Clear home page, with a link back to the full article on our website, BreachBangClear.com. You do not require our permission to do this. Please do not reproduce our content in its entirety without contacting us first. We do allow full syndication on a case by case basis (credited, and posted with a canonical link, as is common practice and in good form) but only when mutually agreed upon beforehand. If you wish to reproduce a complete article, please contact us for permission to publish first.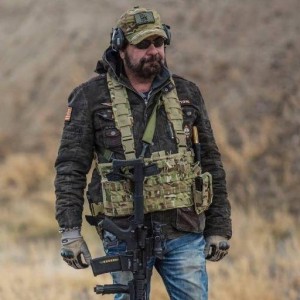 About the Author: Mike "the Mook" Searson is a veteran writer who began his career in firearms at the Camp Pendleton School for Destructive Boys at age 17. He has worked in the firearms industry his entire life, writing about guns and knives for numerous publications and consulting with the film industry on weapons while at the same time working as gunsmith and ballistician. Though seemingly a surly curmudgeon shy a few chromosomes at first meeting, Searson is actually far less of a dick and at least a little smarter than most of the Mad Duo's minions. He is rightfully considered to be not just good company, but actually fit for polite company as well (though he has never forgotten his roots as a rifleman trained to kill people and break things, and if you look closely you'll see his knuckles are still quite scabbed over from dragging the ground). You can learn more about him on his website or follow him on Twitter, @MikeSearson.