Some truth about the militarization of police
BLUF – we think a helluva lot of what the 'militarization of the police' doomsayers and critics is just errant fuckery. This does not mean the DoD's 1033 program is organized or administered properly (or even well) and it certainly doesn't mean there aren't some things that could stand a hard eye. For instance, should departments be transparent (barring cases of officer survival, undercover, etc.)? Of course. Much of what is currently seen as police militarization, however, is based on misunderstanding, misperception and a lot of misrepresentation by the press. But if you're one of those who think that LEOs wearing cammies and riding in an armored vehicle is a new thing, or that it heralds the impending subjugation of Free America by jackbooted police thugs, well…how about you take the aluminum foil off your head, come back to the real world and we'll have us an intelligent and amicable palaver.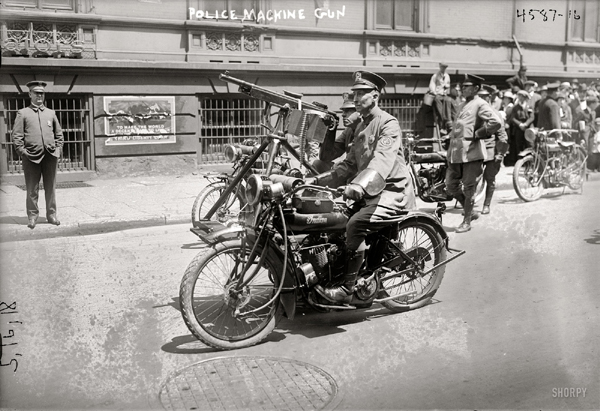 Maybe if we focus on real LE issues that genuinely need attention we can quit wasting energy and fickle public/political attention on those that don't.
Grunts: palaver
We're gonna start this discussion with excerpting some material from our friend Ross Elder's blog. The author brings up a great point about the recent resurgence in the such discussions, to wit:
I do not find it a coincidence that this is occurring at the same time as unprecedented "displeasure" with the federal government. As I have taught officers from all over the globe, as a police officer you are generally the number one most visible and accessible representative of government. This is true of a brand new patrolman walking a beat in Mayberry NC. To some, he is the embodiment of Washington DC, despite the fact he has nothing to do with it and does not take orders from Washington.
He addresses the whole MRAP issue as well, because, you know, possession of an MRAP gives your average police department firepower roughly equivalent to an armored battalion.
An MRAP is a big bullet-proof box on wheels. It has no gun mounted on it, therefore it is not a "tank". It allows officers to approach danger safely and to evacuate people safely. If you have never been shot at, you may not get it, but most of you will. This is usually the point where (and I have had this asked of me) I must state that it does not exist to transport you to some fictional FEMA camp. Seriously, do you really think that some tyrannical government is going to entrust me to enslave my fellow citizens, the ones I swore to protect and serve? Stop reading InfoWars…..now! I was involved in the acquisition of an MRAP for my old agency and, before that, an M113 Armored Personnel Carrier. The reason? We found that we could not reach the most distant school in our jurisdiction fast enough if an active shooting occurred with a '113, therefore we got an MRAP. Nothing to do with the United Nations, Martians, or FEMA.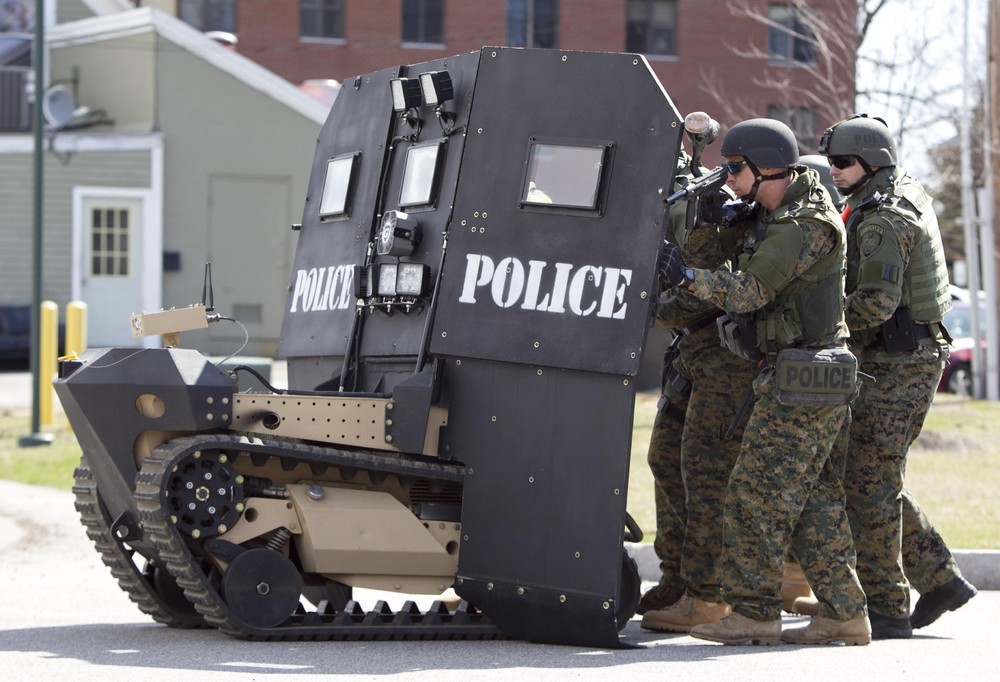 We won't even try to justify the vast number of LE units that have, as some reporters have described it, so many 'attack helicopters'. You may have seen this report already and may thus already be aware the average Sheriff's Office can call more CAS support than the 75th Ranger Regiment. Shocking, that, and unforgivable.
(Note: in case you missed it, that was sarcasm.)
Now, our minions have various opinions on the matter writ large, but one thing pretty much all of us are agreed on is this – while there are problems with modern policing, and an occasional tendency to want to be "too operator" in some departments and in some officers, the idea that the cops are out to get you, or that they're "over equipped" is ludicrous. Fact is, most of us think 'lack of training' is a far more egregious problem with many LEOs than is the possession of militarized equipment (and that's coming from some of the LEOs among our staff). We're interested in hearing your opinion, agree or disagree, as long as we can maintain an academic discussion. If you're going to just start bashing LEOs, or if you cannot differentiate between an old Peacekeeper, a Bearcat, an M113, an MRAP and a Stridsvagn 103C, then don't bother chipping your teeth.
Start first with reading this article on The Elder Statesman. We'll run some more articles on this topic in the days to come.