Epic Gear Giveaway #2: HSGI Kit and North Carolina Hoodoo
ALCON; We're doing our next contest. The prizes this time? It's all from High Speed Gear Inc: an HSGI Costa Leg Rig and a brand new, never-before-seen HSGI one-day pack, both of Urban Grey. Yeah, we know. We're awesome. The single dancing moms tell us all the time. What are the specifics of the prizes you ask?
Well, the Costa Leg Rig is a unique, lightweight set-up that was designed for a simple day on the range, competition or certain unique mission sets. Built on a padded drop leg panel with a Pistol Taco between 2 x Double Decker Tacos, its construction runs have repeatedly sold out. Combat proven in multiple AOs, HSGI Taco pouches are built of 1000D Cordura, shock cord and backwoods North Carolina hoodoo. They'll hold damn near any magazine you care to put in them.
The pack is so new it doesn't even have a name yet. This is a unique opportunity to win some awesome kit—this is the first of its kind. Built to HSGI's exacting standards, it will be available slick or equipped with PALS loops (this one is MOLLE compatible, obviously). Perfect for low profile operations, this pack is much more than a scaled down Moose Pack. We predict it will sell like crack on the first of the month.
If you know the HMFIC behind HSGI Gear, you know there's a lot of chewing tobacco in and around that shop – we washed all traces of it from the gear prior to shipping with the tears of a thousand weeping hippies.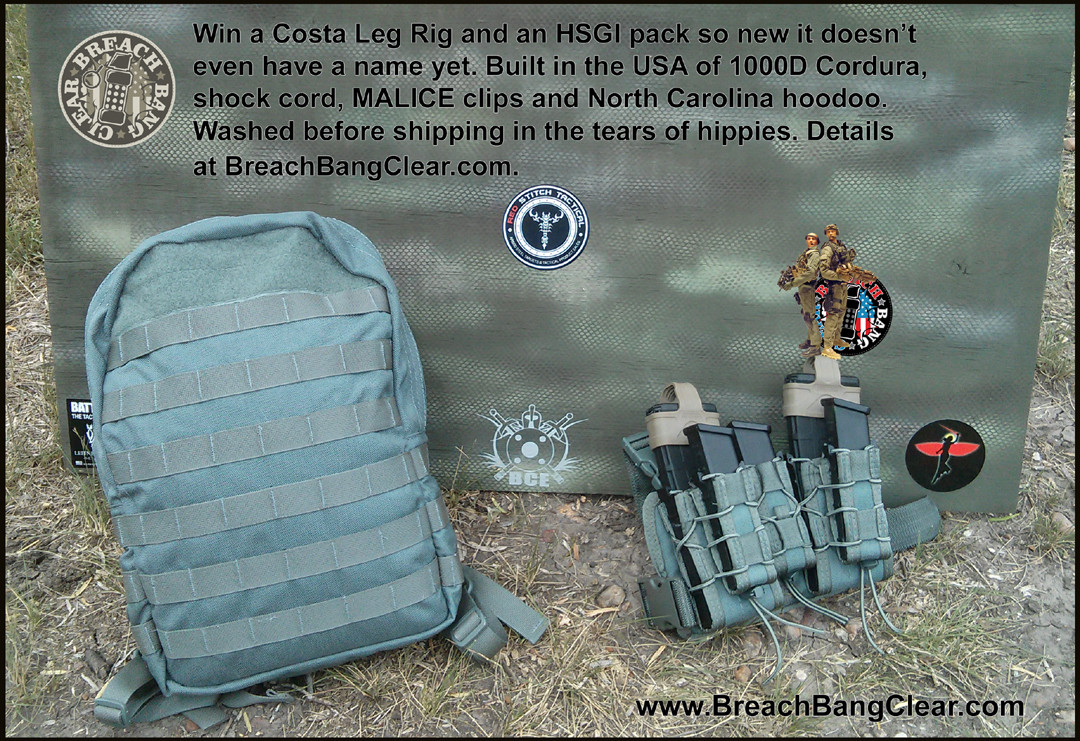 To win, contestants will be required to leave a comment HERE on THIS page and – AND you must like and share the contest image on our Facebook page (www.facebook.com/breachbangclear). Got it? Comment here…tell us what unit you're from, what your favorite beer is, the name of your favorite single dancing mom, maybe just how wonderful you think we are…but you MUST comment on THIS post, and like/share the Facebook contest post, to win.
(Note: cue the butthurt from the asshats who fail to read the instructions – for those of you paying attention, thank you.)
Fore more information on the Costa Leg Rig: http://highspeedgearinc.com/proddetail.php?prod=CostaLegPanel
For more on HSGI Packs: http://highspeedgearinc.com/products.php?cat=16
For more on the Tacos: http://highspeedgearinc.com/products.php?cat=34
The winner will be announced next Tuesday. You have until 0001 hours EST to comply. Seven days. Help us out and spread the word.
About the Mad Duo: Some writers prefer to write under a nom de plume, or are required to do so because of their current billet. The Mad Duo is the result of such a need; they are the illegitimate miscegenation (grunts: miscegenation) of several prior and current military personnel, knuckle-draggers and POGs alike, who write engaging op-ed, informative gear reviews and even TTP commentary. Acting in many ways like tactical Flat Stanley (remember him?) and traveling all over the world to hang out with guys from Coalition units at home and deployed (true story), they are irreverent, profane and decidedly satirical – but they do have some accomplished 1:1 scale warriors working for them. f you don't like them there's a pretty good chance you're crybaby or a sissy or both. The Mad Duo love America the way fat chicks love chocolate and they know tactics and gear are important topics—they just prefer to have a sense of humor about it. If you think it's stoopid or you don't get it, just quit reading the damn page, fuckwit. For those of you solid citizens and doorkickers following us around the world – thank you. We had no idea this thing would get so big. Unbelievable.