Some early day contractors – Executive Outcomes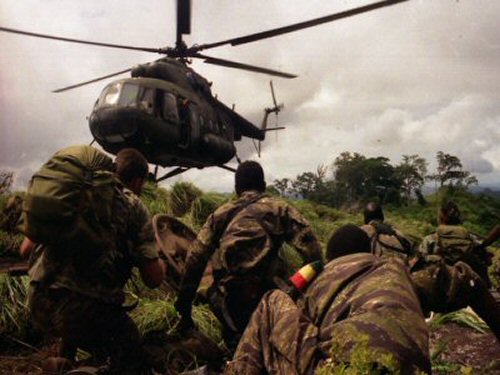 About 2 decades ago a PMC called Executive Outcomes did in a few days with a relative handful of troops what the United Nations was unable to do for years. This is an interesting documentary about EO.
Note – we're not part of the anti-PMSC crowd (whoa, surprise eh?), so spare us any moral outrage if you're inclined to share it. Frankly we're pretty "peacekeeping operations" outsourced to PMCs would be about 1 to 1.5 gozillion times more effective than most UN efforts. Sure, they make great villains for insipid script-writers (and gosh, South African contractors – that's double evil!), but ground truth is somewhat different than what the media would like to portray. This doesn't mean there aren't jackasses and villains in PMCs out there of course (there certainly are), but by and large most of the contractors we know are pretty damned squared away.
That video is here. Be forewarned it's nearly an hour long.
(Cue the tired old argument about the definition of the word mercenary.)
Mad Duo, Breach-Bang & CLEAR!