SilencerCo barrels – they're new, and go great with their new ammo

SilencerCo continues to bring new products to market, thus supporting your muffled shooting preferences.
They recently added a new line of threaded pistol barrels, most notably for the popular Glock 19. Currently offered for the most commonly suppressed Glocks (including the 19, 17, and 21), these barrels are Black Nitrate finished and build from rugged 416R stainless steel for superior accuracy.  The company also plans on releasing more threaded barrels for the Glock 17L, G34 and other platforms such as the Sig 226 and Smith & Wesson M&P handguns. They even plan on releasing Springfield XD barrels for all you Croatian tupperware lovers! With quality threaded barrels often back-ordered or tough to find, we welcome this offering as a means of setting your favorite blaster up quick ad easy for suppressed use. Offered in common thread pitches, the barrels will fit their line up of cans as well as many others on the market. You can check out the selection here on their website.
With the availability of 300 blackout cartridge being spotty at best, SilencerCo also recently released their own breed of ammo. Designed to have optimal performance out of suppressed rifles, their cartridge is topped with a 220 grain Sierra Matchking OTM projectile and is loaded to subsonic velocity. Dubbed the "Harvester", the ammo is intended to be used as a hunting cartridge that maintains a hard hitting round without compromising decibels in exchange. Many hand loaders already load a 220 grain to the 1,000 FPS mark, and its arguably the most poplar choice for suppressed SBRs and AR pistols. Josh Waldron, CEO of Silencerco and avid outdoorsman himself, had this to say about the new ammo:
"At SilencerCo, we are customers first — hunters and shooters. We were underwhelmed by the quality of subsonic ammo on the market. Customers shouldn't have to accept a tradeoff between accuracy and sound reduction, so we designed the Harvester ammo line to provide sub-MOA accuracy in the quietest subsonic 300 BLK ammunition on the market."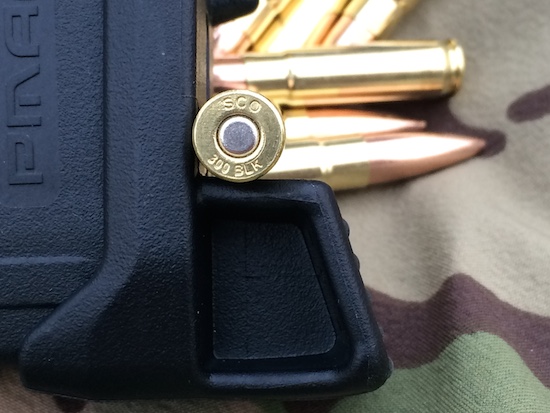 That's a mighty big boast, and we intend on testing this new ammo out in the near future to see if it measures up as advertised. We've shot a lot of so-called "high performance" ammunition in the past that fell short of such a title. We're inclined to trust that SilencerCo has done extensive R&D on this (as this has been our experience with all their products). Though they've historically made some claims that attracted the attention of skeptics, we've have yet to see one proven wrong or spurious.
Grunts: spurious.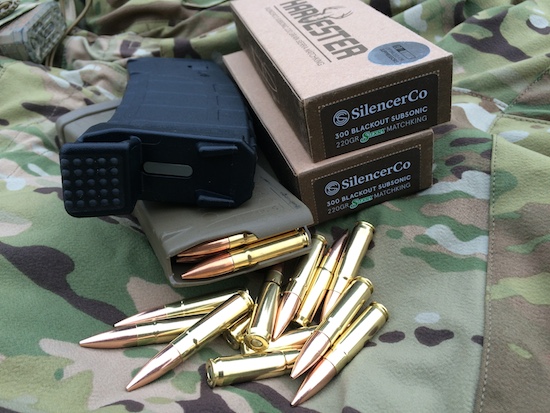 As with all things, the proof is on the range.We will be testing the Harvester ammo soon through several suppressed SBRs, so expect a full report with what we find. 
Mad Duo, Breach-Bang & CLEAR!