This is the SIG P320 reviewed — from several places…but gathered together here, with a partial history, some useless trivia, and a few sadly anemic attempts at smartassery.
Here's the latest: a video from PewPewTactical.com.
This article was originally published January 27, 2019; it'll be republished periodically as we add more to it.
This will necessarily cause some numbers to be out of sequence.
Many people stumble down a rabbit hole when they're researching something. I don't so much stumble as I do pitch headfirst and headlong, and when I go, it's down something more like Krubera Cave or Khazad-dûm than it is a rabbit hole. So it was that a recent Facebook comment about the S&W M15 Combat Masterpiece led to a desultory search on the P320-turned-M17, then the Modular Handgun System, and then…
Well, what follows are the results of my tumble down the deep well. Scroll down for assorted disclaimers, credits, clarifications, and additional references.💬1
SIG P320 Reviews (and a Timeline)
          2014 and the P320
          2015 and the P320
          2016 and the P320
          2017 and the P320
          2018 and the P320
          2019 and the P320
Here's the most recent review we've seen:
SIG SAUER P320
The SIG (Schweizerische Industrie Gesellschaft, or Swiss Industrial Society in German)-Sauer P320 made its official debut in 2014💬2 at the NSSF SHOT Show.⚠️ It was initially available in two sizes, "Carry" and "Full-Size."
The new pistol was the first new SIG design since 2008's P250 and its first striker-fired pistol ever. Not unexpectedly, it garnered a lot of attention during the show. Far more than did the .380 ACP SIG P238 or many other SIGs for that matter. That new handgun was first in a whole series of P320 pistols and was eventually chosen to be the M17, the military's new standard issue sidearm.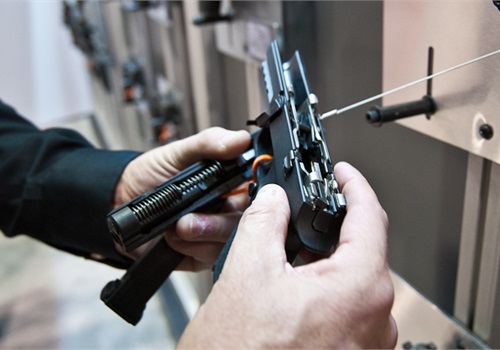 ⚠️It actually appeared before SHOT when a video was published prematurely, a couple of weeks before the NSSF show; not unexpectedly, Soldier Systems Daily caught it and relayed what they knew.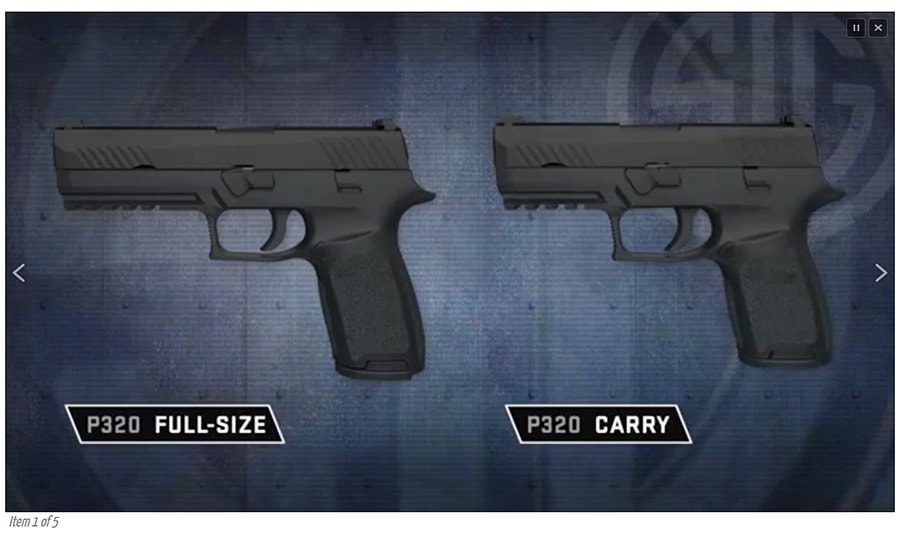 💥 Numerous SIG Sauer products are available at Brownells, including the SIG P320 itself and numerous accessories. 💥
A smaller version followed that debut the following year during SHOT 2015, and included a version chambered in .45 as well as a couple of new colors💬3). 2016 saw a SIG P320 designed to accommodate red dot optics, 2017 gave us the P320 X5, P320 VTAC, and a safety recall, and 2018 heralded the arrival of the civilian version of the M17. The most recent version, at least as of this writing, is the P320 XCompact, which was described by the manufacturer as having a "…completely redesigned grip module with an improved beavertail and fastback profile, contoured magwell, and a deep trigger guard un
While there are differences among all the different versions, some are more obvious than others  (for instance the different grip profiles between a standard P320 and the X version of it). They're all functionally similar, however.
Modular "Striker-Fired P250": The Public's Response
Initial SIG P320 Reviews
Response to the new pistol was predictably mixed, with most detractors focusing on high bore axis of what they often referred to as the "striker-fired P250" (which wasn't exactly a new description of SIG-Sauer pistols.
The most highly anticipated feature of the new pistol seemed to be its modularity. Lucky Gunner💬4 describes it thusly:
"The modular grip, along with several optional safety features should make the P320 very attractive to the law enforcement market that Sig is targeting with this release. There are a lot of agencies out there still using classic Sigs, but their popularity has waned significantly. The heavy DA/SA pistols are still good performers at the range and in real-life scenarios, but most departments are seeing the advantages of lighter weight, consistent trigger pull, and adjustable grip sizes, especially as they relate to training and to equipping personnel with varying needs. Those departments who like their Sigs but want 21st-century features will now have an option.

The modularity potential is very interesting, but we've seen this before from Sig with the P250, and it didn't quite pan out as everyone had hoped. Whether this was because Sig was slow to roll out the promised options or because of the P250's functionality problems at its initial launch, many consumers will be skeptical of Sig's claims regarding the P320. Fortunately, the P320 is a completely different design from the P250, which should help to calm the fears of those who had bad experiences with the P250."
Longtime firearm-write Wiley Clapp (who reminds me of a former gyrene version of my maternal grandfather) referred to the P320 in a 2015 article on the American Rifleman as "…tomorrow's SIGs for today," accurately describing their SIGness by writing💬5 about its…
"…blocky slide sitting well above the receiver, gracefully shaped butt section, simplified controls. Unquestionably, a strong family resemblance."
John Farnam didn't seem too impressed with the P320. He wrote, perhaps somewhat presciently,
"The copy of the 320 I saw at the SHOT Show last week did not have a passive, trigger-tab safety, nor did it have a manual safety. I was told an optional (and superfluous) manual safety lever will be offered, at some point, as an alternative. This will be a mistake, as it will hopelessly confuse consumers, much as it has among M&P owners.

Like Ruger before them, I suspect SIG will belatedly discover that not having a trigger-tab passive safety on this new pistol, similar to Glock's (or a jointed trigger, similar to S&W's) from the beginning, was also a mistake. Absolute, mechanical drop-safety on serious pistols has become an institutional requirement, and a universal consumer expectation. Modern consumers demand a pistol that can be routinely carried, even in tempestuous environments, with a round chambered and ready to fire, with never a worry about trauma-engendered ADs (Accidental Discharges)." (Follow-up to response from SIG here.💬6)
SIG P320: A new quick overview…3 years later
Though this video did not come out until late 2017, it provides an excellent overview of the P320 we know now. Its late appearance is likely due to a number of contributing factors, including the recall (q.v.), subsequent redesign, and the Modular Handgun System competition.
SIG P320 Reviews and a Timeline
This is a work in progress. If I've missed something or got something wrong, let me know in the comments and I'll correct. DR
2014 — SIG-Sauer P320's inaugural year
We've discussed how the SIG P320 was revealed. This description is from the original introduction on the website:
"Featuring a modular grip frame and removable fire control assembly pioneered by SIG SAUER, the P320 is customizable to any hand size or duty requirement. The P320 can quickly be converted from a Full-size to a Carry pistol. Slide and barrel conversions allow the P320 to change between calibers and barrel lengths as well. The P320 will be immediately available in 9mm, .40 S&W and .357SIG, with .45ACP coming later in 2014.

With a partially pretensioned striker, the P320 has a short, crisp trigger pull with a quick, pronounced reset right out-of-the-box. The P320 comes in two trigger variants: a standard trigger and a tabbed safety trigger for specific law enforcement clients. Featuring the SIG SAUER internal safety system, the P320 has no external safety or decocking lever to snag or hang up on the draw. A frame-mounted thumb safety version will be available for law enforcement needs. SIGLITE® night sights come standard, and the reversible magazine release makes the P320 completely ambidextrous."
Nick Leghorn of The Truth About Guns liked the pistol, though with just a couple of issues (one with the trigger, the other with the height of the gun). He wrote💬7,
"…for competitors, the biggest benefit might be the ability to take your trigger group of choice, the one you've polished and tweaked and perfected to get it just the way you like it, and swap it between guns without any issues. Another benefit of the 320's easily-removed metallic bits is that you can clean the gun remarkably easily. No muss, no fuss, no trying to shove Q-tips into hard-to-reach nooks and crannies.

So, the gun is a technological step forward. But the real question is how well it works on the range, and for me it's something of a mixed bag."
Around that same time, Mas Ayoob wrote💬8,
Superstar engineer Ethan Lessard led the project of what would become the P320 pistol. The early versions were done on the P250 format, with the first two prototypes being a "straight drop in" for the P250 production line. A button takedown was designed: Lessard told me, "SIG protocol is for the user to HAVE to remove the magazine and HAVE to lock the slide to the rear to begin disassembly."
He went on to opine,
"The result is a good-feeling pistol with its own distinctive look, lively in the hand, with the relatively low bore axis which the striker-fired concept promotes. This results in less muzzle rise and therefore less time between accurate shots."
Later that year, SIG Sauer showed off their Modular Handgun System candidate at the 2014 AUSA (Association of the US Army) Annual Meeting & Exposition💬9. There they advised Soldier Systems Daily💬10 of a few differences between the military hopeful and its commercial progenitor, including such changes as:
• Tan Color
• Ambi Thumb Safety
• Lower Profile Ambi Slide Release
• Loaded Chamber Indicator
• Trigger Boot
• Firing Pin Assembly
SIG Sauer P320 Compact, SIG P320 Subcompact, and a .45 Option | 2015 
2015 gave us smaller SIG P320s. In the latter months of the year, it also delivered a review by Tamara Keel, who'd pushed gozillions of rounds through a SIG P320 (legitimately, with a logbook) over the course of several months. By August she'd had 1800 rounds through it total, with one failure to feed and three suspect primers (as you can read that here).
Dennis Adler reviewed the P320 on Personal Defense World, saying,
"Sig Sauer offers only one trigger pull weight commercially that ranges from 5.5 to 6.5 pounds. Pull on the test gun, as averaged on a Lyman trigger pull gauge, was 6.4 pounds, which, with the gun's short trigger pull (0.625 inches), zero overtravel and quick reset, was a nominal deviation. This is a very easy gun to handle and shoot with consistency."
2015 also saw an RFP (Request For Proposals) to firearm manufacturers for a new duty pistol. Though Glock ultimately won that selection process, there were some who thought the FBI's RFP was "tailor-made" for the SIG-Sauer P320.
"The FBI RFP seems to be blatantly tailored to fit one particular firearm, the Sig Sauer P320. There is no doubt that government agencies often write tight standards when a RFP goes out, having specific requirements and needs for the product to be purchased. However, this RFP appears to be so specific that only the Sig Sauer P320 would fit all the FBI requirements. Let's examine the RFP and show how many fine handguns are eliminated by the FBI requirements…"
You can read that op-ed in its entirety on Blue Sheepdog.💬11
Now here's some 2015 SHOT Show Range Day video:
SIG Sauer P320 | 129AC
The year 129AC saw first full-scale civil war in the history of the Seven Kingdoms begins (not counting the insurgency fought against the Iron Throne by the Faith Militant). Called the "Dance of the Dragons," this was the first internal conflict in which both sides had Dragons. Targaryen fought Targaryen and each faction controlled territory, with various Great Houses allied to different claimants to the crown (and a few who tried to remain neutral). The war lasted just two years but untold thousands were butchered. It also marked the beginning of the end for dragons, which species died out in Westeros not too long after.

Virtually no one in any of the many battles fought during the Dance of the Dragons had even heard of the SIG P320.
SIG P320 | 2016
The P210 showed up in 2016, which has nothing to do with the P320, but the competition model of the P320 certainly does.
Scroll forward ⏩⏩ to 1:20 to see it.
More from Range Day:
2016 also saw the Cubs win the World Series, which seemed about as likely as the soldiers getting a new sidearm. True fans supported them before they won, however, and continue to do so now (knowing we'll have Faster Than Light travel before they win again). Ask me how I know.
SIG P320 Recall, MHS Decision, and SIG P320 X Carry | 2017
In  2017 it was announced that SIG-Sauer had been chosen to be the military's new handgun. This surprised many of those who expected the selection process to engage in the same sort of fuckery as its attempts to settle on a new camouflage, though the outcome of the previous year's World Series had left many of us more inured to shock than we might otherwise have been.
The selection of SIG's pistol for the MHS chapped as many asses as it pleased others…and leaving more ambivalent. It was Tamara Keel who responded to the announcement in the best way when she noted that the Army had received a new pistol before Chevy dealerships had gotten a mid-Engine Corvette.
"Personally, I think the MHS contest could have been as satisfactorily resolved by throwing a P320, an M&P, and a Glock 17 into a sack, spinning it around a few times, and reaching in and pulling one out. They all work fine, and if there's a less crucial weapon in modern warfare than the pistol, it probably attaches to bayonet lugs." Tamara Keel
Not too long after that, SIG-Sauer began proselytizing the P320-M17, the "civilian version" of the military MHS. That weapon had a removable sight plate assembly that could be replaced with an optic.
Grunts: proselytize.
Tom McHale reviewed and wrote about the SIG P320 not too long after SHOT on AmmoLand in A Closer Look at the Army's New Gun.
"The real surprise of the P320 was its accuracy. I had three different Sig Sauer pistols, all chambered in .357 Sig, at the same time and tested them side by side using a handgun scope mounted with a UM Tactical Rail mount. I expected the venerable P226 and P229 pistols to seize the accuracy honors because they're all metal and have storied reputations. However, just the opposite happened."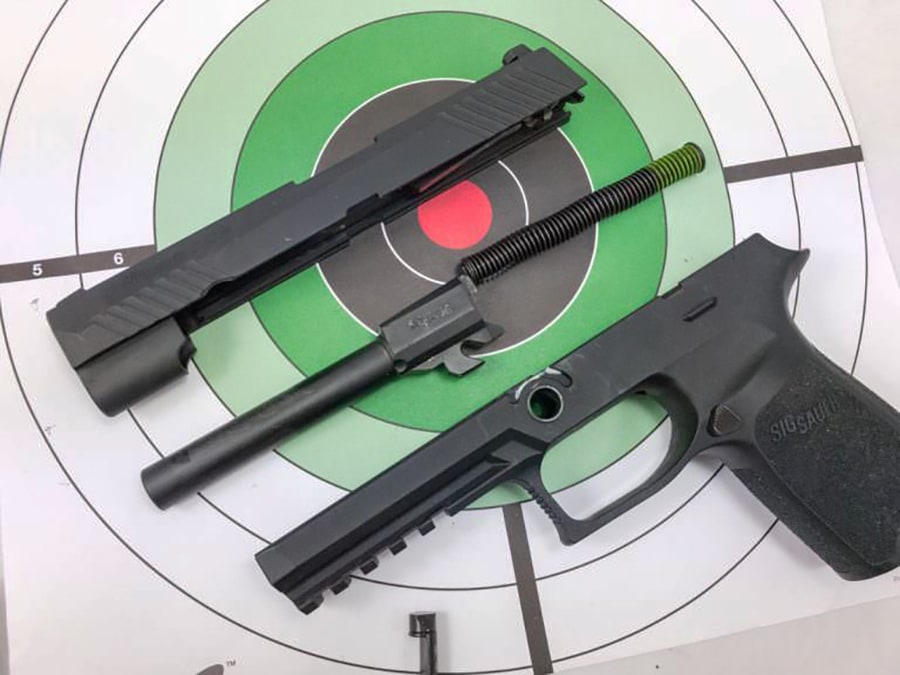 "Don't get me wrong, the P226 didn't disappoint – it easily generated 25-yard, five-shot groups under three inches almost every time with a broad variety of ammo. However, the P320 beat that handily, knocking out quite a few sub-two-inch groups. For example, the first three five-shot, 25-yard groups measured just 1.56, 1.92, and 1.61 inches using Sig Sauer's V-Crown 125-grain .357 Sig loads. Other ammo shot equally well.

You get the idea. This gun will shoot."💬12
Later that year, Tamara completed her SIG P320 review for Shooting Illustrated, which included some background on the X-series of pistols.
"It seems that SIG had hired former USPSA President Phil Strader as the product manager for the P320 line. Further, SIG exposed the P320 to a lot of racing at USPSA matches in the hands of its shooting team, headed by legendary pistolsmith and shooter, Bruce Gray.

As the saying goes, racing improves the breed, and no doubt much of what had been learned over that time turned up in this new X-series of pistols."

• Tactical Life published an article about the SIG P320 by David Bahde in July 2017. One noteworthy element of this P320 review was his discussion of agency purchase.
"Before we get into the pluses and minuses of the Sig P320, let's take a look at why police agencies buy items issued on large government contracts. Police agencies have been doing this for at least the three-plus decades I have been involved in law enforcement, my guess much longer.

Anything that is purchased by a federal agency, DOD or similar, will be high on the list of any police agency looking to purchase. I have seen it with pistols, rifles, body armor, ammunition, even computers and vehicles. Is it always the "best" choice? Absolutely not. It can be, but more often than not, it is some sort of compromise — another reality in government work.

Liability drives everything a police agency does…"💬13
• Issue 32 of RECOIL came out in mid-2017; in it, the magazine pitted the SIG P320 X5 against the Canik T9SFX💬14 in a well-written comparison (using boxing analogies) by Nick Saiti. Sait describes the two weapons, and lays the groundwork for his article, thusly:
"These guns are the most apt versions the respective companies have to offer. When major manufacturers stamp a competition designation on pistols, you can usually count on a few features — a longer barrel, a better trigger, better sights, and whatever is deemed better for the shootability of the gun. Both guns take advantage of the slide-mounted optic trend by providing slide cuts for mini red-dots. There's no rule that says because they're 'competition' guns they can't be legitimate range companions or (if you have room in the waistband) carry guns. On the contrary, these are often the most fun guns to shoot as they offer the ability to deliver faster and more accurate shots on target."
• 2017 also saw the use of the SIG P320 by many international military and law enforcement organizations, including some from Norway,  Denmark, and the very Norway-and-Denmark-like North Dakota.💬15
• The most notable SIG event of 2017, though, was (unfortunately for SIG) news that dropping the P320 at -30° angle could cause an accidental (not negligent) discharge. This sort of report impacted both their civilian sales and perhaps more significantly, their relationship with LE agencies — such as when Dallas Police Department Firearm Training Center forbade its officers from carrying a P320 on duty.
"The Sig Sauer P320 recall issued by Dallas Police Department caught all of us by surprise. Officers were instructed to stop carrying the P320 until the issue was resolved. With all the testing that the P320 has undergone with the Modular Handgun System program, the FBI trials that were narrowly lost to Glock, Immigration & Customs Enforcement adopting the firearm and several other huge contracts It is hard to think that something as easy to test as drop safety would have gone unnoticed.

Strangely there is a note in the owners manual that states that the pistol may fire when dropped. I always chalked it up as something a lawyer somewhere insisted that Sig include in the manual." 💬16
It was, as you can imagine, shitty icing to put on the military news cake.
Although the P320, SIG-Sauer advised, was within safety standard requirements for ANSI, SAAMI, and the NIJ, the company introduced a "voluntary upgrade"💬17 program to correct the problem in early August. A few days later they launched a website to handle the program (it's still live, for those who need it).💬18
Public response was immediate and critical. As usual, some was measured and reasoned; more bordered on the histrionic.💬19
Because internetz.
Grunts: histrionic.
And now, a couple more obligatory SHOT Show videos so I don't break the tradition.
• Edit, 2/11/19:
This is an interesting bit on the P320, especially if you're a history buff familiar with so-called "Khyber Pass" weapons, from the Firearm Blog.
"It is absolutely amazing what can be made with some low tech machinery, raw materials and years of experience. Having built a few AKs of my own, I know first hand the difficulty of building a gun from a parts kit. However taking metal, wood, and now apparently polymer, and making a functioning pistol is true craftsmanship. YouTube user 'ABKTheReal' uploaded a series of short videos from the Tribal Region of Pakistan that includes a polymer Khyber Pass Sig P320 or P250." Pete M.💬20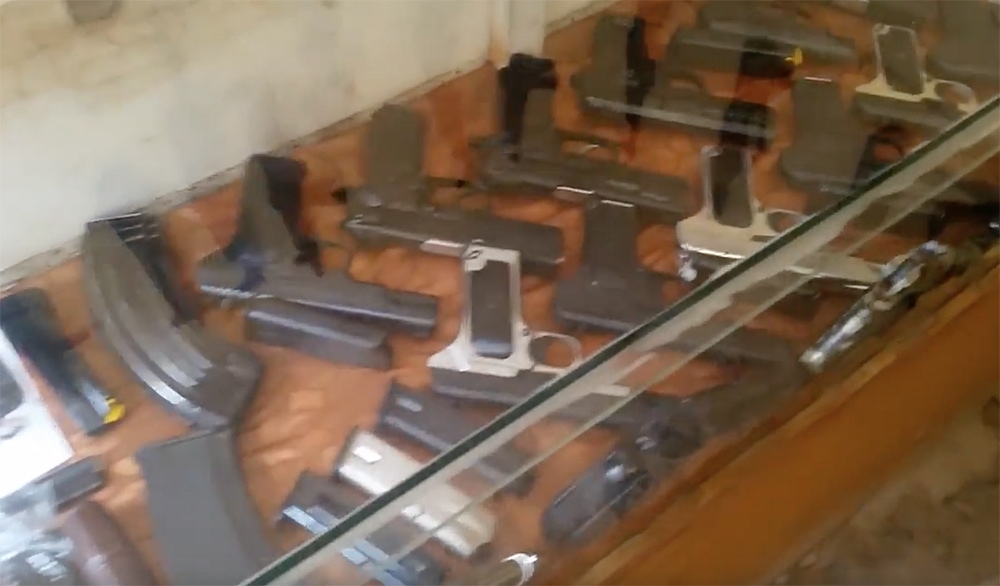 1050TA
In 1050 of the Third Age, Ciryaher conquered Harad and took the name Hyarmendacil, "South-victor." This was the year Gondor reached the height of its power. However, about this time a shadow fell on Greenwood, and men begin to call it Mirkwood. This is also the first year the Periannath (hobbits) were first mentioned in records, with the coming of the Harfoots to Eriador. Just 50 years later the Wise (the Istari and chief Eldar) will discover that an evil power has built a stronghold in Dol Guldur. They believe it to be one of the Nazgûl. Nobody used the SIG P320 in any of these conflicts, though the hobbits were reportedly very good slingers…perhaps better even than those of the Balearic Islands.
Next, a SIG P250 sidebar. Sort of.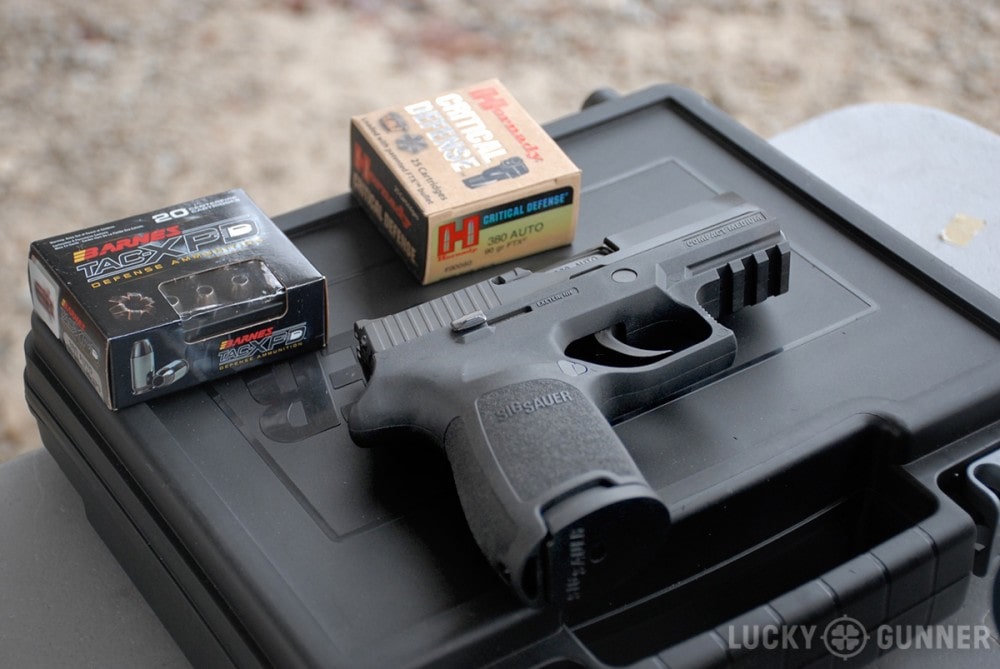 SIG-Sauer P320 | 2018
• More SIG P320 stuff happened in 2018, though it was overshadowed by their new P365 (which won Guns & Ammo's "Handgun of the Year" award for 2018💬21). One significant honor paid to the weapon was its issue in October to the Old Guard, who would thenceforth be wearing it while guarding the Tomb of the Unknowns. 💬22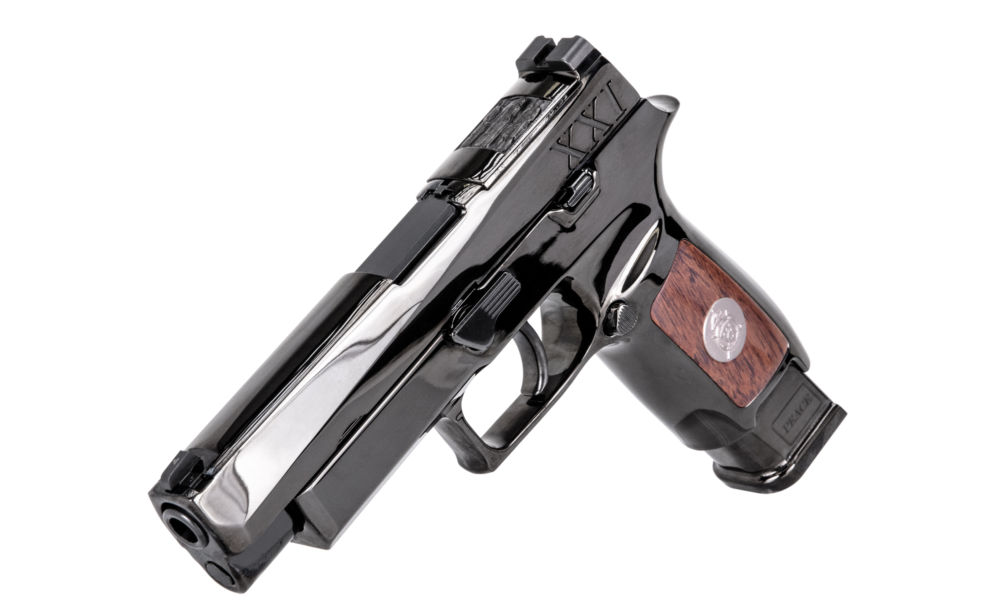 Those pistols bore the names Silence, Respect, Dignity, and Perseverance; they have the crest of the Old Guard on grips made of wood from the USS Olympia, and several additional goosebump-inducing features that are both solemn and symbolic.
• Just a couple of months ago (as of this writing), the American Rifleman published an article on the P320-M17. The author, Andrew Butts, opines at length. Some of his observations include an…
"…an initial concern about the pistol's frame-mounted thumb safety. The safety sits closely behind the slide catch lever. I was worried that shooting with my right thumb resting on top of the safety might interfere with proper operation of the slide catch. Fortunately, that wasn't the case. Shooting the pistol with either the right or left hand with a high thumb grip caused no issue. Of course, shooters who do not use a high thumb grip will have no worries at all."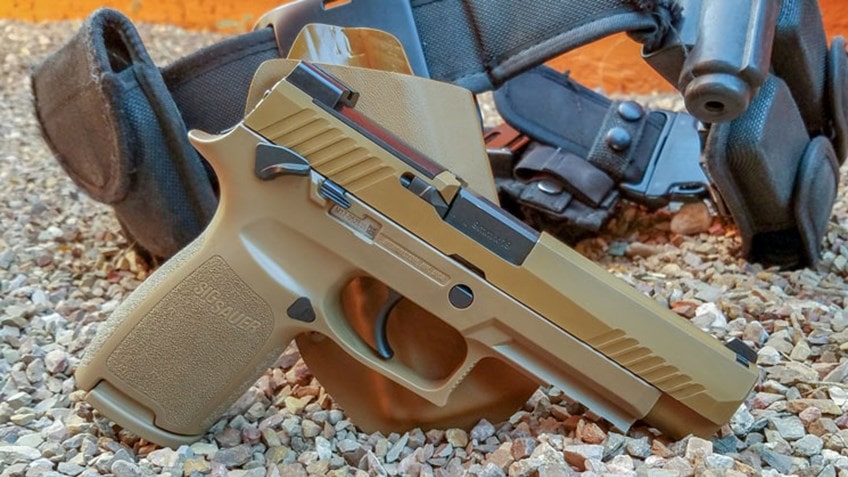 He goes on.
"Interestingly, we're now seeing a return to our roots, as it were, with the M17 and its frame-mounted safety. America's first and probably most recognized semi-automatic, the 1911, featured a frame-mounted safety that allowed the pistol to be carried in Condition One with a round in the chamber and the safety on…I've never been a fan of the M9's slide-mounted lever and am glad to see the Army go with a more ergonomic choice.

I do find it somewhat contradictory that SIG has departed, to a certain extent, from the modular concept with the P320-M17. With the addition of the frame-mounted thumb safety, the plastic grip module can no longer be swapped out with many of the size or color options on the market."💬23 
• December saw an article by Josh Wayner about the P320-M17. His review, which included ammunition tests with 11 different specific rounds, should be read if for no other reason than his use of the phrase infantile repudiation. But seriously, it's a good write-up.
"I hear it quite a bit that there is a problem with the P320 series in that they have a high bore axis and a muzzle that droops downwards when shooting rapidly. I have spent a great deal of time with many in the series and have never had this issue. While it is true that the P320 does have a comparatively high bore axis, it is not anything that borders on the extreme. I had no issues with it as far as shooting it accurately or quickly."💬24 
• Tactical Life posted the following video about the SIG P320-M17. It sounds like more of a commercial than an actual review, as the title claims, it does provide a good overview of the weapon and it Sean Utley was involved with it. And he's dreamy.
• TFBTV also has a lengthy SIG P320-M17 (like, much longer) review on their channel (see below). 💬25

SIG Sauer P320 | 2019
• In 2019 (just a couple weeks back, actually) we saw the release of the P320 XCompact, which featured an updated sight plate. This was modified to accept the Deltapoint Pro and SIG's own Romeo-2. It has a flat trigger and, like the M17 series, it has a floating chamber indicator (among other changes). SIG-Sauer described the newest P320 as having a "…completely redesigned grip module with an improved beavertail and fastback profile, contoured magwell, and a deep trigger guard undercut."
• Right before SHOT, Sean Curtis (not Rob Curtis, that's an entirely different Curtis) penned a review for Pew Pew Tactical. The review addresses, among other things, controls and breaking the shot, to wit…
"These controls were ambidextrous and I found them easily accessible from either hand without being cumbersome or rubbing my hands during use.

The safety is right where it needs to be and while the slide stop lever is pretty tightly placed just after, you can still operate both quite easily with your thumb.  

Testing the trigger, it averaged in at seven pounds on the Lyman Digital Gauge from Brownells but strangely felt lighter than this to my finger. The trigger had approximately 1.5 mm of takeup before hitting resistance.  

After that, an easy pull completes the shot. The trigger felt a little springy but was all too familiar to someone used to striker-fired pistols."💬26
• Just a couple days before Sean's article, Garand Thumb (who owes me $2)💬27 released a video look at the M17 version of the P320 (which if I failed to note before, has a redesigned slide-catch lever that was pushed forward to accommodate the thumb safety). Take a watch.
SIG P320 Accessories
SIG P320 Grip Module
This P320 accessory uses over-molded rubber panels, with a rubber back-strap and finger grooves to "…improve grip and comfort." Mirzon says it improves the grip without compromising comfort. It utilizes a beaver-tail to help stabilize grip, providing a downward angle designed to "…wrap around the shooting hand instead of going away from it."

Mirzon's description advises:
Sig Sauer P320 is not just a pistol – it is a truly modular platform. It allows users to customize their weapon for the task at hand – from everyday carry to competition ready race gun. The modifications are not permanent and all revolve around the unique Fire Control Unit. It is the core of your firearm. All other parts can be changed and modified, giving you endless possibilities. And we think that we just made the most comfortable grip for P320.
Enhanced Grip Module for P320 model with improved ergonomics and updated look. The grip module features:
– Over-molded rubber panels to enhance grip and comfort
– Upgraded beaver tail
– Trigger guard serrations
– Frame serrations
– Compatible with all standard holsters
– Compatible with factory X5 grip weight and magazine well
– Compatible with Gen 1 and Gen 2 slide lock levers
– Compatible with all P320 and P250 models except for Sub-Compacts
– Accepts the 17-rd Gen 2 magazines and 21-rd magazines


P320 in popular culture
• The IMFDB (Internet Movie Firearms Data Base) has an entry on the SIG-Sauer P32o. There you'll learn, among other things, that both the Punisher and John Wick used versions of the P320.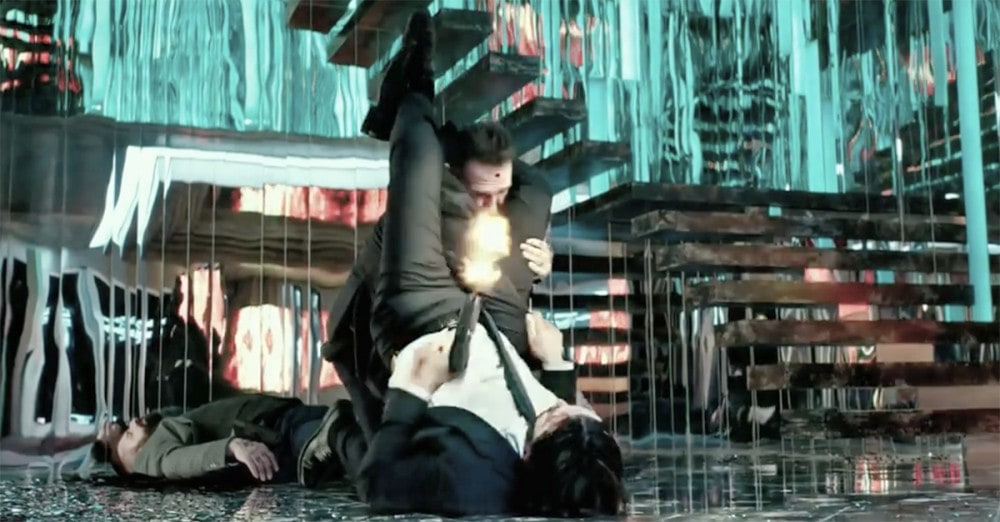 More information on the SIG P320 series.
• Check out the SIG Academy's class on the P320: https://www.sigsaueracademy.com/productdisplay/sig-sauer-p320
• FYSA the Gun Wiki has a SIG P320 entry.
• SIG P320 Wikipedia page: https://en.wikipedia.org/wiki/SIG_Sauer_P320
Other useful P320 stuff and things
• Here's a quick overview of the P320's takedown procedure.
• This is a handy review for our international audience (or at least the ones in Thailand). We have no idea what he's saying, but he seems pretty happy about it.
---
💬1 Disclosure(s). How did I choose what reviews or videos to post? That varies. Some were chosen because I know and respect or admire the person doing the review (like Tamara Keel) and/or enjoy good information ("Garand Thumb"). Still others, cases where I don't personally know the individual involved, are included as a nod to publications that traditionally put out good information.
What you'll read herein is intended to be informational. I'm not trying to convince anyone of anything. I care far less about what pistol someone uses than I do that they go train with it, and I'm indifferent to the military's choice of pistol. I'm kinda with Tamara on how that selection should have gone. I think the DoD could have spun a bottle between the better striker-fired pistols to make their decision and come out better than they were with the M9 (which, in fairness, looked good in 80s movies and makes an excellent small boat anchor).
I have no connection to SIG-Sauer. I've never bought a SIG and I've only ever carried one once, as a mandated issue duty weapon — and then only for a few months. I have nothing against them, either. They make a good gun. Many of my peers love 'em. If they made an airweight snubby I might even own one, but they don't, and until I finish restoring my dad's truck I don't have the money to spend on a semi-auto I'd only use occasionally on the range.
💬2 SIG debuts striker-fired pistol www.policemag.com/352848/shot-show-2014-sig-debuts-striker-fired-duty-pistol
💬3 P320 Subcompact Nitron in .45 www.nrafamily.org/articles/2015/1/21/shot-show-2015-sig-sauer-p320-subcompact-nitron-in-45/
💬4 P320 Space Age Polymer! www.luckygunner.com/lounge/sig-sauer-p320-shot-show-new-product-overview/
💬5 P320: Tomorrow's SIG Today www.americanrifleman.org/articles/2015/3/20/sig-sauer-p320-tomorrows-sig-today/
💬6 Farnam opinion: www.ammoland.com/2014/01/sig-p320-handgun/
💬7 Gun Review: SIG Sauer P320. www.thetruthaboutguns.com/2014/05/foghorn/gun-review-sig-sauer-p320/
💬8A look at the SIG P320. https://dailycaller.com/2014/05/18/massad-ayoob-a-look-at-the-sig-p320/
💬9 AUSA http://ausameetings.org/2019annualmeeting/
💬10 A look at SIG's MHS candidate http://soldiersystems.net/2014/10/21/sig-sauer-gives-us-look-modular-handgun-system-candidate/
💬11 FBI selects new duty pistol http://www.bluesheepdog.com/2015/10/19/f-b-i-selects-new-duty-pistol/
💬12 A closer look at the FBI's new gun https://www.ammoland.com/2017/02/sig-sauer-p320-handgun/
💬13 P320: Worth all the hype? www.tactical-life.com/firearms/handguns/sig-p320-pistol-hype/
💬14 P320 X5 vs. Canik T9SFX https://www.recoilweb.com/pitting-the-sig-p320-x-five-against-the-canik-tp9sfx-128943.html
💬15 There actually isn't a lot of difference in most of these SIG P320 deployments, barring language.
• Headed to the range with a SIG P320 in Denmark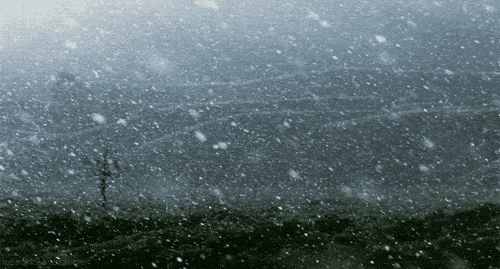 • Headed to the range with aSIG P320 in Norway.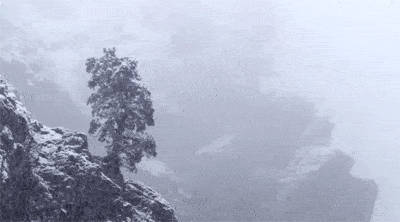 • Headed to the range with a SIG P320 in North Dakota.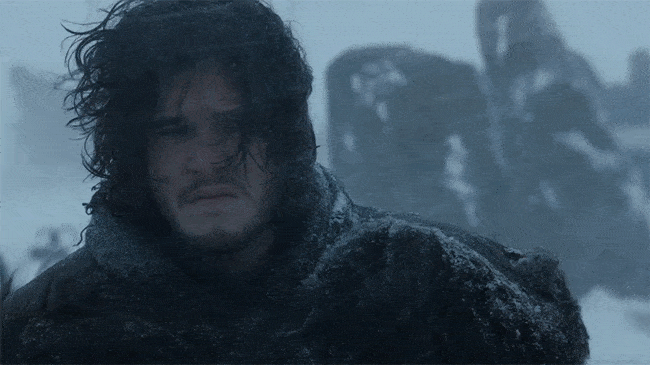 💬16 Dallas Recalls P320 pistols: https://www.thefirearmblog.com/blog/2017/08/02/breaking-p320-recall-issued-dallas-police-prohibited-duty-till-repaired/
💬17 SIG issues voluntary recall. http://soldiersystems.net/2017/08/09/sig-sauer-issues-voluntary-upgrade-of-p320-pistol/
💬18 www.sigsauer.com/support/p320-voluntary-upgrade/
And if you're wondering how this voluntary upgrade worked, here's post-recall look a the SIG P32o from Mr. Guns'n'Gear.
💬19 This isn't to say the situation shouldn't have been taken seriously or that SIG-Sauer shouldn't have taken responsibility and reacted to the event. I just don't think it called for torches, pitchforks, burning tire barricades, and other mob type stuff.
💬20 Khyber Pass P320 : https://www.thefirearmblog.com/blog/2017/08/31/khyber-pass-sig-p320/
💬21 SIG wins Handgun of the Year: www.ammoland.com/2018/11/sig-sauer-wins-2018-guns-ammo-awards-for-handgun-innovation-of-the-year-award/
💬22 Custom M17s for the Old Guard: http://soldiersystems.net/2018/10/13/tomb-of-the-unknowns-guards-begin-use-of-custom-m17-pistols/ old guard
Watch. This.
💬23 Tested: SIG Sauer P320-M17www.americanrifleman.org/articles/2018/11/13/tested-sig-sauer-p320-m17-pistol/
💬24  Meet the Army's New Pistol for Civilians www.ammoland.com/2018/12/meet-the-u-s-armys-new-pistol-for-civilians-sig-sauer-p320-m17/
💬25 TFBTV P320 Review
💬26 Pew Pew Tactical P320-M17 Review: https://www.pewpewtactical.com/sig-sauer-p320-m17-review/
And FYSA there's another SIG P320 review on PPT by McKinley Downing (who, interestingly, looks like he might play for the West Canaan Coyotes). I wasn't sure where to put that one because it's been updated a couple times and I couldn't locate the date. If you want to read it, however, you can do so here; he has a pretty good voice and way of relaying information.
💬27 Apropos to nuthin', I used to have this kid's hair. Some of you reading this will know what this has to do with $2.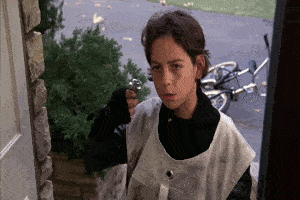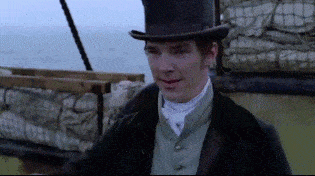 Rounding all these articles up, and making sure the sequence of events was correct, would have been immeasurably more difficult had SSD not been available. If you're not already following that website, you're missing out. Very, very little happens in the industry without Soldier Systems Daily editor Eric Graves reporting on it. Want to track the development of the _[insert topic here]_ over a period of time? Search that tag on SSD. Looking for the latest developments on things with just enough inside baseball to put it in context? Read Soldier Systems Daily. [Full disclosure: though I have no direct affiliation with SSD, I do consider Graves to be a mentor.]
Oh, and be sure to check out our look at the SIG P320C.
More to follow…
That's it for now, go forth and conquer.
DR
Like what you read here? Consider backing us on Patreon.
You'll be automatically enrolled into the Tactical Buyers Club, thus getting dozens of discount codes to high-end companies in the tactical/firearm/outdoor arena, and you'll earn the right to wear the House Morningwood sigil.
⚠️ Some hyperlinks in this article may contain affiliate links. If you use them to make a purchase, we will receive a small commission at no additional cost to you. It's just one way to Back the Bang. #backthebang