Shooting Playgrounds Part 1: Core Shooting Solutions
This article originally appeared on RECOIL.  It appears here in its entirety and with the permission of their Chief Editor. Mad Duo

Shooting Playgrounds Part 1: Core Shooting Solutions
by John Darwin – as seen on RECOIL
Do you remember going to one of those big playgrounds as a kid? You know, like the ones with the variety of jungle gyms, swings, slides, or maybe even the large cargo rope nets? A playground so big it almost overloaded your excited child senses — the possibilities to play different games with siblings or friends were almost endless. Such playgrounds even allowed our parents a chance to relax longer than they normally would have at a small, local park, with maybe one swing and a slide.
As a shooter we find many of our local ranges to be the adult equivalent of those small, local playgrounds, with maybe one or two ranges that offer a little more by catering to one or two specific disciplines, such as a 25 meter indoor range, or a 100 meter box range.
We crave the bigger playgrounds though. Since very few facilities offer a wide array of opportunity to play in a variety of shooting sports, when we do find such a range, our inner child wants to run like that 10 year old discovering a twisty slide for the first time. These playgrounds for adults do exist across the country, but you'd be surprised to hear how few shooters truly know about these ranges, even in their own area. If you live around Pensacola, FL, and don't think you're one of those lucky few, then you need to step away from that local park, and see what's actually not too far from your own backyard.
Everywhere you seem to look is something new to work on, a new scenario to set up.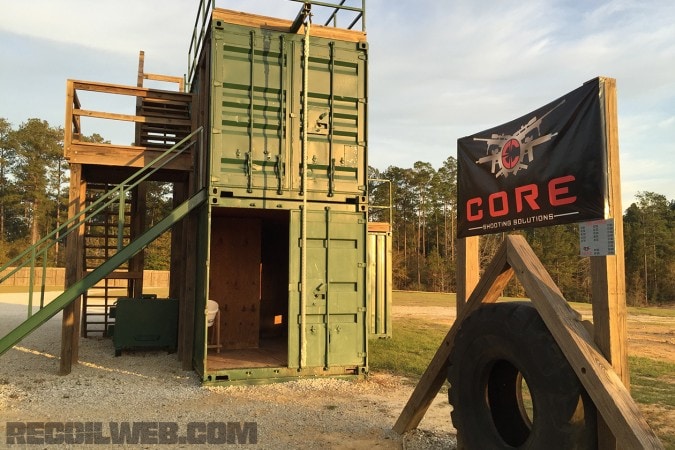 CORE Shooting has no shortage of obstacles and locations to shoot from.
Core Shooting Solutions is a members only shooters paradise that lies just about an hour north of Pensacola, in the town of Baker. The facility was originally founded specifically for competition and practical long range shooting by two of the top level shooters in the Precision Rifles Series (PRS). After a couple changes in management and a name change, Core Shooting Solutions emerged offering a world class facility to meet almost any range requirement.
Two of multiple shooting lanes to choose from.
Core is located on almost 100 acres, and they use every last square foot of it to offer the shooter as many different ways to train.. A small sampling in the capabilities of the facility include multiple 1000 yard ranges, automated movers, automated ranges, eight 270° pistol and carbine bays, various real world mock ups, as well as obstacles/vehicles to use in almost any scenario one could think up. The range also includes a fully equipped classroom for any PowerPoint presentation or formal instruction and a 2,400 sqft covered pavilion to take a break from the sun (and maybe give your trigger finger a rest).
In a week's worth of training, you can work on anything required for most of the action shooting sports. From PRS to USPSA, IDPA to F-class and 3-Gun, the ranges and targets are on location, just waiting. The impressively efficient use of space, allows the shooter to shift quickly from one scenario to another, often requiring less than a 100-200 yard walk, covering a large percentage of the various ranges. Move easily from a covered shooting tower, to a rock loop hole, cargo net, or a conex box shoot house where you can engage moving targets, all in less than 100 yards. Take a water break, then move into bays full of steel pistol/carbine targets for your enjoyment. Bring the kids, as they have 22LR targets set up in their own bay, for the growth of future generations.
As you may have gathered, I enjoy shooting on this range, having had the opportunity to train at CORE on multiple occasions. I've actually traveling from my home on the West Coast just to take a mancation for some much needed, unadulterated, powder burning recess time. The enormous amount of varied scenarios and props to shoot from has truly allowed me to focus on every aspect of my long range shooting discipline. In fact, I found it harder to focus on one thing and truly get work done, knowing how much more I could do. Being a member-only range also keeps the nonsense to a minimum, with the large majority of shooters being very capable and safe. Membership is simple, and you don't need an invite to join. It requires some basic paperwork and a formal range introduction, before you're essentially handed the keys to your personal shooting theme park.
Your problems will go from not having what you need to train to not being able to shoot everything before adulthood pulls you back to the grind.
Seeking training can often be like searching for that one good movie in the $5 discount DVD bin. The training market is full of carbon copies, stolen valor, and people attempting to prove their worth by seeing how close they can look like character in the newest version of Call of Duty. The central management of CORE ensures that every instructor's background is vetted and true, their pedigree is as advertised, and you get the same high level of instruction regardless of which staff member you work with. They bring the facilities you want, top tier instruction to achieve the performance you seek, while getting the most out of your time there.
Driving home from CORE after a long day of shooting or competing, reminds me of a child about to pass out in the back seat, tired and spent, but smiling and satisfied. Very few places in life give you that feeling of excitement and joy, as when you find that place that caters to your hobby like CORE does for shooters. I suggest, if you are within driving, flying, walking, skydiving, or hitchhiking distance, it's worth the trip to see one of the country's best ranges. Okay, maybe not the skydiving, because landing in the middle of a gun range, not so much, but you get the point.
Maybe I'll see you there.
5.11 Tactical (@511tactical) is a member of JTF Awesome.
For more information: http://www.coreshooting.com.
This article appears here courtesy of RECOIL Magazine (thanks Iain).
RECOIL Magazine is online at recoilmag.com and on Facebook at /recoil.gun.lifestyle/.

Follow RECOIL on Instagram, @recoilmagazine.
[arrow_feed id='48851′]
---
---
This article was lovingly prepared for you by the Breach-Bang-Clear News Team.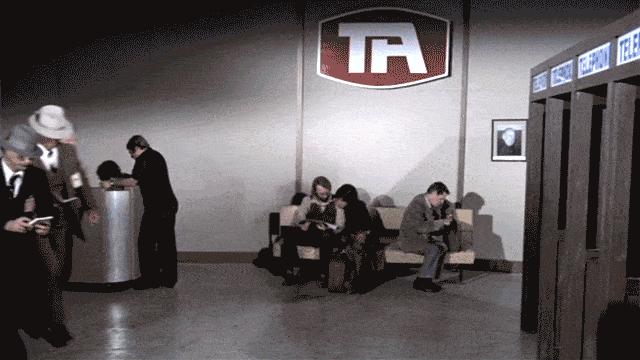 Mad Duo, Breach-Bang& CLEAR!
Comms Plan
Primary: Subscribe to the Breach-Bang-Clear newsletter here; you can also support us on Patreon and find us on Pinterest.
Alternate: Join us on Facebook here or check us out on Instagram here.
Contingency: Exercise your inner perv with us on Tumblr here, follow us on Twitter here or connect on Google + here.
Emergency: Activate firefly, deploy green (or brown) star cluster, get your wank sock out of your ruck and stand by 'til we come get you.