Shoot Your "Miss You" Cards and Get 'em Sent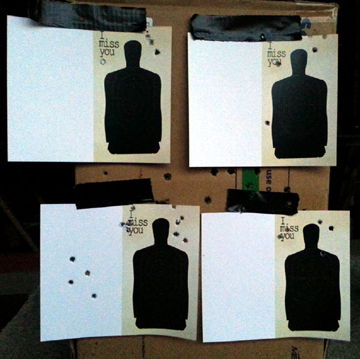 Yeah, we all know that SHOT Show is coming next week. I know I am ready for next week. Swingin' Dick and I are always so busy that we don't get a chance to party work together like we used to. Now I don't know about Swingin' Dick, but I have stashed more than a few one dollar bills away for this one (lots of single dancing moms in Vegas). Like others I will be going around some of the booths to see all the new cool toys and stuff. Then I will probably be found at places like the "Bond Bar" early in the evening, then most likely on the curb with a hot chick trying to hold us up. Yeah we roll that hard. It's not easy being us. Guys like Red Stitch Tactical, Dark Angel Medical, MadCat Aviator Operator, Legion Firearms and some other folks often try to one-up us, which is ridiculous. Guess what, it doesn't work. We can never be out done, plain and simple. Our nights always seem to end like this.
It's like they're not smart enough to recognize that we're a force multiplier of mind bogglingly epic proportions. Plus we're a chick magnet.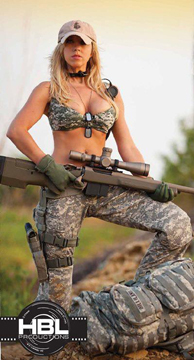 OH! We will be spending quite a bit of time hanging out with Tac Girl Melissa at one of the American Sniper hides if you want to come by and get your picture taken with us (and her, which might be your preference anyway). You should swing by there to support that fine organization anyway (besides, where else would you be able to see a Virginia Wookie?).
Melissa will be at the hide located in the FNH Booth, #13462 on the main floor.
Now, I mention all that because we will be sending out some of these cool cards outs. Yeah us guy can get away with sending cards that look like this…and this only. There are no roses or kisses or crap. It is a plain and simple "I Miss You" card. You even get to go shoot at it so actually show you miss them. Hopefully they get the joke and don't think you would actually miss them when shooting, because that would be a whole other story.
Note: make sure you get rounds on paper or you'll look like a jackass.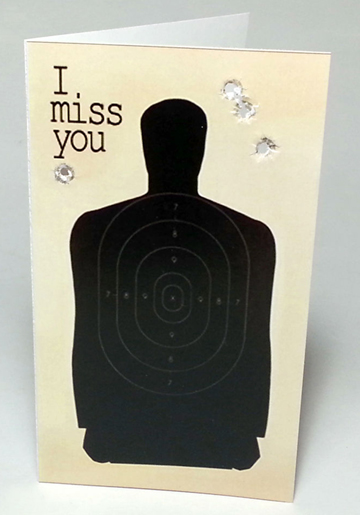 Head over to Instructables and check them out. Find some good paper, download the pdf, print the card with the silhouette on it, and then go shoot the ever loving crap out of it. Just remember to MISS!! That is the point here. It was a good thing I printed a few copies off, because I had a hard time missing and all. While you are away from your loved one, or my case loved ONES [including the big girls], show them that even though you are slaving away at the SHOT Show that you miss them. This will look so great for you that they will let you come back next year, and who doesn't want to come back to Vegas to party your ass off meet everyone in the industry and find out what's new in the tactically operational tactical operator world?
You see what I did there? I am trying to help you out. So when and if you see me, Swinging Dick or one of our handlers at SHOT Show, make sure you repay the favor of making you look good! Trust me when I tell you that he/she, or in Swining Dick's case maybe both, will love it! Remember to stop us if you see us on the floor. Just remember what happens at the end of the week…
Mad Duo Clear!
About the Authors: Richard "Swingin' Dick" Kilgore and Jake "Slim" Call are the HMFICs at Breach-Bang-Clear (breachbangclear.com). They write for current and former military, LEOs, contractors and trained and educated responsible armed citizens. They are the most door-kickingest, trigger-pullingest action figures in the tactically operational tactical operator world. Subscribe to them and stay informed about TTPs, new kit, and latest in what's stoopid (and occasionally inspiring) in the military and modern society or check them out on Facebook.