Sharps Brothers – Getting Scrap Jacked
Apparently Sharps Brothers has started a new trend in haute office decor — and they did so completely inadvertently. Maybe even adventitiously. However it started, we like it. Mad Duo

Sharps Brothers – Getting Scrap Jacked
Richard Kilgore and Jake Call
The new (-ish) product in the Sharps Bros. lineup is called the Scrap Jack, and each one is actually the result of a failure identified during the QC process. If a "Jack" (one of the Sharps Brothers unique rifle styles) doesn't pass muster, they recoup a small portion of the loss by chopping the skull half off the lower and making it available for sale. The skull portion being the most unique and immediately recognizable portion of Jack AR15 and AR10s, there is a significant (if initially unexpected) demand. People use them as business card holders, pen holders, field expedient bludgeons in extremis1, or just whatever works best for their individual feng shui. As you can imagine, those who display them at the office tend to engender quite a bit of conversation thereby.
Grunts: engender.
Sharps Brothers founder and owner John Sharps readily admits to his surprise at the response the Scrap Jack has received.
"They're actually very costly mistakes," Sharps tells us. "When a Jack fails the QC process, rather than scrap the aluminum we cut off the front half and throw it up on the website for $50. I have received literally hundreds of requests for these things."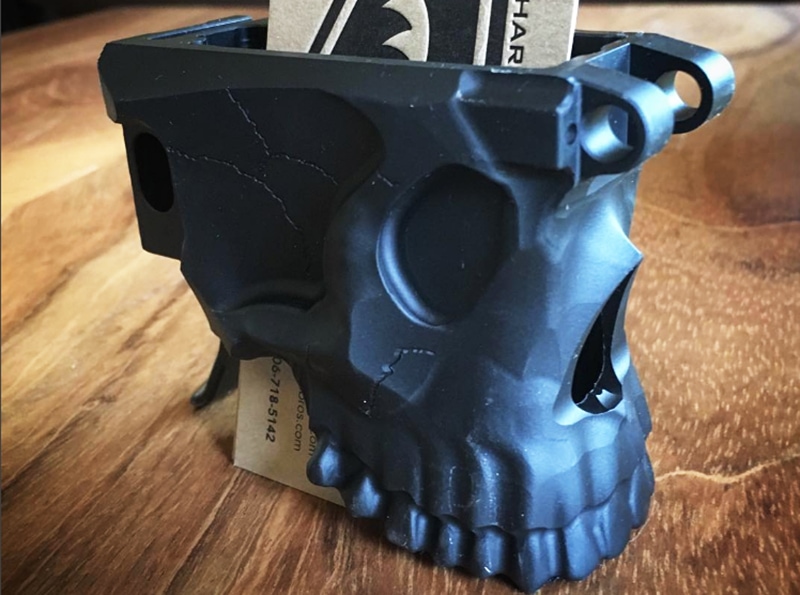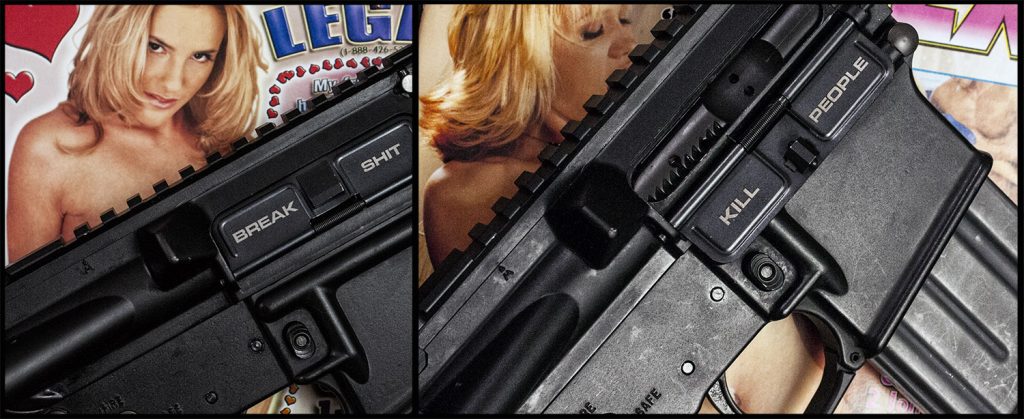 "I don't wear morale patches often, but when I do, they're from MadDuo.com." Max Rockatansky

"MadDuo.com? I don't buy my shirts anywhere else." Snake Plissken
The demand is fueled by a lack of availability. Errors that would result in a Scrap Jack are rare, despite strict manufacturing tolerances (sometimes as tight as .002 in.). This demand was recently fueled by social media images of a batch of Cerakoted Scrap Jacks treated by Blown Deadline (BDL Custom Finish). Given the quality of BDL's work, such a clamor shouldn't be unexpected (terms like badass, or sick, or forfuck'ssakemusthavethat used to describe BDL are just anemic, insufficient platitudes).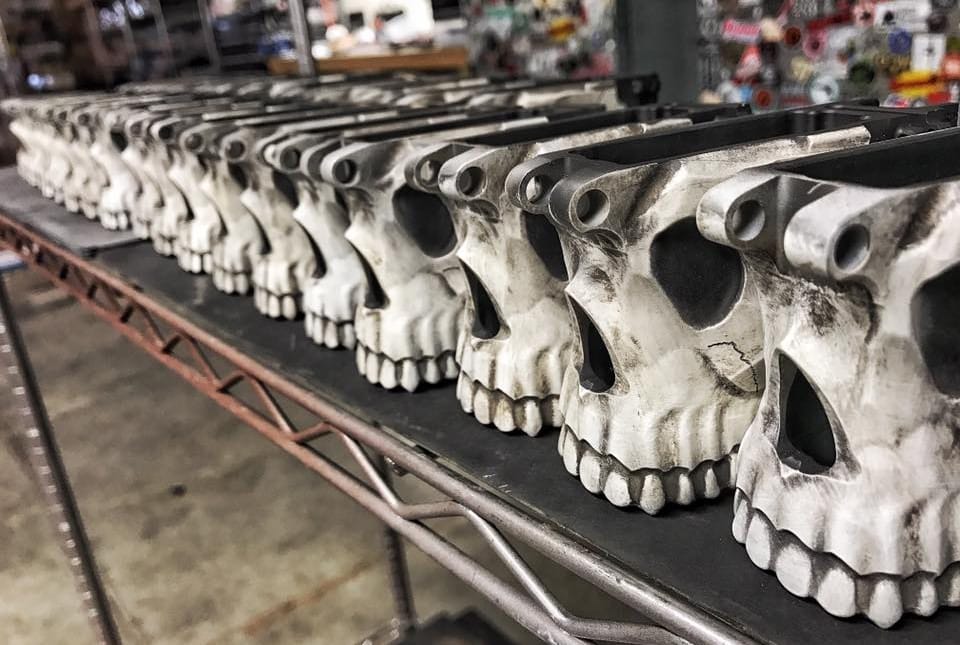 "This time instead of just putting 'em up on the website as is I figured I'd send 'em to Blown Deadline and have him work his magic on them," Sharps tells us.
We reckon that was probably a good call.
You can purchase a Scrap Jack online here in raw aluminum, black anodized, or bead blasted finish. They're $50.  If you want one of the ones coming back from Blown Deadline you'll need to watch Sharps Brothers social media freqs for an announcement of availability (they're on Facebook /SharpsBros/ and IG, @sharpsbros).
We can neither confirm nor deny there is a Scrap Jack sitting on Donald Trump Jr.'s desk as you read this.
Note: If you're interested in a Jack rifle, you'll have to visit Spike's Tactical. They're the Jack's distributor.
MD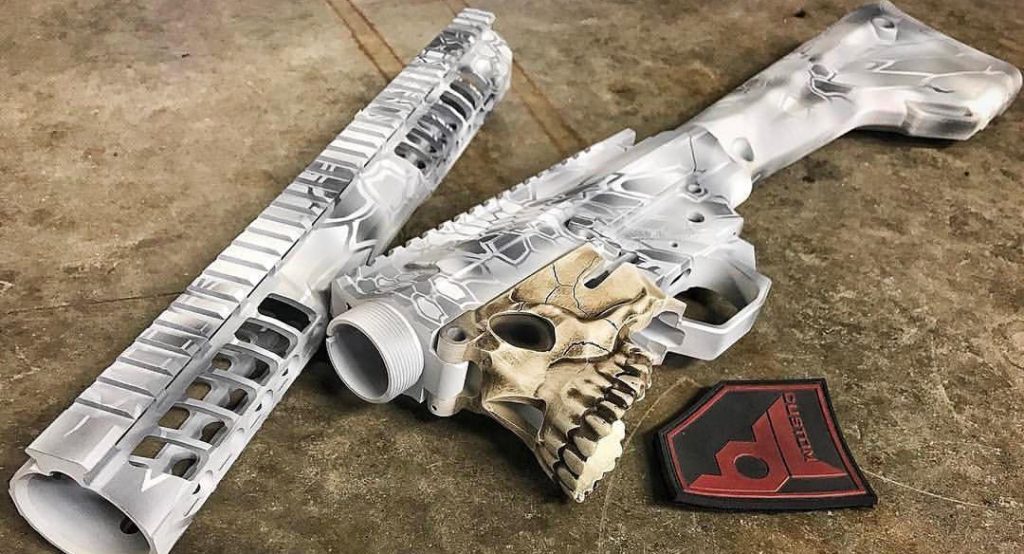 1We're not saying you should beat someone to death with one of these things, just that you could. And how cool would it be to get a CONUS kill that way?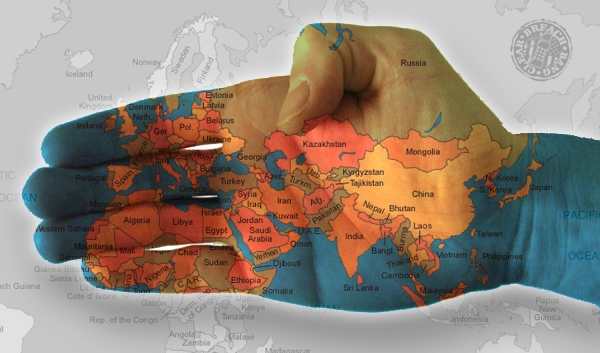 "If you don't have at least one of these shirts in your closet, you're either a hippie, a sissy, or a commie. Maybe all three." George Nada
[wdi_feed id="39″]
---
---
Mad Duo, Breach-Bang& CLEAR!
Comms Plan
Primary: Subscribe to our newsletter here, get the RSS feed and support us on Patreon right here.
Alternate: Join us on Facebook here or check us out on Instagram here.
Contingency: Exercise your inner perv with us on Tumblr here, follow us on Twitter here or connect on Google + here.
Emergency: Activate firefly, deploy green (or brown) star cluster, get your wank sock out of your ruck and stand by 'til we come get you.