Seasick Steve – Started Out With Nothin'
Shout out to MJ for putting Seasick Steve on our radar!
This unlikely lookin' fella seen here sipping apple pie moonshine is one badass guitar player.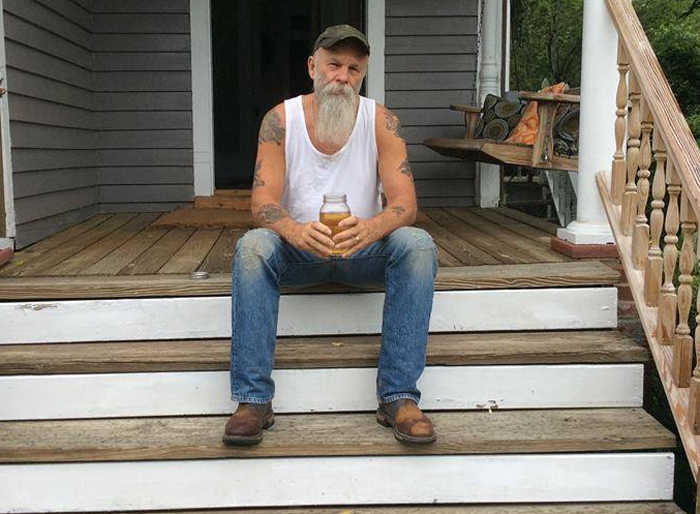 The shaggy-backed Wookiee who runs Victory First turned us onto this dude. We can't explain how we never heard of this cat before. Give Seasick Steve a listen. You'll be glad you did.
You can subscribe to Seasick Steve on YouTube here. His website is here. You can find him on Facebook right here.
Started Out With Nothin' [Lyrics] – Seasick Steve
I can't lose what I never had
You can't take what I ain't got
When I'm happy, you won't make me sad
Depending on you all
Well I'm not
Cause I started out with nothing
And I've still got most of it left
When I'm down I just get up
When I'm down well I stand up
Been down many times well you know it's true
Haven't had a red dime between me and you
Cause I started out with nothing
And I've still got most of it left (x3)
Repeatedly while rambling random stuff
Cause I started out with nothing
And I've still got most of it left (x3)
And if all fell apart today
I could just walk
Get on down the street
I ain't worried where I'm going to sleep
I can always find some food to eat
Cause I started out with nothing
And I've still got most of it left (x3)
Here's a whole damn concert. Says Matt,
"I will tell you, skip to about the 35 minute mark to see him burn shit down with homemade guitars…about ten minutes of cool stuff and dig it music; three and four string guitars built out of hubcaps, spatulas, a hoe handle and an old Ford air cleaner. This cat has talent."