SCAR FIX IT Stick | New from Kinetic Development Group
Kinetic Development Group (KDG) has released a new product for SCAR shooters – a Fix It Stick specifically designed at their behest for the SCAR by, well, Fix It Sticks.
KDG, the folks who developed KINECT, MREX, and other outstanding long gun accessories, describes it thusly:
"We asked Fix It Sticks to make us a one-stop toolkit for maintaining the FHN SCAR, and here is the result: A highly modular, multitool system that features a variety of specialty tools for maintaining and servicing your favorite firearms! The kit comes with standard 1/4" bits and two torque limiters for precise adjustments. These kits are designed for tightening down scope rings, mounts, action screws, M-LOK accessories, SCAR Barrel Change Screws, etc. in the field or at the range. The trademark FIX IT T-handle provides several modes of use, to gain leverage and reach hard to access parts like AR type pistol grip screws. Combine shop level function with the lightweight and portability of this field kit, and never find yourself wishing for a tool left back on the workbench when issues arise at the range. The entire kit comes organized in a black zippered ballistic nylon case, with enough room to add additional tools, lube, thread locker, etc."
Specs for the toolkit are as follows:
Kinetic Development Group SCAR Fix It Stick Specs
Allen head Bits
0.05

1/16

5/64

3/32

7/64

1/8

9/64

5/32

1/4

2.5 mm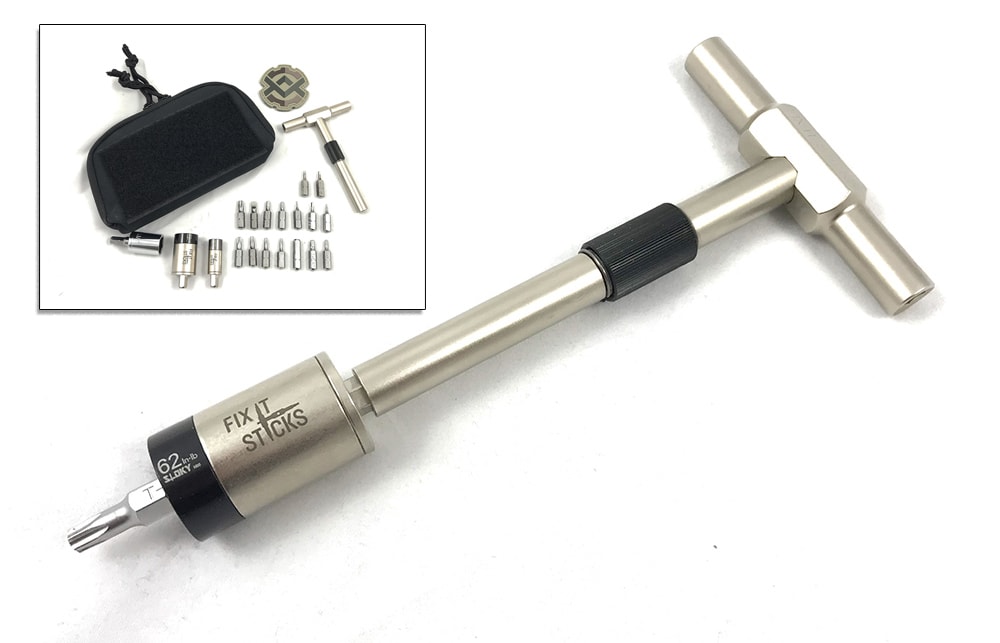 TORX: 
T10

T15

T20

T25 (SCAR Barrel screws size) 

T27
1) Flat Head wide Screwdriver bit
Flathead narrow screwdriver bit
16.5

Inch-pound

Miniature Torque Head Limiter for Scope rings/small screws

62

Inch-pound

Miniature Torque Head Limiter for SCAR Barrel screws

Set of Replaceable Fix It Sticks driver
The new KDG SCAR all-in-one toolkit will retail for $119.00.
Kinetic Development Group will be at TRIGGRcon 2018, booth #304, down the aisle from Aero Precision.