Salient Arms Declaring Bankruptcy? Not So Fast.

Salient Arms Declaring Bankruptcy? NOPE. 
David Reeder
Edit: I was finally (perhaps not surprisingly) able to establish comms with Adrian Chavez at Salient shortly after this original article went live  — regarding an SAI bankruptcy, he is advising nothing could be further from the truth. The confusion, according to Chavez, stems from an original DBA (Doing Business As) affiliated with Salient Security Services of California. That Salient Arms International (of California), says Chavez, was a part of Salient Security Services, and been inactive for three years now; he says it has nothing to do with the current, active, incarnation of the company: Salient Arms International Inc., of the State of Nevada. According to public record, the latter is a Nevada based corporation that has been in existence since May of 2015.
Rumors of a bankruptcy, he says, are far from the truth. By his description, this information likely stems from certain people trying to drive a specific narrative.
Salient Security Services, a long dormant organization, is declaring bankruptcy, but this, according to Chavez, is part of a "…tidying up process." This is, he advises, a calculated step necessitated by an evolution that will be bringing significant changes to Salient and others in the firearms/tactical industry very soon.
"It's not even the same company," Chavez says. "It has nothing to do with firearms, or the company we've now been operating for years."
[Afterword — I'm not sure how we managed to not communicate, I certainly made the effort, but we didn't — and it appears that I may have dicked the dawg as a result. Mea culpa. Either my sources are full of shit or Adrian Chavez is running a superb PR campaign as matters are resolved and manipulating the narrative in a masterful manner — in which case I was right in the first place. Regardless, this wasn't my best Tuesday, and I gotta own it. One way or the other, we'll see how things play out in the coming weeks. Man, do I hate looking like a dumbass — but sometimes I'm sure good at it. DR]
---
The original article:
According to a source close to the company, Las Vegas-based Salient Arms International has declared bankruptcy. Salient has been recognized for several years now as a source for what some have described as "extremely high end" firearms, including the SAI BLU Glock/M&P melange, SAI GLD 12-gauge, and the SAI GRY carbines and SBRs.
We have not yet been able to fully confirm this, as attempts to obtain a statement from Adrian Chavez, co-owner of Salient Arms, or anyone on his staff have been unsuccessful. However, the State of California does show a bankruptcy filing on the part of Salient Security Services, SAI's parent company. According to those records, a Chapter 7 bankruptcy petition (Bankruptcy Petition #: 1:17-bk-12391-MT) was filed with the California Central Bankruptcy Court on September 7th, with an asset range of $100,000 – $500,000.
The case can be found on both Court Drive and Inforuptcy.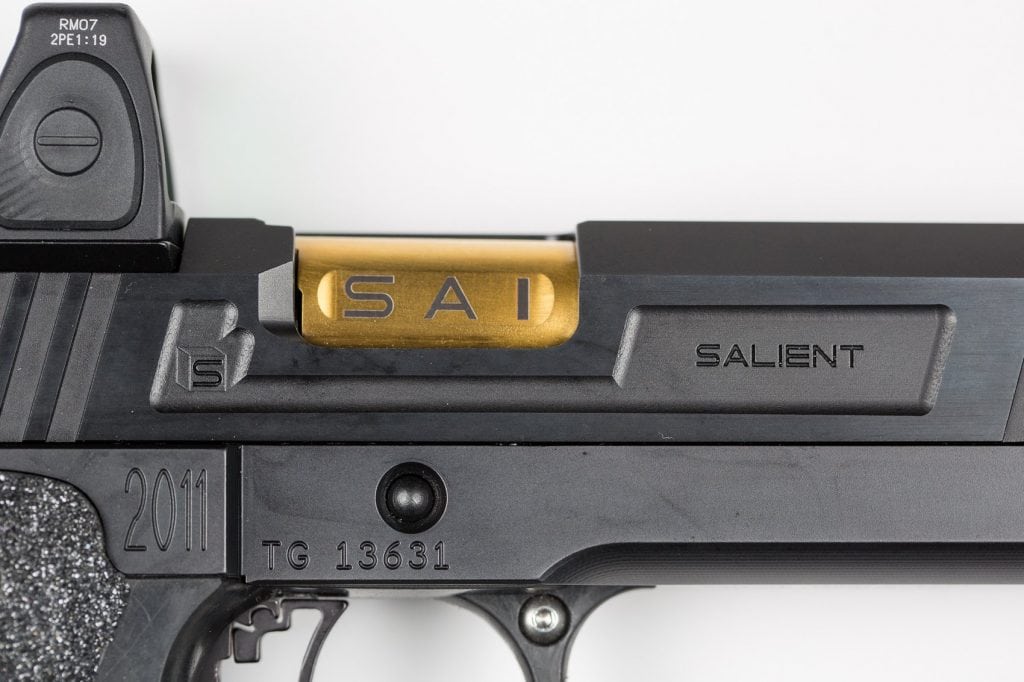 Opinions of the weapons vary widely. They've never exactly been hailed as bastions of customer service, but their supporters are vocal and ardent. Complaints about SAI response time and customer relations, already frequent in 2016, have become increasingly common over the last several months, but that could mean a lot or nothing. Their social media is inundated with negative comments about the delivery (or lack thereof) of several weapon systems…which could also mean a lot or nothing. These complaints are mixed in with other comments singing their praises. If Salient is for-sure out of business, there are a lot of people not getting a lot of several-thousand-dollar guns they've already paid for.
Interestingly, as recently as a few hours ago, SAI was posting sales information on their Facebook wall.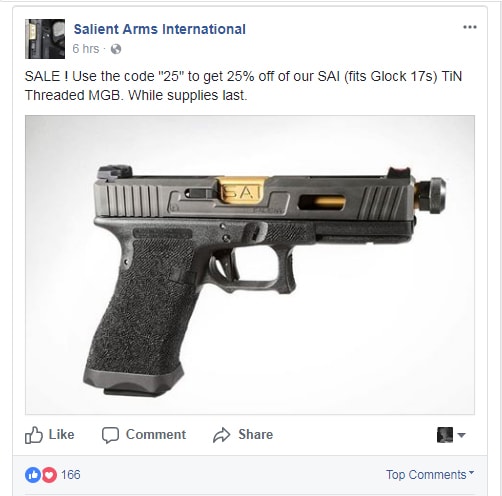 Hopefully this isn't as bad as it looks; in fact, hopefully it's bullshit. Hopefully (if true) a reorganization, bailout, or buyout will occur and prevent that from happening. Hopefully something will come along to salvage all their previous work — my admittedly limited experience with Salient firearms has been nothing but positive.
More when we know it.
---
---
If you wish to share or repost, please so kind as to follow our terms and conditions.
Mad Duo, Breach-Bang& CLEAR!
Comms Plan
Primary: Subscribe to the Breach-Bang-Clear newsletter here; you can also support us on Patreon and find us on Pinterest.
Alternate: Join us on Facebook here or check us out on Instagram here.
Contingency: Exercise your inner perv with us on Tumblr here, follow us on Twitter here or connect on Google + here.
Emergency: Activate firefly, deploy green (or brown) star cluster, get your wank sock out of your ruck and stand by 'til we come get you.
T&C: All original material published by Breach-Bang-Clear is the copywritten property of Breach-Bang-Clear, Inc. If you wish to repost, republish, or otherwise share our content, feel free to reproduce an extract of up to 225 words and one complete, unaltered image, preceded by attribution crediting the source and author's name, to include a link to the Breach-Bang-Clear home page, with a link back to the full article on our website, BreachBangClear.com. You do not require our permission to do this. Please do not reproduce our content in its entirety without contacting us first. We do allow full syndication on a case by case basis (credited, and posted with a canonical link, as is common practice and in good form) but only when mutually agreed upon beforehand. If you wish to reproduce a complete article, please contact us for permission to publish first.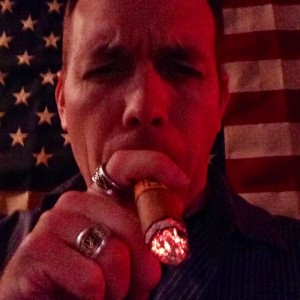 About the Author: It might not be too surprising that David Reeder, who never met a $50 word he didn't like, one of the "leaders" of the pedagogic and frequently obstreperous Breach Bang Clear team — insomuch as they have a leader (the terms orchestra conductor and rodeo clown are equally apropos). A former POG who tastes like chicken, Reeder cannot play the harmonica. He founded Breach-Bang-Clear quite accidentally at his young son's behest several years ago. He is the Mad Duo's Chief Wretched Flunky and Breach-Bang-Clear's HMFIC. A LEO for many years and former AF Security Forces SNCO, he was an O/C at the National Homeland Security Training Center for many years and a longtime MOUT instructor at the Bold Lighting UWS. Reeder has appeared on Fox News Business and written for a number of publications, from US News & World Report and Military.com to RECOIL Magazine and Soldier Systems Daily. All of that sounds way cooler than it actually is. You can read more about him here. Follow his banality on Instagram, @davidreederwrites.
"I have no taste for either poverty or honest labor, so writing is the only recourse left for me" Hunter S. Thompson

"Some editors are failed writers, but so are most writers." T.S. Elliot

"Either write something worth reading or do something worth writing." Benjamin Franklin