Rogue Gunfighter "CCW" Med Kit
You've heard us preach before about carrying trauma kit of some kind on you every day. You know we think if you're not going to have a stripped down IFAK with bare essentials on your person you should at least have a roll of Kerlix and a SWAT-T stuff down the front of your pants (plus then your junk will look mighty).
Here's a new option: Rogue Gunfighter, who love the Mad Duo like fat chicks love chocolae, have a new "concealed carry" IWB med kit. There aren't a lot of details yet, mostly because the damn RG guys got so excited about this thing they failed to give us advanced notice, but we will get you more information as it's available. (We like to call this unfortunate tendency to make an announcement on Facebook without warning us ahead of time, "Premature Expostulation", but we don't hold it against them.)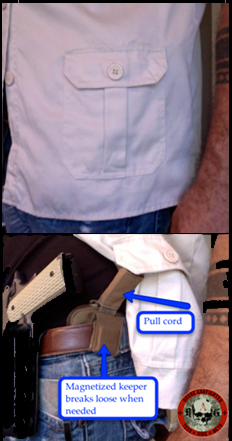 RG describes the kits as comfortable and light, and anticipate they'll be ready sometime in November or December.
Hope you're having a good day; remember, never be stingy with single dancing moms, at least the hawt ones. If they stop making money they go away.
Mad Duo Clear!
About the Authors: Richard "Swingin' Dick" Kilgore and Jake "Slim" Call are the HMFICs at Breach-Bang-Clear (breachbangclear.com). They write for current and former military, LEOs, contractors and trained and educated responsible armed citizens. They are the most door-kickingest, trigger-pullingest action figures in the tactical operator tactically operational world. Subscribe to them and stay informed about TTPs, new kit, and latest in what's stoopid (and occasionally inspiring) in the military and modern society or check them out on Facebook.