Rig Light Jacket from Grey Ghost Gear & Beyond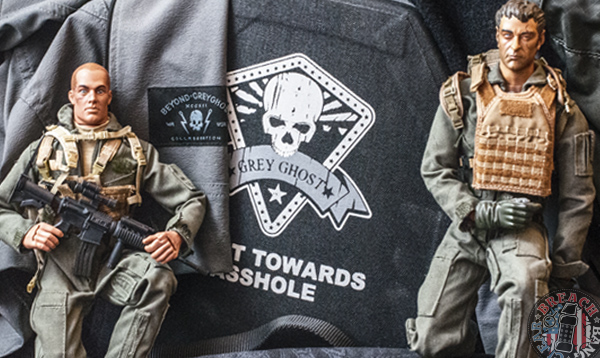 Check out the Rig Light Jacket from Grey Ghost Gear & Beyond
Some matches are just made for each other. Peanut butter and Jelly. Knives and throats. Strippers and beer. The list goes on, but there is another great pairing we would like to talk about today. Grey Ghost Gear and Beyond Clothing have partnered up to produce a damn fine garment: the Rig Light Jacket.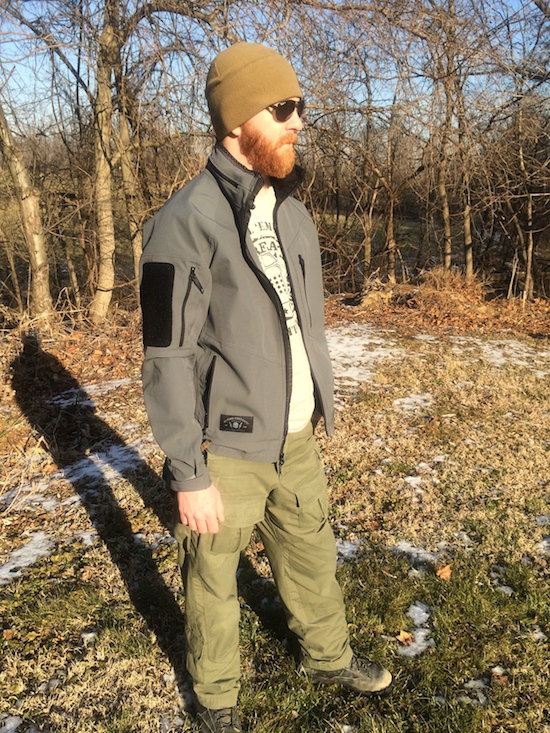 GGG set out to design a lightweight, durable and water resistant jacket that can be worn in a wide variety of roles. Entrusting the proven company Beyond Clothing to sew, they knew it would be a jacket made to the highest standard. We received a few samples a couple months back, and our goons haven't taken them off since. After daily wear in this past winter's blowing wind, relentless snow and driving rain, we've been left utterly impressed with the quality and features the Rig Light contains. 
The first thing you notice when putting the Rig Light jacket on is the softness of the 4-way stretch fabric. Made out of special ripstop nylon, the urban grey-colored (Grey Ghost Grey?) fabric feels comfortable against the skin and flexes with your natural body movement. Its also treated with a DWR coating, which impressively sheds rain even for extended hours in the elements. Of all our non-Gortex fabric jackets, this one beats out all others. Worn as a windbreaker, the tight weave and athletic fit keeps the coldest gusts from cutting through. Its a great three-season jacket that can be worn with T-shirt in warmer weather, or with warming layers for the winter. For spring showers it will be equally at home.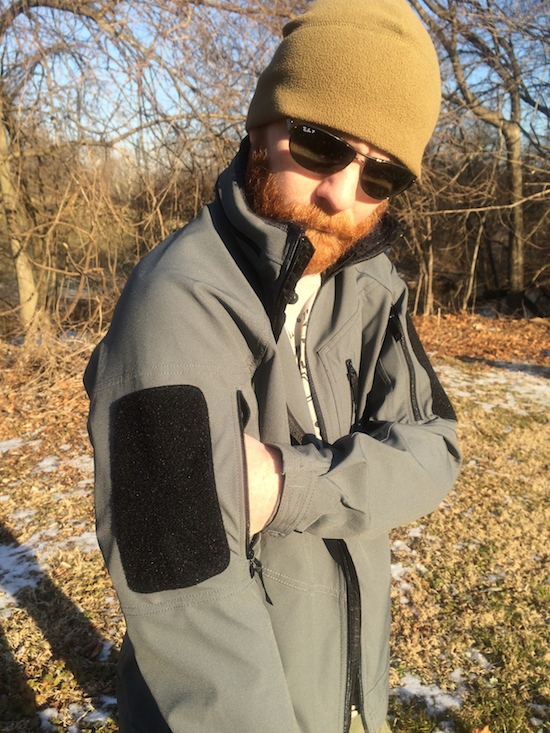 The Rig Light has two generously sized sleeve pockets, placed high on the upper biceps. The zippered access grants easy accessibility to your phone, notebook or morale patches. Speaking of patches, the outside of these pockets are covered with 4×7" of loop for your favorites. The loop and zippers throughout the design are a conflicting black, so color-match nazis won't be pleased. Some minions felt the loop should have been matched to the grey fabric, but that's personal preference.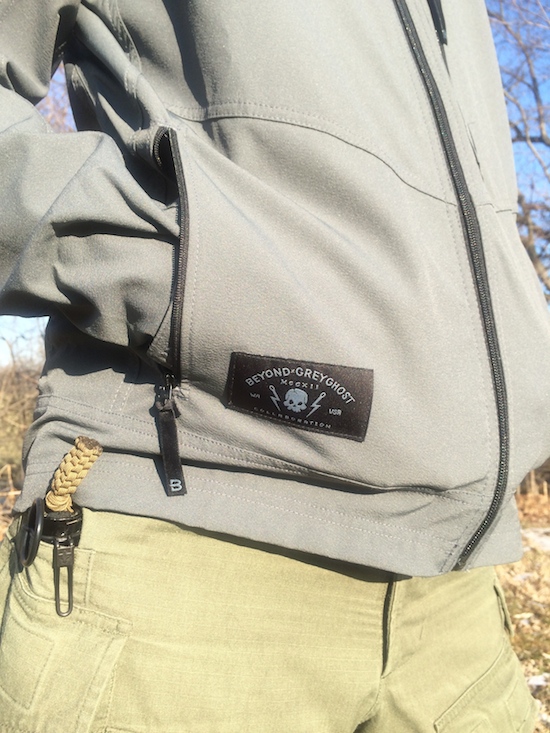 The Rig Light has two slash pockets positioned where you can actually put your hands in them, unlike some other designs out there. The zippers access a breathable mesh lining, which works well to scope out whats inside them when the jacket is worn fully open. Lastly there is a left breast pocket, also with zipper closure. This is by far the most commonly used pocket in the design, and we found ourselves keeping our critical small items inside more so than in other pockets. 
Additional Features:
Aside from using Beyond Clothing to sew the jacket from their exclusive, proprietary super-fabric, Grey Ghost also wanted other useful features to complement the design. Concealed inside the collar is a lightweight, ripstop nylon hood. This hood is accessed by two small zippers, and can be donned while still wearing the jacket. A toaster style cord lock cinches the hood down over even the biggest of domes, and works well against the rain and wind. It's not designed to be used all the time, but for the occasional shower or unplanned weather shift it's just fine.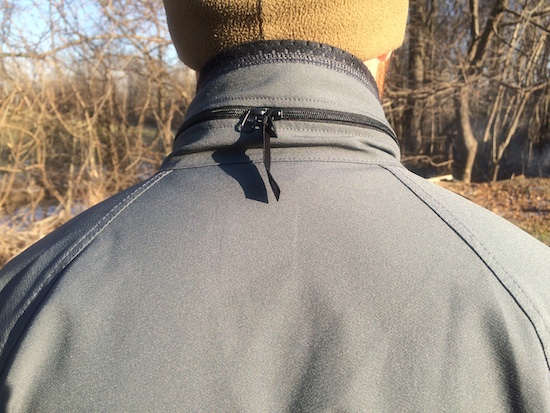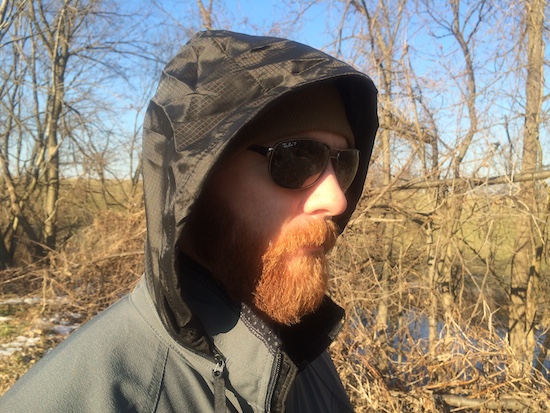 Lastly, the team made sure the sleeve cuffs can be properly secured against the elements. Hook and loop closure tabs allow for a loose fit, or a secure wrap around your wrist when being active.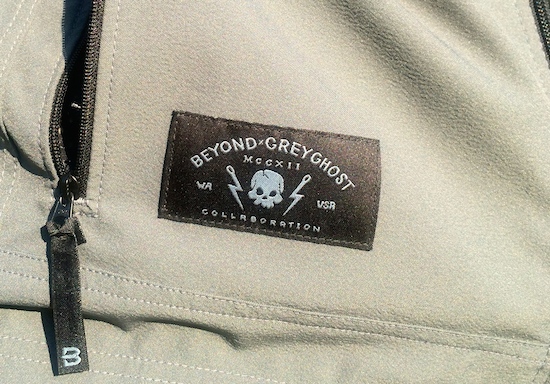 Active is the key word; the Rig Light jacket is built for those on the move. The comfort, durability and flexible fabric makes it a great choice for wear in the woods, on the job or just around town. Its sewn to Beyond's exacting standard, and promises to give years of reliable use. We think you will really like the fit and design, and before you big boys out there get bummed out- don't worry. GGG has offered the jacket in sizes ranging from small to XX-large. When we said they were athletic fit, we weren't lying (sizing is comparable to Arc'Teryx "Alpine" cut) so you'll have to size up if you want to layer under or have a big lunch. You can check the Rig Light out here on the Grey Ghost Gear website, and be sure to scope out the great designs Beyond Clothing has to offer. This is one collaboration you are going to want to check out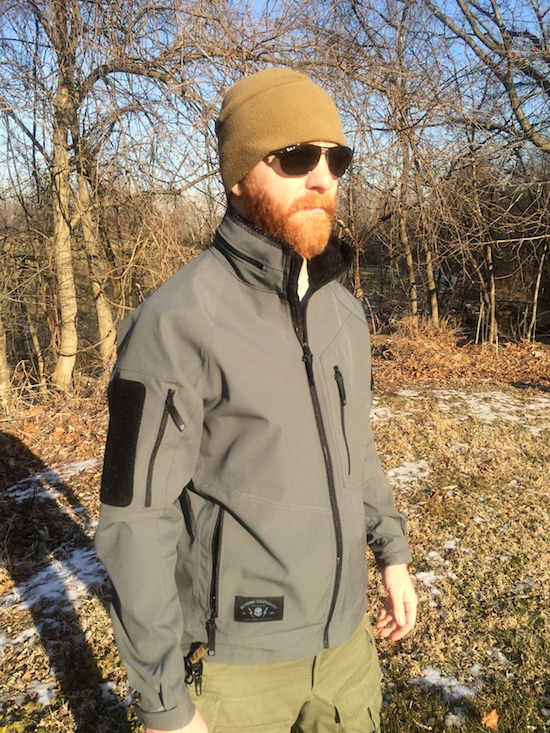 Mad Duo, Breach-Bang& CLEAR!
Comms Plan
Primary: Subscribe to our newsletter here or get the RSS feed.
Alternate: Join us on Facebook here or check us out on Instagram here.
Contingency: Exercise your inner perv with us on Tumblr here, follow us on Twitter here or connect on Google + here.
Emergency: Activate firefly, deploy green (or brown) star cluster, get your wank sock out of your ruck and stand by 'til we come get you.