RevTac Pants | Propper is Giving Away Britches
Propper International is giving away several pairs of their RevTac Pants over the coming days. That's one less excuse for wearing sub-standard trousers (or going bare-assed). Breach-Bang-Clear
RevTac Pants | Propper is Giving Away Britches
News Desk
Propper is advising they're giving away numerous pairs of their RevTac pants. They've given away several already, and will continue to do so through the 22nd. As we understand it, you can enter the contest anew every day on their Facebook page (link below) for a new chance to win a pair for yourself.
Enter to win the RevTac Giveaway here on the Propper Facebook Page. The contest lasts until February 22nd.
Take a look at their video, if you're so inclined. It'll give you an idea how the various sizes will fit different body types.
You can learn more about the RevTac Collection (which they describe as an "updated take on a classic") here on the Propper RevTac website page. That collection includes both men's and women's pants, and short- and long-sleeved shirts in both gender flavors as well.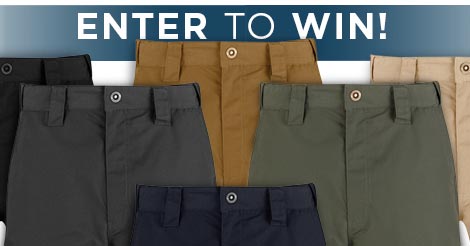 Says Propper,
"The NEW RevTac collection of pants and shirts is a modern, updated take on the classic tactical look and function. Poly/cotton blend ripstop fabric stands tall against the toughest conditions. Look more professional without sacrificing function. LIGHTWEIGHT, DURABLE, COMFORTABLE. RevTac."
RevTac Pants are currently available in black, charcoal, coyote, khaki, LAPD Navy, and Olive Green. They retail for $44.99.
Propper Apparel is a member of JTF Awesome. Follow them on Instagram, @wearpropper, or on Facebook, /WearPropper/.

[arrow_feed id='48630′]
If you wish to cite, syndicate, or curate our material, please be so kind as to read our Terms and Conditions.
---
From the News Desk…
Breach-Bang & CLEAR!
We're not comparing ourselves to these folks at all — hell, we'd be more qualified to join the Justice League. We're just saying these are people you should know.