Review | S&S Precision 757 "Concealment Jeans"
It may be shocking to learn, but our minions are both in the habit of wearing pants and carrying guns–often at the same time. If you find yourself in this situation on occasion, then this article is for you. Mad Duo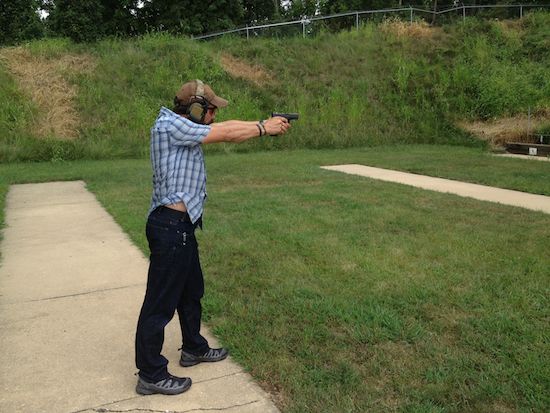 Review: S&S Precision 757 "Concealment Jeans"
Illumination tools. Check. Navgear. Check. Weapon Accessories. Check. Armor carriage and loadbearing equipment. Check.
Concealment jeans…wait, what?
S&S Precision has been making some pretty cool gear for the coolest of dudes since 2007. They primarily serve the military as a sort of Skunkworks for mission specific and end-user driven designs. Though many people outside the circles they frequent have never heard of them, they've nonetheless earned a solid reputation among people who pay attention to the right places. Many dismiss the company as a "Tier 1 unit boutique shop" that only focuses on the military. This might be partially true, but if you stop to think about it, what's wrong with that? Who cares? It's capitalism and it serves a need.
As long as the microscopic tip of the spear has companies willing to produce specialized items, they will get the equipment they need. I agree that the guys out there doing the dirty work should come first, and S&S Precision will always serve them first over commercial sales. It would seem the company is starting to expand their product lineups and focus though and is releasing more of their wares for open purchase. One such product is a particularly strange one for a military-geared maker of flashlights and weapon retention devices. S&S has now started to sell blue jeans….
Designer jeans aren't cheap. If you don't believe me go to your local mall and check some tags. I fall into the category of "the cheapest jeans that fit" kind of shopper, but even though I'm a thrifty bastard I still want to look presentable. Putting on a pair of S&S Precision's new 757 jeans for the first time, I was immediately impressed by the quality. "This is what rich people must feel like when they put on their pants!" I said out loud while threading my belt through the bar-tacked loops. The first thirty-seconds in them, and I was already in love. The fit and style are for carrying a weapon concealed, but without looking like it. The 757s look like a regular pair of high-end designer jeans from the exterior, with a comfortable cut and ride.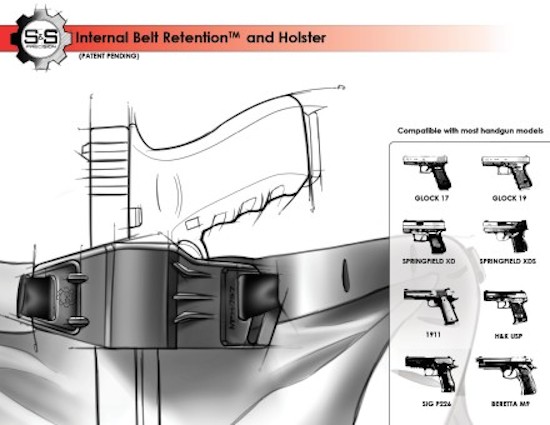 Let's start this review with what I don't like about the pants since there are a bunch of things that I do like about them and I don't want to end on a negative note.
First is that they are priced the same as designer jeans. The website (the only place you can buy them) has the jeans listed for $128.97, which is pretty damn salty. The only perk to this is that the pants are made here in America, so that partially explains the price. Another aspect contributing to the price is the amount of stitch work that goes into making these things. Seriously, I think I have a few plate carriers that have less thread holding them together. Virtually every stress point is bar tacked, and the 757s have a total of eight pockets. This all adds up to a lot of time on the sewing machine, and thus more expensive.
The next thing I didn't like was their holster system. The jeans have a sort of 1" spaced PALS style slot system sewn inside the waist band, to facilitate the installation of the S&S "757 Multi-Purpose Holster."  From the website, they describe it as an
"…injection molded thermoplastic elastomer holster fits most full size handguns to include Glock, Sig, etc. The holster is symmetrically designed to be ambidextrous, with contoured surfaces for maximum comfort and angled belt slot for a more aggressive tilt forward." 
Initially, this seemed like a great idea, allowing me to thread their holster into the jeans allowing for carriage without an exterior belt. This, however, lost its appeal after actually carrying a gun that way. The stiff polymer holster is a "one size fits all" affair designed to fit most common, popular pistols. I found the retention to be extremely stiff, regardless of what pistol I placed inside. Even after countless draws, it was tight and I found reholstering to be equally annoying. When threaded into the jeans with the included strap, I found the system to be uncomfortable in comparison to most of the modern IWB holsters I currently use. The stiff holster material is pushed against the skin and wasn't terribly comfortable. Another strike. The last thing I'll complain about is the fact that it's a pain in the dick to take the holster on and off the pants. Since you essentially "sew" the holster into the inside waistband slot track with a separate, stiff strap it takes some time. As in more time, than putting on a belt and regular IWTB holster. This becomes a chore really quick when doing laundry, and also means if you aren't wearing the 757's, you have to use a different holster anyway. After a few attempts to utilize this feature, I abandoned the holster completely. It's the only part of the pants I don't like, and I think a lot of people will agree after giving it a try.
I understand that the point of these pants is to offer a "deep concealment" option, but if someone (a bad guy) is close enough to see a tiny J-hook over your floppy Old Navy belt you definitely have bigger problems to worry about. 
Now for all the good aspects of these innovative jeans! The eight pockets are awesome, offering the ability for you to pocket carry more gear and reduce your belt's signature. The front slash pockets are deeper and wider than most, and each side has a smaller internal pocket. This mirrored inner pocket is sized for a pistol mag, multitool, tourniquet, knife or flashlight. Such EDC items will also sit deep in the pocket, to keep those items from peaking out of the slash pocket top. The rear pockets are equally useful, and the 757s have two traditional outer pockets, topped with two "hidden" pockets above. The standard pockets are deep and wide for the most gargantuan of wallets or phones and are bar-tacked at the corners for durability.
The hidden pockets above are just below the waistline and are sized to fit a larger pistol. I tried carrying a Glock 19 and a 1911 Gov model in this pocket, but I couldn't get used to it. The grip of the pistol sits much lower than where it would in a holster and appears to print more as a result. As a "last ditch," or "grab and go" setup it will work, but I'm not sure if I could ever count on it for daily carry. They are great for other applications though, such as carrying your phone, thin med kit, radio or M4 sized magazine. If you used only the rear pocket to haul rifle mags, You can easily fit four in these rear pockets. Unused, they are virtually invisible when empty.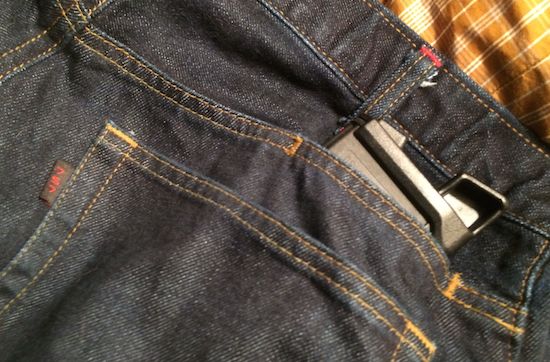 The 757 Jeans are cut for an active lifestyle, and wearing them to the range and running around town on errands showed this to be true. The crotch is cut generous enough, as well as the legs to be comfortable when squatting, kneeling, sitting or when going prone. They wear more like cargo pants as far as comfort and load carriage goes, but don't have the "Shoot me first!" look at all. These are the only pants outside of cargo, "tactical" or BDU style that allows for so much gear to be organized and carried. Wearing them out to town feels like wearing any other pair of jeans, and if not for the comfort and pockets you would easily forget that they aren't simply that.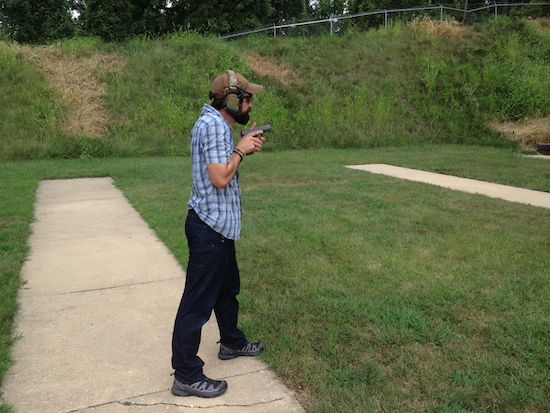 Overall, I really like these pants. Having worn them training, to classes and just doing routine "life stuff" on a daily base, they have become my current favorites. They are extremely well made, have laundered well and are holding up with little sign of wear. Although pricey, they are great for their intended role and will give you your money's worth for sure. For anyone that carries a pistol daily, I recommend you give them a try. 

 This article may contain affiliate links. If you make a purchase using such a link, we will earn a small commission from that sale at no additional cost to you. 
Like what you read on Breach-Bang-Clear? Consider joining our Tactical Buyers Club.