Hill People Gear Recon Kit Bag Review
In the interest of full disclosure, we should warn you in advance we've yet to come across any Hill People Gear we didn't like…but Hernandez is a measured and candid fellow, so we asked him to take a look.
I recently received a Hill People Gear Recon Kit Bag for review. My intended use for the bag was pretty basic; since I'm now a retired soldier and will never again bail out of an MRAP into a firefight, I really just wanted a bag to jog with. When I jog I always carry a gun, phone and ID, and until now the only pack I had that was purpose-built to hide a weapon was a Grey Ghost Gear Stealth Operator Pack. I've run with other packs that had no provision for a holster, and they're pretty crappy for jogging. The GGG pack is fantastic, but obviously carrying a weapon in a backpack isn't optimal.
So when I heard of Hill People Gear chest packs, I wanted to try out their stuff. Hill People Gear actually makes a bag specifically for running, but it was easier to get the Recon bag and I liked the Recon's dual-purpose capabilities. More on that later.
In a nutshell, the Recon Kit Bag is a fairly small rectangular pouch that with a harness that mounts to your upper chest. The pouch has two compartments: a pistol compartment nearest your chest with Velcro for mounting a holster, and a smaller admin pouch up front.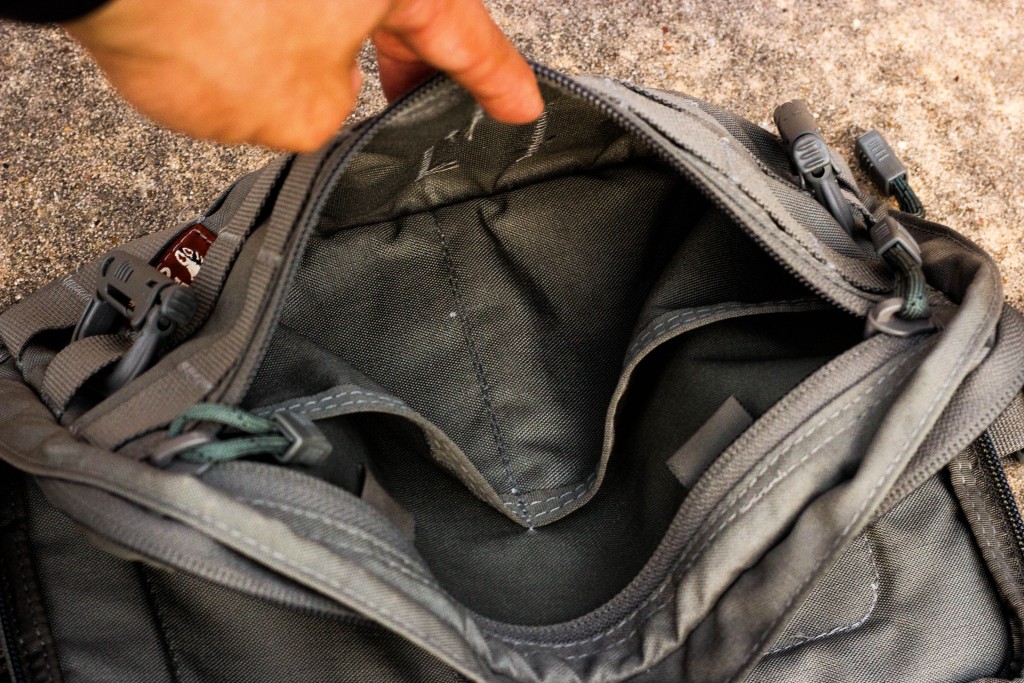 The harness is composed of four wide nylon straps and a mesh back. Three of the straps attached to the bag through strap tensioners, while the bottom right (from the wearer's perspective) strap clips into a quick-release buckle. Tabs are placed top and bottom, allowing the user to mount the Recon onto plate carriers or other gear. The front is covered in three rows of MOLLE/PALS, letting you attach mag or GP pouches.
While I haven't used the Recon for military/field use, I've wandered mountains and deserts in gear enough to have an idea how it would perform. I can see it being worn over a slick plate carrier with mag pouches mounted to the front and commercial GPS in the admin pouch. The harness is so flat it would likely go unnoticed under pack straps but you can get a kit to direct attach to straps if you want. On all but the skinniest chests it wouldn't interfere with placement of a buttstock in the shoulder. I can also see this being a "bail out"-type bag, that can be quickly thrown on and used to load your carbine from while also keeping your secondary weapon and spare mags close at hand.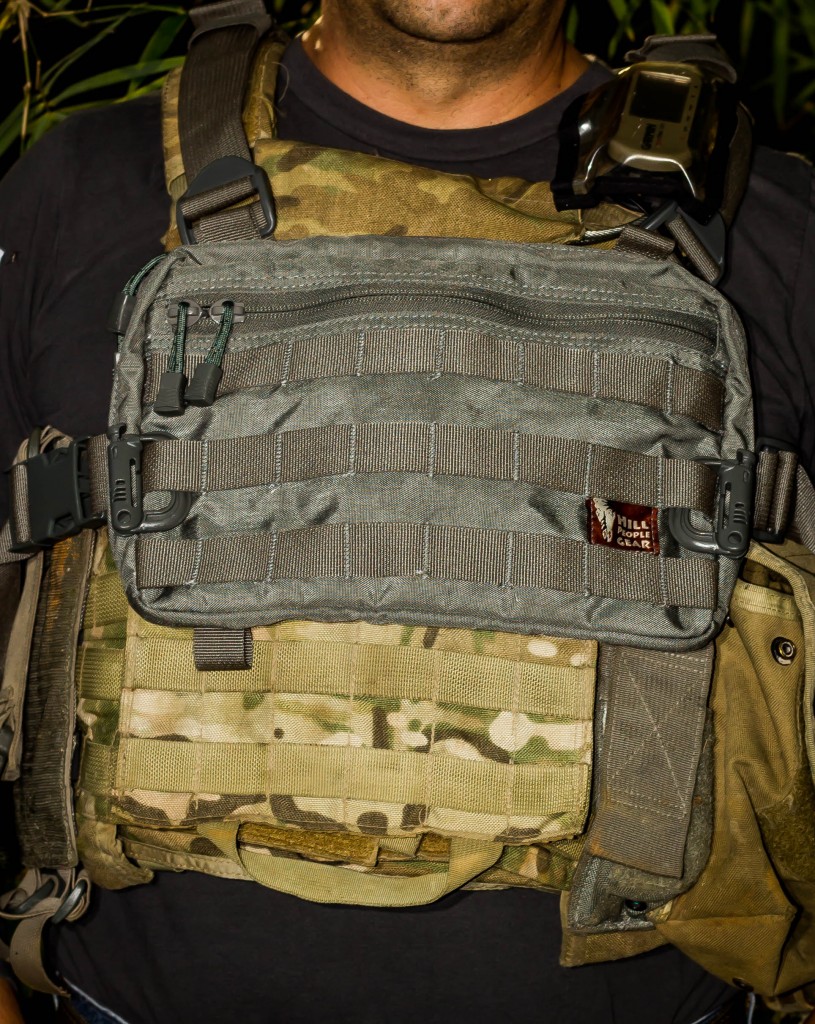 The bag will hold pretty much any full-size duty pistol, even with WML. I'd rather not jog with my G22 on my chest, so I mostly carried a G43. I tried my G42 in it once, it was like running with no weight at all.
For jogging, it's been a success. The straps can be tightened enough to keep the Recon from bouncing on your chest, and the small pockets in the admin pouch fit an iPhone perfectly (and a G43 mag a little loose). I mounted a Grey Ghost Gear holster inside the Recon's pistol compartment, which holds the pistol horizontal, and left the chamber empty. I also kept just the 6-round stock magazine in the weapon, because a Taran Tactical extension on the mag made it hang up during the draw. I left the right side of the bag slightly open so I could easily force my hand in, and practiced the draw enough that I know to force the zipper further open with my wrist as I remove the weapon.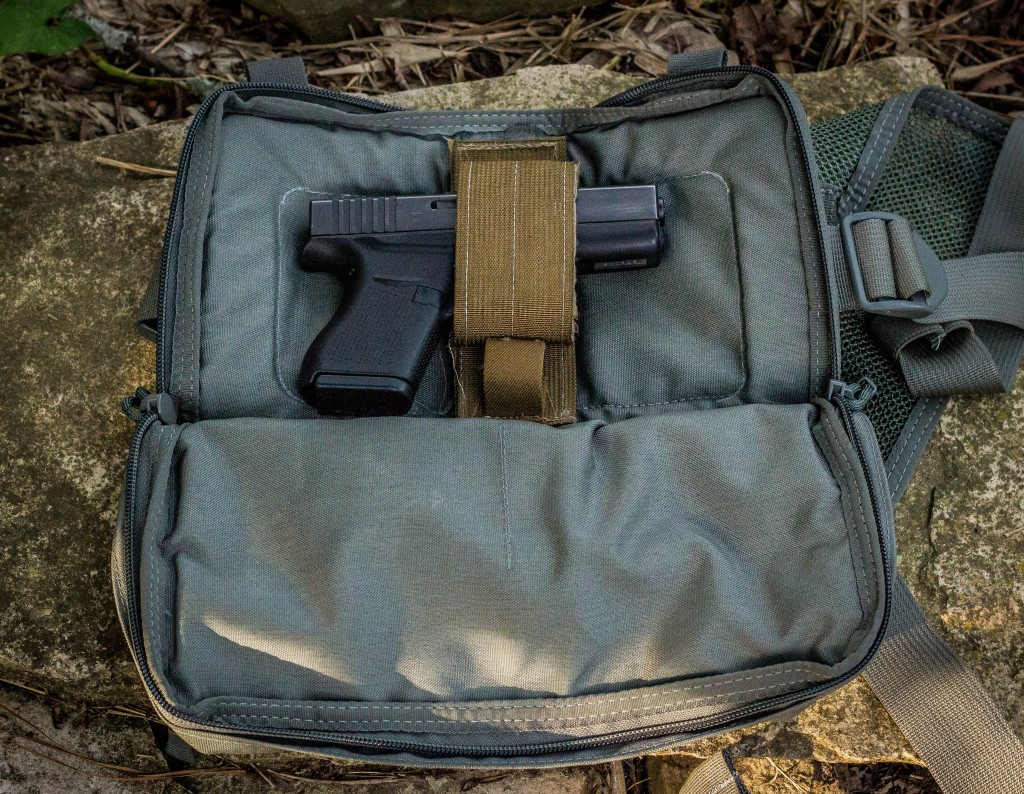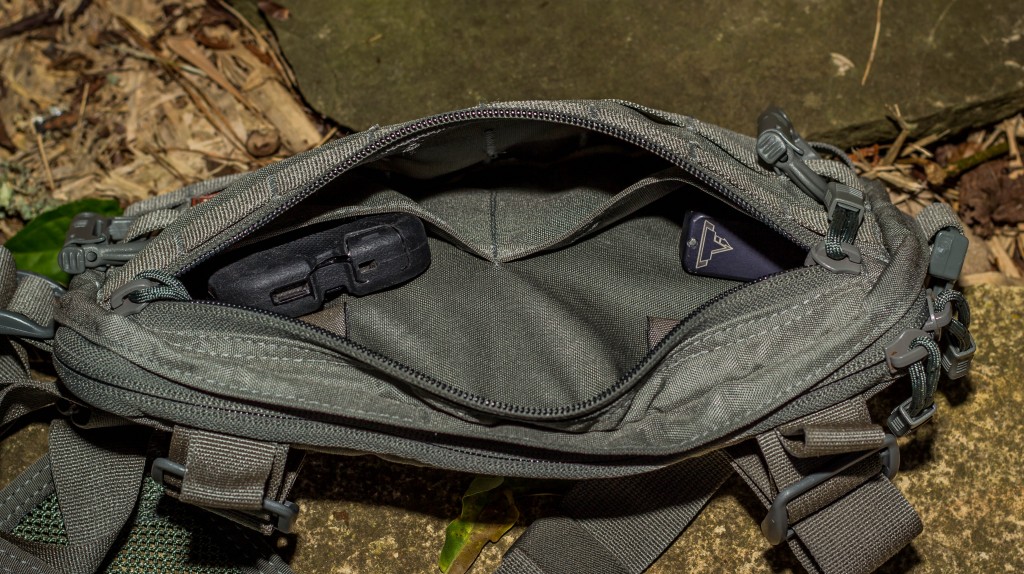 I often run downtown in a major city, and I was worried people would immediately recognize the Recon as a military bag/holster. But thus far, that doesn't seem to have happened. I got the bag in grey rather than multicam or coyote, and it doesn't attract much attention. The MOLLE stands out, but most people have no idea what that is anyway. I've gotten a few glances, nothing more.
The bag isn't perfect though. There are a few things Hill People Gear could improve:
The only quick-release buckle is on the bottom right. For running that's no big deal (other than looking like I'm struggling into a bra when I pull the harness over my head), but for field work it's a serious consideration. If a Joe wearing a Recon becomes a casualty and his gear needs to be immediately removed, the Recon will be a pain in the ass to take off. Adding another quick-release at top right would alleviate that problem.
While jogging, and I'd assume also during ruck marches and the like, the straps loosen a little. Maybe a better option for keeping tension on the straps can be added. And,
If you overload the admin pouch, you look like Denise Milani. That's not a problem, and Hill People doesn't need to fix it. I just wanted to add a picture of Denise Milani.
I plan on getting a Hill People Gear Runner's Kit Bag, or the even smaller Snubby Kit Bag, in the near future. That'll be my dedicated running bag, but the Recon will be there to serve multiple purposes. Hill People Gear has impressed me so far, and I'm looking forward to trying more of their stuff.
-CH
Enjoy Breach-Bang-Clear? How about doing us a solid. Back us by joining Great House Morningwood – you'll get stupid awesome rewards for it.