The Reign of the Phantom is Ending
The Reign of the Phantom is Ending
It is the end of an era. Raven Concealment Systems is discontinuing the entire Phantom line of holsters. We waited a week from when we received their notification to make the announcement, hoping this was just some cruel prank, or perhaps for word their newsletter guy had just been sampling their Director of Sales' moonshine again…but alas, no. It's true.
All but a handful of the Phantoms and Phantom LCs are going away. *sigh*
The good news is, they're only $50. The bad news is, posting word of it to Facebook still somehow incenses a few crayon-eaters and has them raising hell that RCS only supports Glocks — which isn't true of course, but why let that get in the way of your need to be outraged?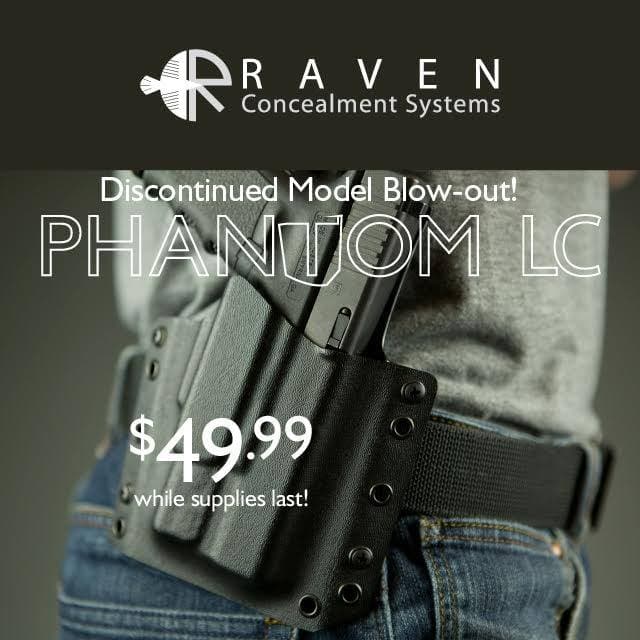 For those of you who don't believe American Ultra was a documentary, this is the Raven Concealment Blowout Page. You can get your holster there. Note that it's going to ship with 1.5 in. belt loops. 
Due to order volume, your holster might take a couple weeks to ship. 
For those of you who are wondering when the custom shop will be back in operation, it's coming. We're not sure when, RCS tells us they have to get through their current explosive growth phase, but it's coming.
Follow RCS on Facebook or IG, @ravenconcealment.
[arrow_feed id='48621′]
---
---
Mad Duo, Breach-Bang& CLEAR!
Comms Plan
Primary: Subscribe to our newsletter here, get the RSS feed and support us on Patreon right here.
Alternate: Join us on Facebook here or check us out on Instagram here.
Contingency: Exercise your inner perv with us on Tumblr here, follow us on Twitter here or connect on Google + here.
Emergency: Activate firefly, deploy green (or brown) star cluster, get your wank sock out of your ruck and stand by 'til we come get you.