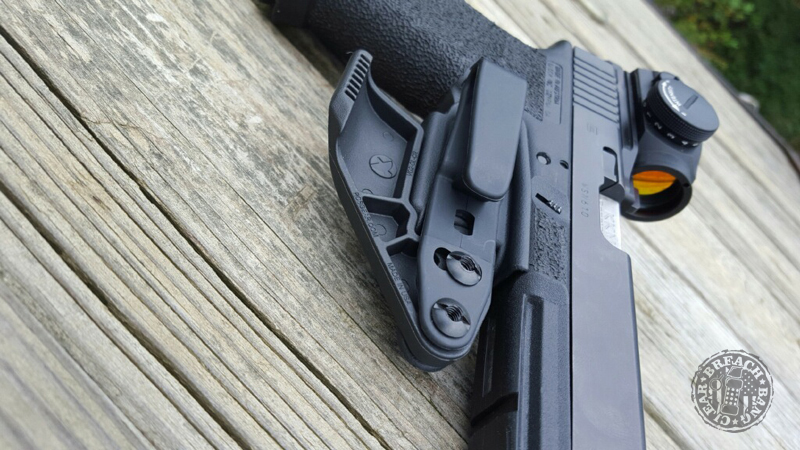 This is the Raven Concealment Systems VG II (Vanguard II) Advanced. As you can see, what they've done is design an Eidolon-like claw specifically for combatants who prefer the VGII minimalist holster, and for the same purpose — to rotate the weapon into the body. It does not have the Eidolon wedge (that should be apparent from the pictures, but some knucklehead will ask anyway). The VGII currently ships with the pictured overhook clip that allows you to more easily don or doff the holster than the traditional soft-loop VGII (though there will be a soft loop option for those who prefer it).
Grunts: doff.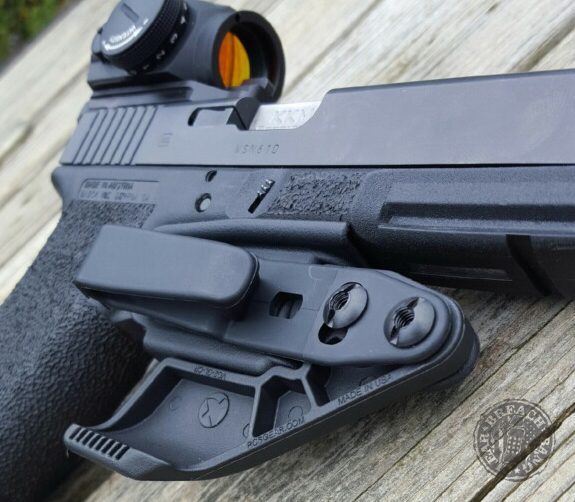 When you order you'll have the option of an Overclip version or the Soft Loop version. With the former you'll get 2 hooks (for 1.5 and 1.75 belts), 2 directional claws (so it's ambi) and of course the holster body. With the latter choice comes the tuckable soft loop, holster body, 2 claws, soft loop and strut.
About the only way to have more fun with something like this would be if it took batteries and vibrated in place.
Before you ask…this is not the VGIII so many of us have been speculating about. However, we have it from a reliable (if somewhat motheaten and acerbic) source that anyone interested in such a holster, should it exist, might oughta be registered for the RCS newsletter before Thanksgiving rolls around.
For those who have a VGII and are looking to retrofit, the short answer is — we dunno yet. As soon as we find out if or when such a kit might be released we'll let you know (but why wouldn't they make 'em available? We reckon it's when not if).
Want to just win a VGII Advanced instead of having to buy one? We're gonna give a few away, but for that you gotta be subscribed to our newsletter. Note: do not subscribe to our newsletter if you are a vegan, ever watch The View or think skinny jeans are an acceptable wardrobe choice for anything with testicles.
Raven Concealment Systems is online here. You can follow them on Instagram (@ravenconcealment) or on Facebook.
Mad Duo, Breach-Bang& CLEAR!
Comms Plan
Primary: Subscribe to our newsletter here, get the RSS feed and support us on Patreon right here.
Alternate: Join us on Facebook here or check us out on Instagram here.
Contingency: Exercise your inner perv with us on Tumblr here, follow us on Twitter here or connect on Google + here.
Emergency: Activate firefly, deploy green (or brown) star cluster, get your wank sock out of your ruck and stand by 'til we come get you.