Ranger Racks Now Available

Ranger Rack – Vehicle Spare Mag Solution Available
The Breach-Bang-Clear News Team
We told you a couple days ago they were coming; now they're here — and we've contacted DSG to get you a discount code if you decide you want one (or five). The DSG (Defense Solutions Group, Inc.) Ranger Rack is now available online here: https://dsgarms.com/dsg-holsters-ranger-rack. (Use DSGMAGRACK, Friday 8/11/17 to Monday 11:59 PM Central 8/14/17.)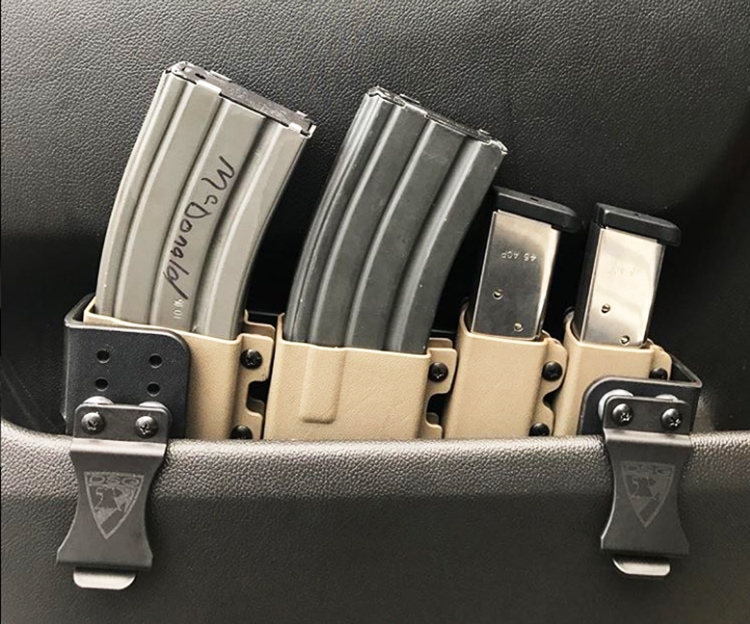 Designed at the behest of some Texas LEOs (you may have heard of them), the Ranger Rack is a better way of doing what a lot of us already do — store extra mags in the door. This keeps them oriented correctly and stationary, vs. sliding all around inside the damn thing with your hand sanitizer, extra set of cuffs, and whatever else has fallen down in there.
There will be haters, of course, but there are always are. Since we've seen more than one OIS video where something like this came in handy, we see its place. Disagree? Watch this gunfight.
To use the code we've provided, you'll need to log in or create an account; remember that code is for standard retail only. LE and .mil type customers already have their own pricing. Don't already have your LE/mil account? You can do that here on the DSG website.
We figure this is a pretty good idea, likely one that will be used in other locations. In fact, we know a couple guys who use a similar (albeit home-built) system to keep gear arranged on the underside of the trunk lid.
The Ranger Rack is made to run inside or outside your vehicle door and is vertically adjustable. You can fix it in place using the rubber bumpers on the belt clips, or just mount it straight to the side pocket (assuming your agency or Household-6 will allow it). Each magazine is held in an individual mag carrier then screwed down to their Ranger Rack, so it should be relatively simple to adjust for preference and vehicle type.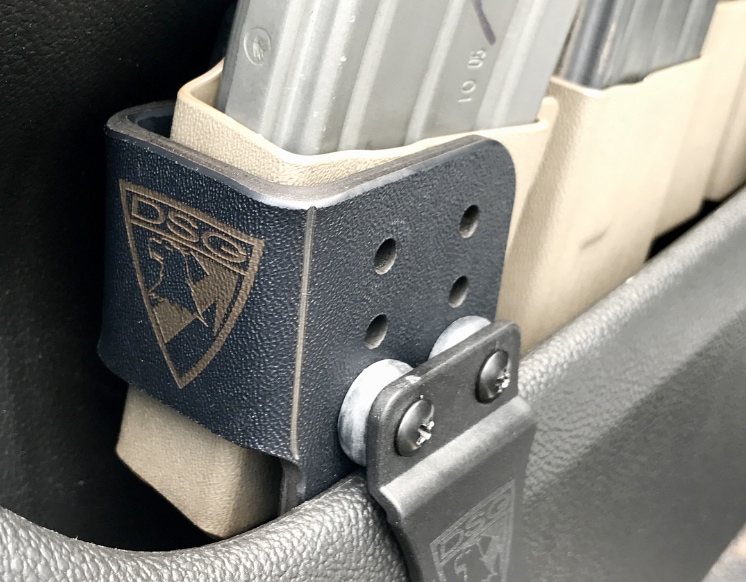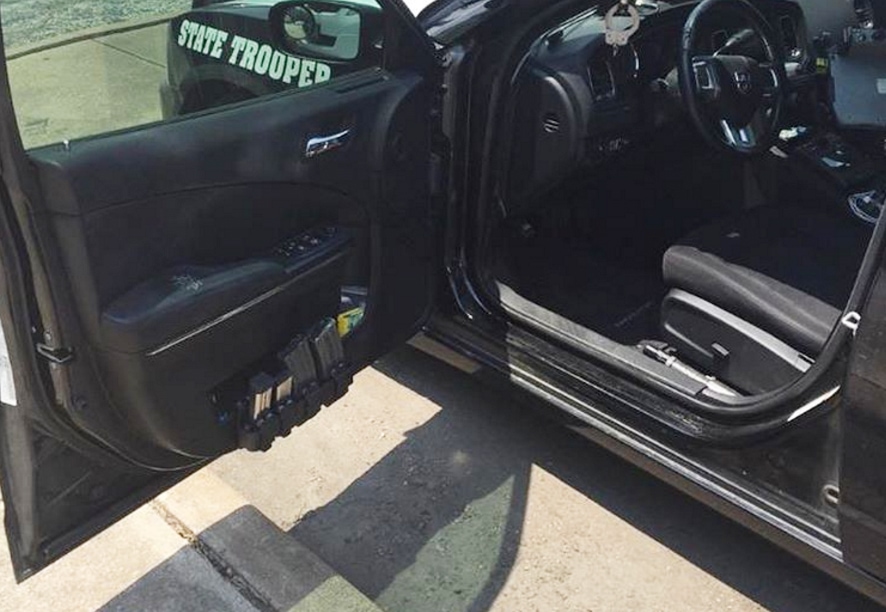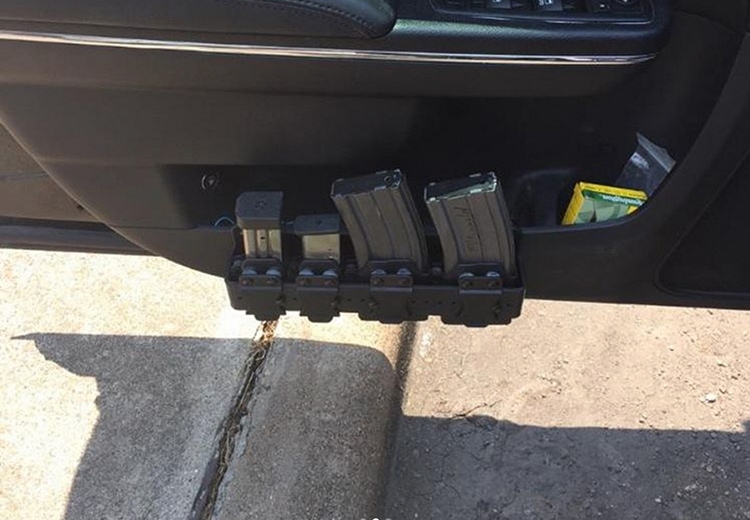 You can follow DSG Holsters on Instagram (@dsgholsters) to watch for further announcements.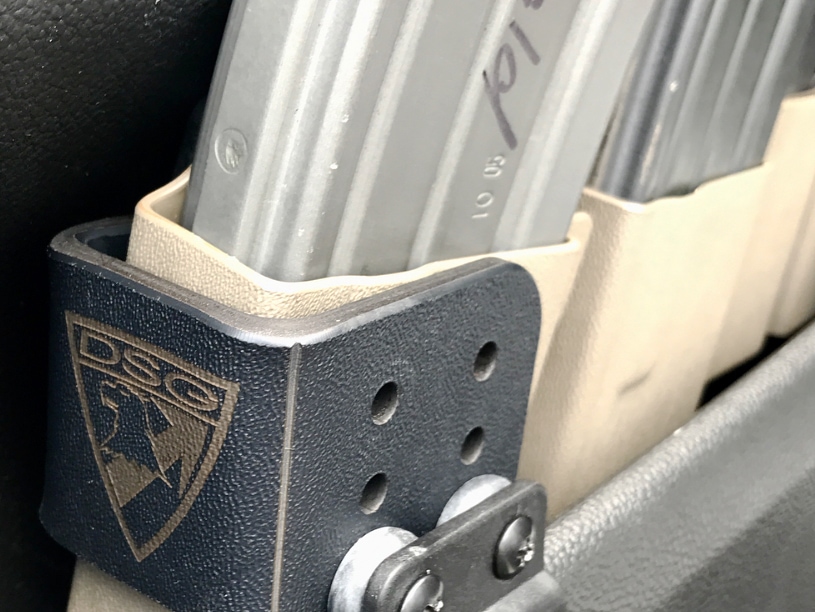 Remember Discount Code DSGMAGRACK  (Friday 8/11/17 to Monday 11:59 PM Central 8/14/17). Be safe out there.
5.11 Tactical (@511tactical) is a member of JTF Awesome.
[arrow_feed id='50418′]
---
---
This article was lovingly prepared for you by the Breach-Bang-Clear News Team.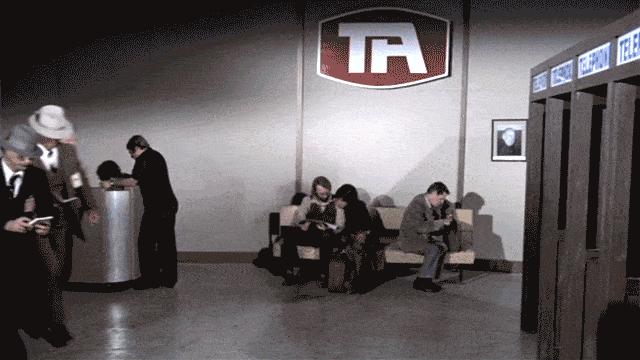 Mad Duo, Breach-Bang& CLEAR!
Comms Plan
Primary: Subscribe to the Breach-Bang-Clear newsletter here; you can also support us on Patreon and find us on Pinterest.
Alternate: Join us on Facebook here or check us out on Instagram here.
Contingency: Exercise your inner perv with us on Tumblr here, follow us on Twitter here or connect on Google + here.
Emergency: Activate firefly, deploy green (or brown) star cluster, get your wank sock out of your ruck and stand by 'til we come get you.