Radical Firearms Milestone | 300 Donated Rifles
Radical Firearms is making good things happen.
Radical Firearms recently celebrated a milestone regarding their ongoing support of military charities and first responders. They just hit three hundred RF 15 rifles and pistols donated to worthy causes.
Radical Firearms gives Texas-built weapons directly to agencies, Police Officer Associations, charitable funds for officers in need, first responder benefits, and individual officers who have not been issued a rifle. These LEOs and agencies hail from many different states, working a wide variety of assignments – but especially patrol.
Other donatees include such veteran-supporting organizations as :
Wishes For Warriors and Veterans Helping Veterans
"Ryan the Warrior"( an effort to support underfunded fire departments)
Bikes and Bugs (benefiting the Epilepsy Foundation of Texas)
Texas Adaptive Aquatics
the Texas Frog Fest/Lone Survivor Foundation
Other local charities.
Radical Firearms says they hope to increase this number to 300 by spring. They also hope that all responsible gun owners will join them in lauding all firearm and tactical equipment manufacturers who support local first responders, veterans, and other worthwhile causes.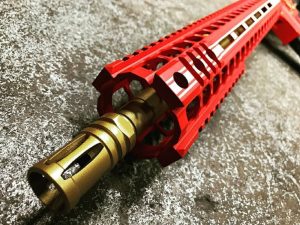 Radical Firearms: American Manufacturing. Texas Proud.
Visit Radical Firearms online at RadicalFirearms.com.
Connect on Facebook, /RadicalFirearms/. https://www.facebook.com/RadicalFirearms/
Follow on Instagram, @radicalfirearms. https://www.instagram.com/radicalfirearms/
Find Radical Firearms on Pinterest, /RadicalFirearmsTexas/. https://www.pinterest.com/RadicalFirearmsTexas/
Learn more about the company, the RF15 series, and Radical Firearms suppressors at:
Soldier Systems Daily: https://www.pinterest.com/RadicalFirearmsTexas/
Modern Service Weapons: http://modernserviceweapons.com/?p=17616
AmmoLand: https://www.ammoland.com/tags/radical-firearms/
PewPew Tactical: https://www.pewpewtactical.com/review-radical-firearms-upper/
Breach-Bang-Clear: https://www.breachbangclear.com/radical-firearms/
Shooting Sports Retailer: https://www.shootingsportsretailer.com/2017/05/24/gun-review-radical-firearms-rf-15-223-wylde/
Radical Firearms is a Title II NFA gun Manufacturer with an exclusive lineup of pistols, rifles, silencers, and machine guns. They are a true manufacturer, not an assembly shop, with a fully tooled modern machining facility producing numerous components for complete rifle and pistol builds, upper assemblies, and components for their diverse OEM customers. Their knowledgeable and skilled employees provide the highest quality craftsmanship. Many of their employees are veterans and very passionate and take pride in their work producing American made rifles and pistols.
⚠️ Some hyperlinks in this article may contain affiliate links. If you use them to make a purchase, we will receive a small commission at no additional cost to you. It's just one way to Back the Bang. #backthebang 
---
Declare for Morning Wood!
Why become a patron? Not for the dick pics. So you can access the Morningwood Bazaar, obviously.
Exclusive discounts up to 60% off all kinds of guns and gear. 
Plus, unrivaled camaraderie where we only make fun of you most of the time.
Access to Nancy's Squat & Gobble, our closed Facebook discussion group.
If you wish to cite, syndicate, or curate our material, or if you're wondering about our please be so kind as to read our

Terms, Conditions, and Disclosure

s.
Take heed! We have advertisers, sponsors, and affiliate relationships with some of the companies you will be reading about (particularly, but not limited to, archival posts). If you purchase one of those items, we will get a small commission from the sale at no additional cost to you. A lot of work goes into Breach-Bang-Clear; by making your purchase through one of our portals you'll be supporting our work. This will help us buy beer, bullets, and barbecue, and we won't have to put pop-up ads and other such stupid shit into our articles to pay our expenses.