Quantico Tactical Extends Hours For EOY Purchasing
OCT 2018
If you're at AUSA this week, we need you to go by and see our favorite DLA Gold Superior Supplier, Quantico Tactical. Do it! 
No, seriously, do it, you'll be doing us a solid.
Here's the official announcement from Quantico Tactical:
Stop by and see Quantico Tactical Oct. 8-10 in Booth #3925 at the AUSA Annual Meeting in Washington, D.C.  As a DLA Gold Superior Supplier (one of twelve in the world), they are a leading supplier of special operations equipment, C4ISR, weapons, and weapon accessories to the Department of Defense, Federal Agencies and state/local Law Enforcement Departments.  With Quantico Tactical, you can Count on More™.
You Can Count On:
Customer Commitment
Exceptional Performance
Convenient Contracts
Simplified Procurements
Unmatched Service
Rapid Logistics
Extensive Brand Selection
Kitting Solutions
Meet with our specialists to discuss your procurement needs and view a sampling of incredible products from SureFire, Tyr Tactical, Team Wendy, Magpul, Safariland, Point Blank, PacStar Advanced Detection Technology, Geissele, Leupold, Vortex, Spuhr, Panasonic, Harris and many more.  Our knowledgeable team is standing by to answer your questions and provide in-person support.
For more information about Quantico Tactical, please visit QuanticoTactical.com or call 910.944.5800.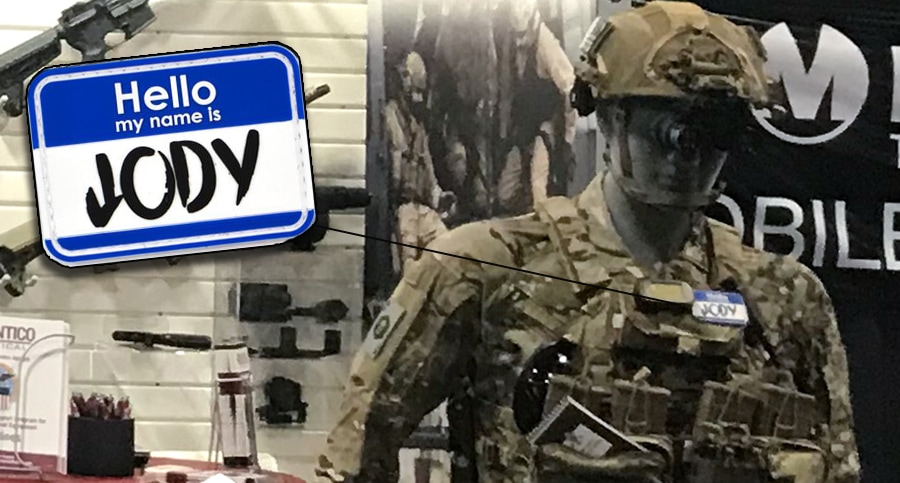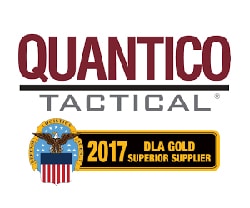 SEPTEMBER 2018
August 2018
We're fast approaching the end of the year — that means EOY purchasing, and all the work it entails.
If you're involved in procurement, you'll be glad to know that Quantico Tactical has extended its hours of operation to accommodate you, to wit:
From now until EOY is complete, Quantico Tactical will be open from 8am
 to

7pm

 EST.

Contact the Quote Desk at 910.944.5800, shoot 'em an e-mail at [email protected], or visit their EOY procurement page.

Anticipate the need for gear in your future? Headed to Val Verde for "vacation"? You should be subscribed to the Quantico Tactical newsletter. Breach-Bang-Clear
Subscribe to the Quantico Tactical Newsletter
Here's why you should be on the e-mail list
News Desk
There are a number of reasons to shop Quantico Tactical, not least their selection. There's more gear available at Quantico Tactical than the daily inventory at Sun Valley's Surplus City (well, before Matrix's visit anyway).
You need to do more than follow them on social media, however; you need to subscribe to their newsletter. Why? Because their newsletter is constantly pushing out news of sales or deals you won't pick up on elsewhere.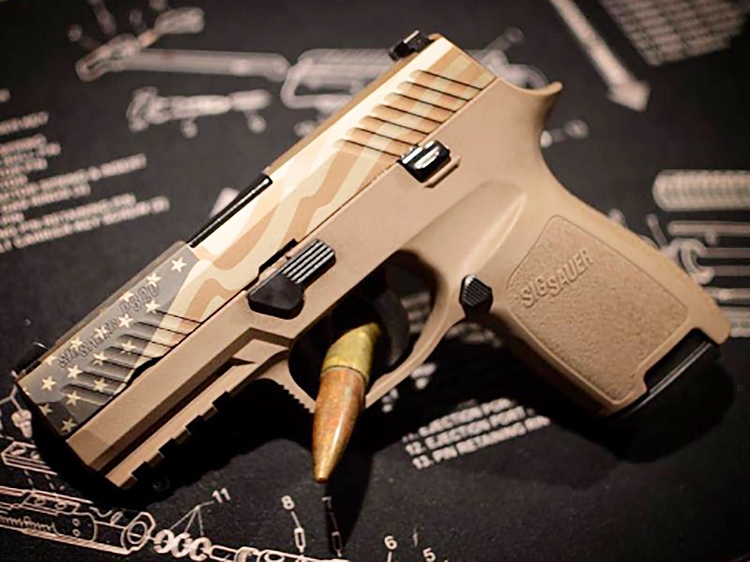 For instance, a couple hours ago we were told they have the SIG SAUER "American Hero" commemorative pistol (a Quantico Tactical exclusive) back in stock. That's the weapon you see above, by the way. You wouldn't know that if the only thing you were doing is following them on social media and watching XHamster or whatever (and the latter's a terrible life choice anyway, given some of the superb alternatives out there).
Here's another — did you know QT is in the middle of an optics sale? Up to 33% off. Or, since some of you reading this don't math so good, about 1/3 off retail.
↑↑↑ Prefers pawn shops and Condor retailers to Quantico Tactical ↑↑↑ 
It's not hard, boys and girls. It's really not. Take a looksee: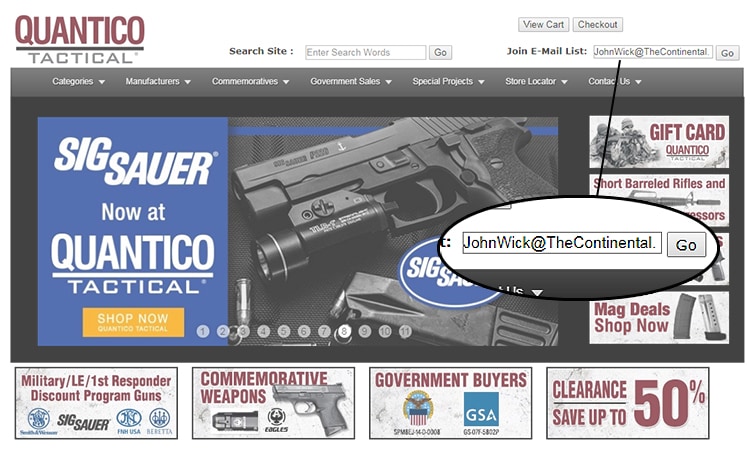 A couple days ago they sent out an e-mail announcing a pretty badass special on handheld lights.
Oh, wait…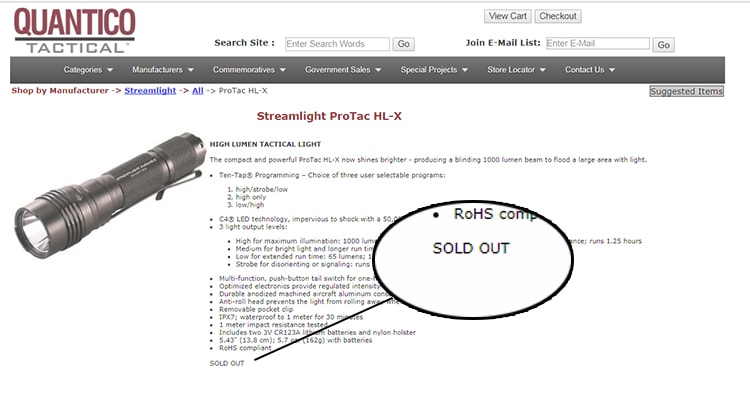 Go sign up for the Quantico Tactical newsletter now. Then take a look around to see what they carry. You can find every brand Quantico Tactical carries right here: http://www.quanticotactical.com/ASP/Manufacturer.asp.
Quantico Tactical is a Defense Logistics Agency Tailored Logistics Support Program Gold Supplier and an Inc. 5000 award recipient.1
As if that's not enough to guarantee your confidence, know this: Quantico Tactical has over 3.975 million brands available. That's one for every single person in Los Angeles.2
Whether you're buying for a squad or outfitting a whole damn battalion (and their TOC), these guys can get you sorted. Here's a look at just some of the manufacturers available to their customers:
1This is all true and is a direct reflection of their quality of service. They have their shit together.
2This is complete bullshit, though they do have a freakin' lot of brands available.
Is reading Breach-Bang-Clear worth at least $1 month to you? That's not even a lapdance! Consider backing us!
What is Patreon? It's a crowdfunding platform. Breach-Bang-Clear readers pledge from $1 to $50 a month to "House Morningwood" (our Game of Thrones house, complete with sigil!), to help us with expenses. We, in turn, give our supporters unique content, membership to a closed discussion group, and access to the "Morningwood Bazaar", which is basically helluva lot of unique discount codes (up to 60%) to numerous manufacturers and retailers. "Bend the knee" to House Morningwood and help us cover costs. Rise Before Dawn! 
If you wish to cite, syndicate, or curate our material, or if you're wondering about our please be so kind as to read our Terms, Conditions, and Disclosures.
Take heed! We have advertisers, sponsors, and affiliate relationships with some of the companies you will be reading about (particularly, but not limited to, archival posts). If you purchase one of those items, we will get a small commission from the sale at no additional cost to you. A lot of work goes into Breach-Bang-Clear; by making your purchase through one of our portals you'll be supporting our work. This will help us buy beer, bullets, and barbecue, and we won't have to put pop-up ads and other such stupid shit into our articles to pay our expenses.