The Q Fix in 6.5 Creedmoor
Join us at Nancy's Squat & Gobble! (It's our double dog secret, members-only discussion group.)

Brownells has the Q Fix in 6.5 Creedmoor now in stock. Paul Levy, the guy you so often see doing the Brownells videos, released a quick overview of it yesterday. The original Fix (in .308) was designed at the behest of Q Founder Kevin Brittingham (@kevinbrittingham) by a team that included Patrick Law (formerly of Accuracy International), Brian McDonald (formerly with SIG), Lindsay Bunch and Robby Johnson (both former Army snipers of impeccable pedigree), and Ethan Lessard, formerly with SIG and AAC.
That might not be exactly the gun design equivalent of the '97-'98 Red Wings, but if not, it's close.
Here's a look at the weapon, courtesy of Brownells.
This is important. This is neither a review nor an endorsement, it's a PSA. If we are endorsing a product, we will make it very clear. That said, we are members of some affiliate programs. When a reader clicks a link to an affiliate site and makes a purchase (such as from Brownells or Amazon), that reader is buying directly from the seller, not us — but we do make a small commission. Thus by making a purchase through one of Breach-Bang-Clear's portals you are helping us stay in business.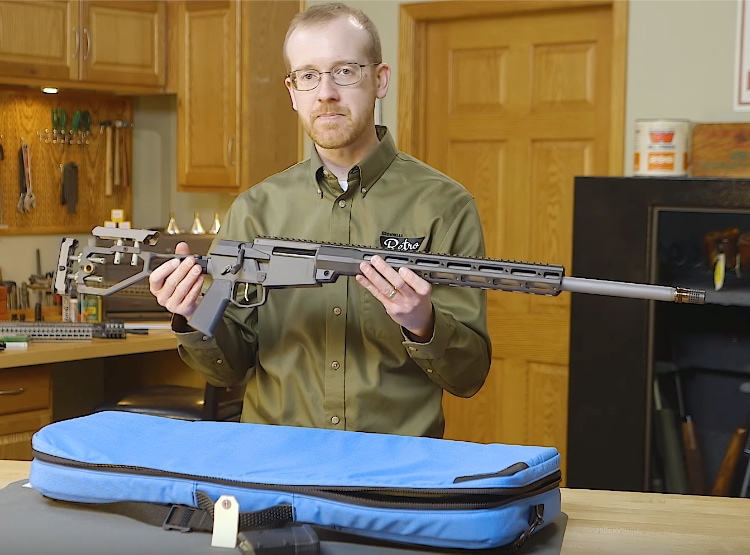 If you want to go balls-deep into detail about how the Fix .308 rifles were designed, and how they perform, check out We Didn't Expect the Fix by Rob Curtis over on RECOILweb.  It has everything you might want to know and lots of pretty pictures too! You can find more info on TTAG, where it was named Editor's Choice Best New Product. If you're interested in the forthcoming Mini-Fix, check out the SSD Q Mini Fix article.
Specs of the 6.5 Fix:
Action Type: Bolt Action
Barrel Length: 22″
Capacity: 10+1-Round
Cartridge: 6.5 Creedmoor
Finish: Black
Front Sight: None
Length: 41.25″
Magazine Included: 1 x 10-Round
Magazine Type: Removable
Muzzle: Threaded
Rear Sight: None
Stock Material: Aluminum
Weight: 6.5 lbs
Here's the official description:
The Fix by Q is the result of science & experience, combined with passion and drive to bring a completely unconventional bolt action rifle to market.
The Fix is designed to be lightweight, modular and provide superior precision out of a compact platform.  Lightweight aluminum housing encloses a short, 45 degree throw bolt, fed from a SR-25/DPMS pattern 308 magazine.  The incredibly light & crisp two stage trigger breaks cleanly at close to 2 lbs.  Internal safety mechansims ensure drop safety, while a completely rethought trigger/sear/striker design allows incredible repeatability & reliability.  Floating bolt head locks up consistently in the barrel extension, and allows for future changing of calibers.  Fully adjustable folding stock fits any body type & shooting position, while allowing for transportation in the smallest bags & cases.
6.5 Creedmoor model features a 22inch 1-7 twist barrel for optimal velocity & performance

Trigger provides a light, crisp

and

safe trigger pull

Bartlein barrel with a Tooley match chamber

Stock

is fully adjustable & foldable

Free floating

forend accepts a variety of accessories & rail attachments using

Qsert

system

Accepts standard AR-15 grips without beavertails

Included optic rail

Bolt handle and head are easily removable

Multi-lug bolt with

45 degree

throw

Accepts SR-25/DPMS pattern 308 magazines (PMAG compatible)
The Fix represents a new take on the precision rifle, and has everything needed to provide the ultimate in accuracy and portability.
Brownells is headquartered in Grinnell, IA (and is worth a visit). They describe themselves as a company, "…forever connected to the outdoors and forever committed to its industry." You can find them online at Brownells.com, connect with them on Facebook (/BrownellsInc/) or follow them on Instagram, @brownellsinc. You can also, of course, subscribe to their YouTube Channel. Brownells, Inc.: Serious About Firearms Since 1939.
Remember, there's an ongoing list of recent additions to their lineup in the New Products section of the Brownells website, and you can order a print catalog here.
Live above the 49th Parallel? You can now order many Brownells products in Canada, too.

Join our Gear Whore Buyers Club why don'tcha?
---
Declare for Morning Wood!
Why become a patron? Not for the dick pics. So you can access the Morningwood Bazaar, obviously.
Exclusive discounts up to 60% off all kinds of guns and gear. 
Plus, unrivaled camaraderie where we only make fun of you most of the time.
Access to Nancy's Squat & Gobble, our closed Facebook discussion group.
If you wish to cite, syndicate, or curate our material, or if you're wondering about our please be so kind as to read our

Terms, Conditions, and Disclosure

s.
Take heed! We have advertisers, sponsors, and affiliate relationships with some of the companies you will be reading about (particularly, but not limited to, archival posts). If you purchase one of those items, we will get a small commission from the sale at no additional cost to you. A lot of work goes into Breach-Bang-Clear; by making your purchase through one of our portals you'll be supporting our work. This will help us buy beer, bullets, and barbecue, and we won't have to put pop-up ads and other such stupid shit into our articles to pay our expenses.