Propper Series 100 Boots now NTOA Recommended


The Propper Series 100 Boots have been tested and evaluated by the National Tactical Officers Association and received the NTOA "Member Tested and Recommended" seal. Says Propper,
"Propper products undergo rigorous testing and assessment throughout their development and beyond. We solicit user feedback throughout the process to ensure we are responsive to the needs of our customers and ultimately create apparel and gear that performs to the high standards Propper was built on. NTOA puts our products to the test in the field and provides reviews that we feed back into the product development loop. Deliberately evaluating products and listening to our users drives our process to continually improve our products."
There are currently three styles and colors: the Army Regulation 670-1 Compliant 8-inch desert boot with speed lace system, "triple density rubber foundation" and fast-rope suitable arch, the Propper Series 100 8-inch side zip boot in black, and the Series 100 6-inch side zip boot in black.
https://www.youtube.com/watch?v=_nDDo2YKawI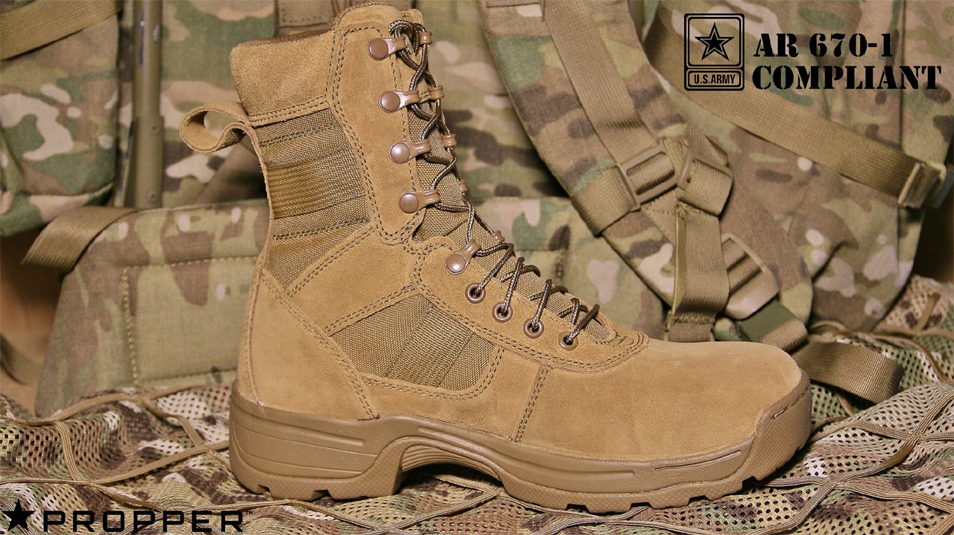 Here are notes from some of the evaluators:
Reviewer 1 (from Louisiana)

The Propper Series 100 Boots were found to be a very good quality boot. The boots are very lightweight and well-constructed. The outsole is oil and slip resistant. The zippered side made the boot very easy to get on and off. Some positive features of the Series 100 Boots are: made of a "polishable" cattle hide leather with 1000D nylon upper; an antimicrobial lining inhibits odor, promotes breathability and increases wear; the open cell air mesh foam keeps air circulating around foot for continual comfort; the washable open cell foam inserts conform to foot for balance and arch support; there is a fast-rope compatible arch that is built to handle ladders and fast-roping; a side zipper with hook-and-loop zipper guard offers convenient on/off and the coated speed lace hardware with 550 paracord lacing adds durability. My only complaint of the boots is they were lacking in the area of comfort since they were a little narrow in the toe area. A larger size or wide boot would have resolved this issue with a more custom fit. Having never owned a pair of Propper brand boots, I would consider purchasing a pair after this review.

Reviewer 2 (from Wisconsin)

I received a pair of Propper International Series 100 Men's Boots for evaluation. My initial thought was the boots were of superior quality. The side zipper is heavy duty, unlike other side zipper boots I have purchased. It took quite a long time for the boots to break in for me, even with wearing them every duty day and during SWAT training. I am not pleased with the side zipper. After 45 days of a breaking-in period, I have found that when the laces are tied and you un-zip the boot, I am still not able to pull the boots off without un-doing or loosening the laces. Maybe this will come with more breaking in time. Comfort of the boots is a big plus. They are light and I personally like the ankle support. Walking or running with these boots support your ankles and the soles cushion the bottom of your feet. I usually get a blister when breaking in new boots but had no soreness during the breaking in period with these. The tread gives great traction in all terrain and is large enough so small rocks and other debris will not lodge inside the tread. The boots are easy to clean. The leather and stitching is very high quality. I rated the boots lower in Ease of Use and Convenience simply because of the side zipper not allowing me to remove the boot without untying the laces. Overall I like these boots: design (except for the side zipper) comfort and ankle support are all positives.



Actually, Hernandez only wrote 3 of these. We included the other one to be ethnically inappropriate.

Reviewer 1 (from Wisconsin)

I tested the newly released Propper Series 100 men's boots. This boot is the entry level option for the Propper line of Series 100, 200 and 300 boots. The Series 100 is available in three configurations: black 6″ side zip, black 8″ side zip and coyote 8″. I tested the coyote boot, which is AR670-1 Army Compliant. For beginners, this boot fits extremely well. I have wide feet with a high arch and the inserts really provided excellent balance and arch support for my feet. I wore them at work as well as out hunting and found them to be very comfortable, even when being worn for extended periods of time. The water-resistant suede of the coyote boot wears well and the speed lacing system keeps the boot snug but not uncomfortable. The highlight of this boot is the sole. I found the three part sole to be ultra-durable, and provided excellent traction. It is described as "oil-and-slip-resistant" and I found that to be accurate. While running and jumping in the boot, I thought the foam inserts combined with the rubber outsole really provided good impact absorption. The center of the sole is designed to be "fast-rope compatible". While I did not have the chance to do any fast-roping, I have no doubt that these boots would hold up under those types of conditions. In summary, I found this footwear to be a first-rate entry level boot and recommend it based on comfort and durability.

Reviewer 2 (from Oregon)

The Propper Series 100 boot is an 8″ military boot built with an anti-microbial, breathable lining and a padded upper. The boot is lightweight, durable and after breaking in, was quite comfortable. The boots arrived with padded insoles that made them very comfortable. The lacing system was quite adequate and allows for quick lacing. The sole is rugged and I found the boots to be quite stable and non-slip. The toe was a little more rounded than I like but I got used to it. These boots are built tough but only a long term test will allow for a complete review as to durability.

Learn more on the Propper Footwear Page here: https://www.propper.com/footwear.html. Follow 'em on Instagram, @wearpropper. They are also on Facebook.
Learn more about the NTOA Member Tested Program here.
---
Declare for Morning Wood!
Why become a patron? Not for the dick pics. So you can access the Morningwood Bazaar, obviously.
Exclusive discounts up to 60% off all kinds of guns and gear. 
Plus, unrivaled camaraderie where we only make fun of you most of the time.
Access to Nancy's Squat & Gobble, our closed Facebook discussion group.
If you wish to cite, syndicate, or curate our material, or if you're wondering about our please be so kind as to read our

Terms, Conditions, and Disclosure

s.
Take heed! We have advertisers, sponsors, and affiliate relationships with some of the companies you will be reading about (particularly, but not limited to, archival posts). If you purchase one of those items, we will get a small commission from the sale at no additional cost to you. A lot of work goes into Breach-Bang-Clear; by making your purchase through one of our portals you'll be supporting our work. This will help us buy beer, bullets, and barbecue, and we won't have to put pop-up ads and other such stupid shit into our articles to pay our expenses.