Memorial Day | Propper to Donate a Portion of Online Sales to USO
This is the second year that Missouri-based Propper International plans to make a financial donation to the Missouri United Service Organization.  During the week before Memorial Day, (May 21-May 28) they will donate a portion of all online sales to the Missouri USO.  Their mission, as they describe it, is to  "strengthen America's military service by keeping them connected to family, home, and country."
Last year, Propper donated $7,452 and this year they hope to raise at least that much again.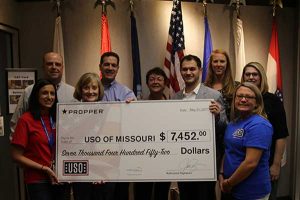 Propper has been supporting service men and women for over 50 years.  John Negrau, VP, Marketing & eCommerce said, "Our military heritage is a perfect complement to the USO's mission and purpose. It made sense that we should honor our fallen troops by supporting current active duty personnel."
The USO is not a government sponsored organization.  Each state branch functions independently and relies on local support. In response to the 2017 Propper donation, Christine Trotter, Development Director for USO of Missouri said "we count on companies and private individuals to help support our operations. Propper's overwhelming generosity has been incredible."
According to the USO national website, the organization helps 4.9 service members and their families. There are more than 200 locations world wide.  You can find a local one on their Find a USO webpage.
 Some hyperlinks in this article may contain affiliate links. If you use them to make a purchase, we will receive a small commission at no additional cost to you. It's just one way to Back the Bang. #backthebang 
---
Declare for Morning Wood!
Why become a patron? Not for the dick pics. So you can access the Morningwood Bazaar, obviously.
Exclusive discounts up to 60% off all kinds of guns and gear. 
Plus, unrivaled camaraderie where we only make fun of you most of the time.
Access to Nancy's Squat & Gobble, our closed Facebook discussion group.
If you wish to cite, syndicate, or curate our material, or if you're wondering about our please be so kind as to read our

Terms, Conditions, and Disclosure

s.
Take heed! We have advertisers, sponsors, and affiliate relationships with some of the companies you will be reading about (particularly, but not limited to, archival posts). If you purchase one of those items, we will get a small commission from the sale at no additional cost to you. A lot of work goes into Breach-Bang-Clear; by making your purchase through one of our portals you'll be supporting our work. This will help us buy beer, bullets, and barbecue, and we won't have to put pop-up ads and other such stupid shit into our articles to pay our expenses.