PHLster Floodlights Begin Arriving
Join us at Nancy's Squat & Gobble! (It's our double dog secret, members-only discussion group.)

PHLster (@phlster) recently released what may be the best universal(ish) light-bearing appendix holster we've seen to date – the Floodlight. Its the result of a collaboration between PHLster (PHLsterholsters.com) and Andrew Henry of Henry Holsters (@henryholsters, q.v.). According to many posts on social media (from people I respect, not just random people with a holster fetish), they're an outstanding, even ingenious design, and they're beginning to hit mailboxes en masse as of today.
Note: featured image from Terry Bohannon, @ninexnineteen. 
PHLster is the creation of Jon Hauptman, whom cognoscenti and serious-minded holster folks may recall from the excellent Philly EDC video series. Apropos to nothing, he is also the man whose name I misspelled for about 3 years by putting an extra n on the end. He's wicked smart and really good at understanding and articulating even the seemingly minor aspects of the concealed and carry aspects of concealed carry. He's just as good (or better) at addressing those things in his holster design.
Grunts: cognoscenti.
So what's the Floodlight? Down past the nut-cuttin', it's a universalized holster predicated on use of the SureFire X300U A or B. If you can attach that kind of WML to your handgun, and assuming that handgun is one of the even marginally common breeds of pistol, the Floodlight will almost certainly fit.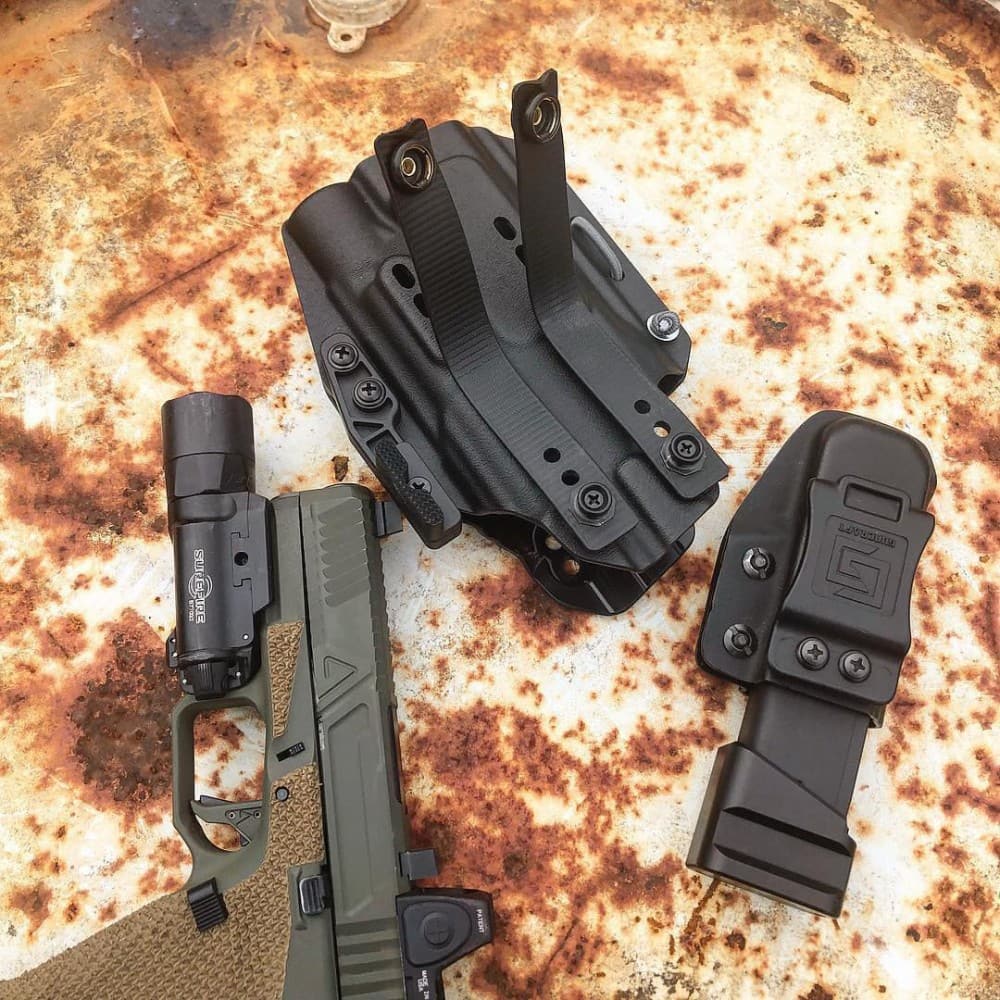 This means you can very quickly switch from your Glock 19/17/35, M&P, STI, or Beretta 92 to your CZ P10, SIG P229, Walther PQ, or Springfield XD to your…well, whatever. To further increase its utilitarian potential, the Floodlight is ambidextrous and also accommodates every manner of comps, optics, threaded barrels, suppressor height sights, slide-mounted optics, and suppressor.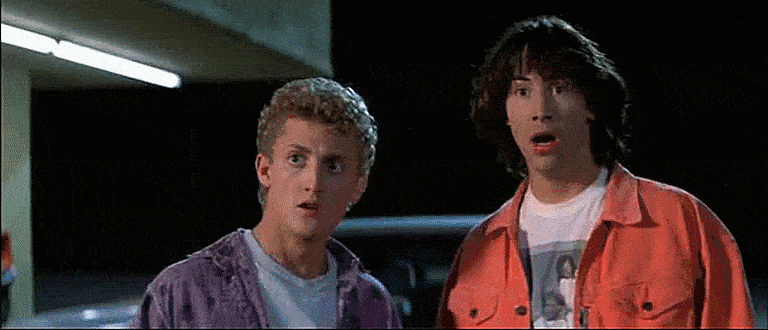 Note: don't hold me accountable for the spelling, I didn't make the gif. 
Here's a shot of the Floodlight with a suppressor attached (PC @jwramp).
PHLster Floodlight: Dudes Who Know, Opine
Chuck Pressburg of Presscheck Consulting avers,
"The Floodlight holds every medium and large frame semi-auto blaster with Uboat that I own. Adjustable tension and weapon agnostic. Comped or threaded? No problem… perfect for winter carry of the hand cannons! This one holster holds my double stack Nighthawk, Glock 34, comped 22, 17, 19, comped 19, and (with less than 1/8th of an inch of material removed) a CZ Bullshadow. Comps, threaded barrels, and suppressor height front sights are no problem."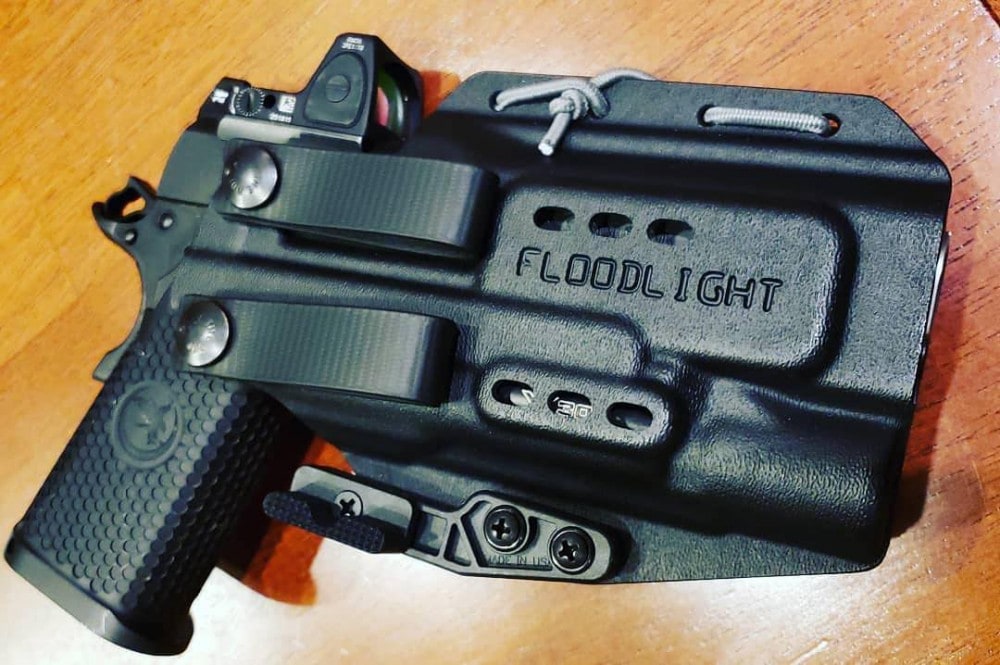 To better suit such a wide array of handguns, the Floodlight is a tw0-piece design featuring adjustable slide contact. Thus its tension can be adjusted for specific slide dimensions and profiles. This, combined with the adjustable tension on the light-holding portion of the body (e.g. like its Spotlight holster predecessor), will allow the user to eliminate slip, rattle, and play in the holster.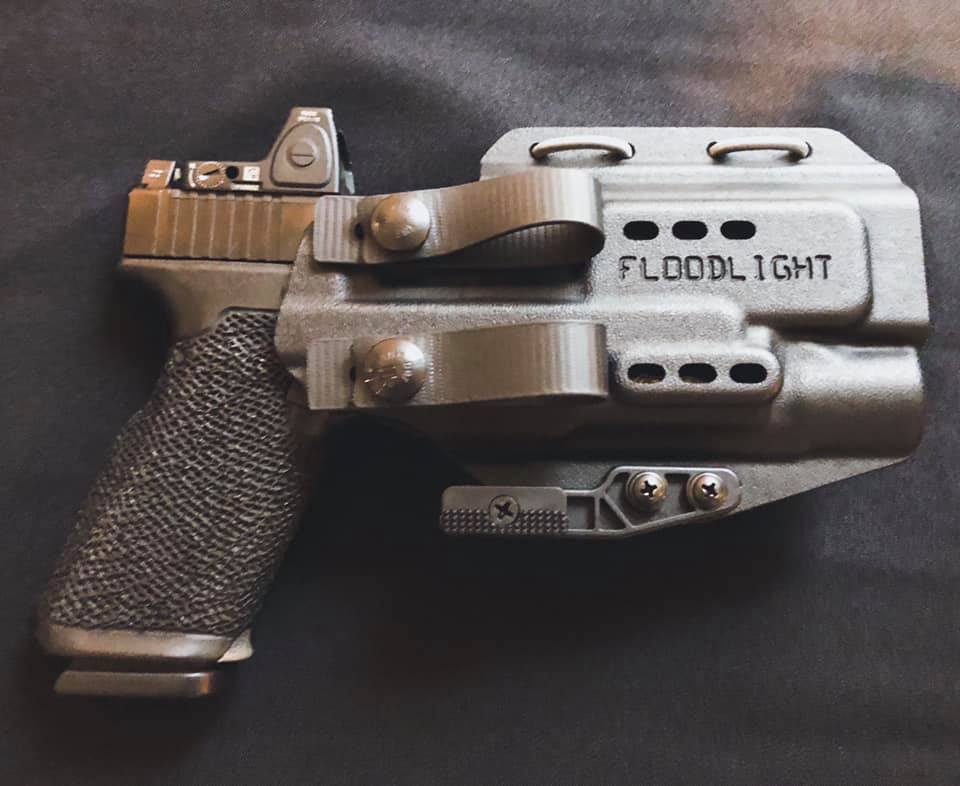 Like the Spotlight holster, the Floodlight has adjustable retention. This allows the user to increase or decrease the friction retention on the body of the WML to tune the draw to their preference. Turn the screws attaching the ModWing grip-tucking hardware to dial the retention to your preference.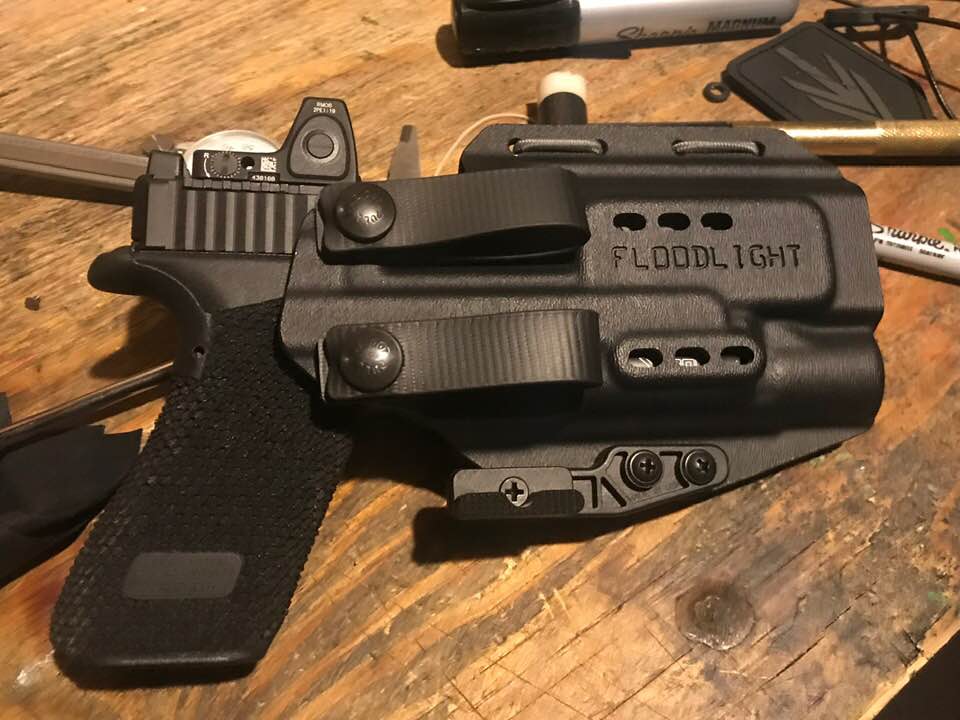 The Floodlight was designed specifically for AIWB and strong side IWB in mind, so a prospective wearer could add a wedge for additional concealment if desired. It ships with loops and clips, provides for adjustable ride height and cant angle and features ModWing adjustable anti-print hardware.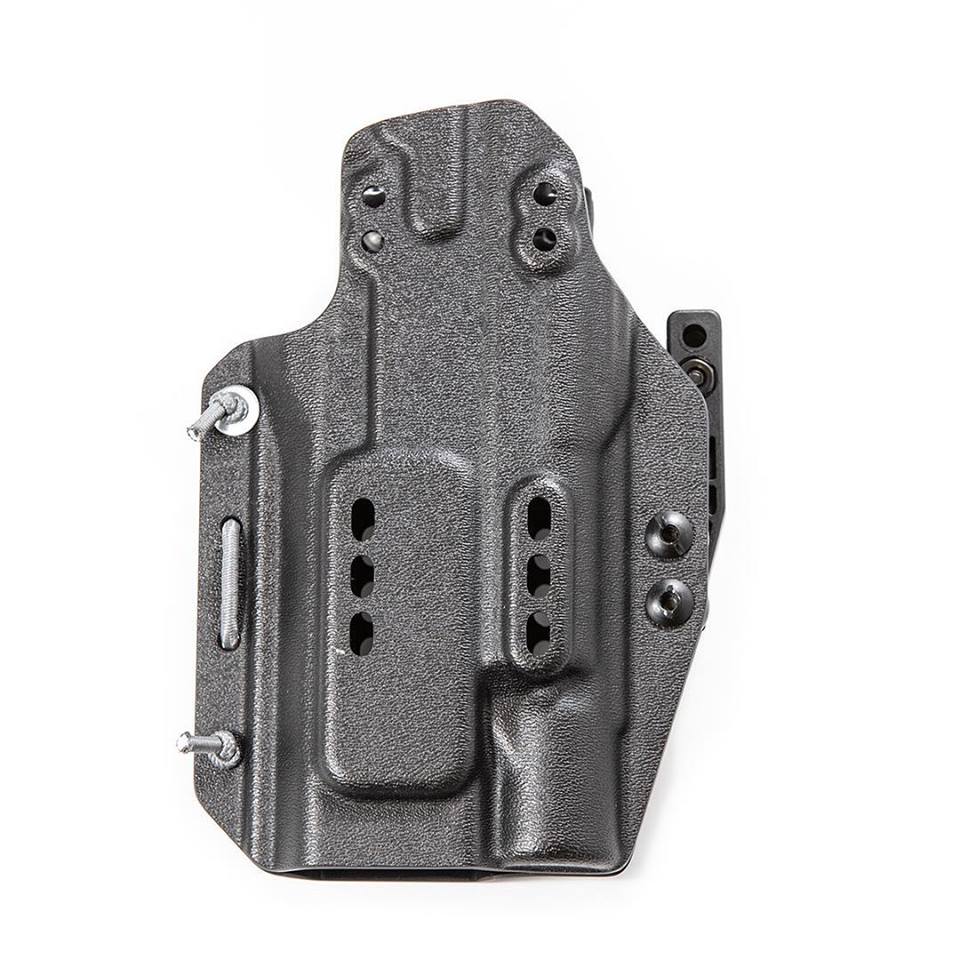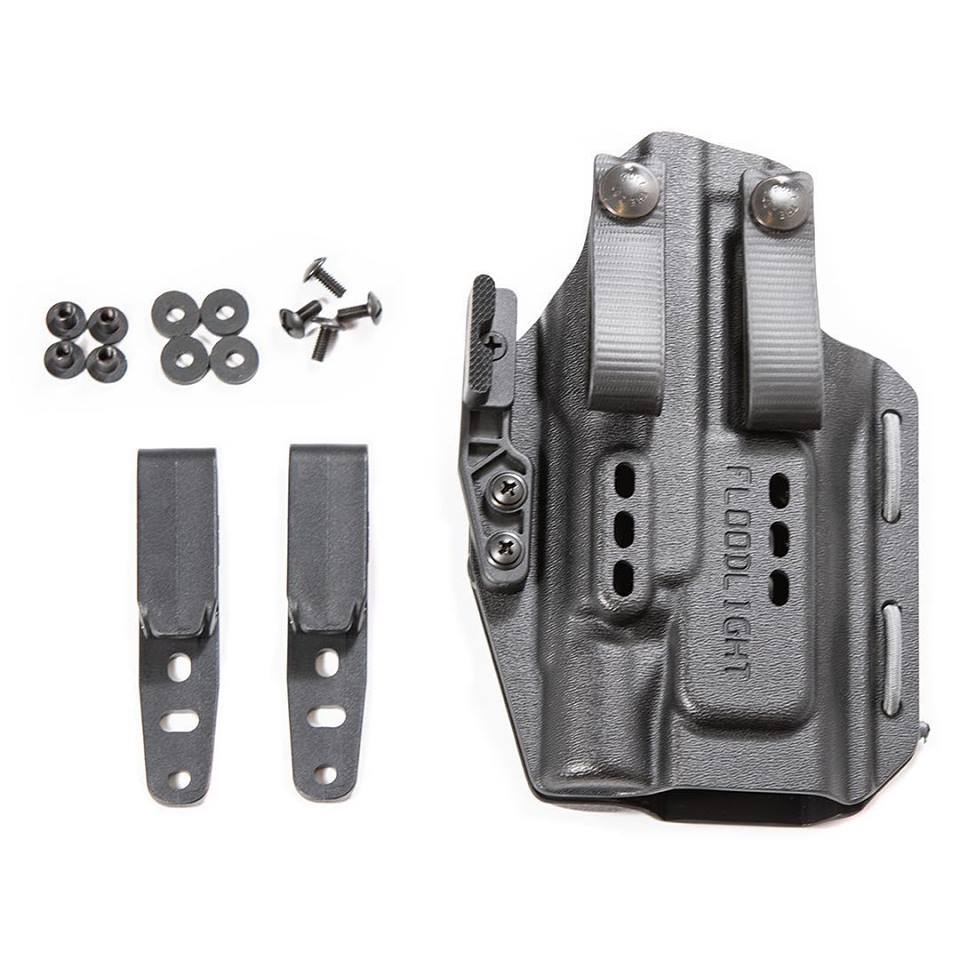 Hauptman explains.
"It's like any other light bearing holster insofar as the retention comes from holster engagement and (adjustable) clamping force on the shapes of the light. To make it more fully universal, the shock cord tension adjustment allows the user to control the degree of pressure against the slide to reduce or eliminate any slop or play, given different gun slide dimensions, and help improve the retention feel."
There are two important things to make note of here.  First, you can adjust the slide tension. In fact, you should. That is the first step in getting the Floodlight to fit how you want. Second, this is not the Spotlight. I say that only because I've juxtaposed the two names at least half a dozen times while preparing this article. In fact, I'd give pretty good odds I do it at least once in the final version, and miss it.
Apologies in advance.
So what's the difference between the Spotlight and the Floodlight? There are several, but as Andrew Henry advises,
"If you carry something that's available in a Spotlight, it's going to offer a more specialized, tailored fit to that exact weapon. The Glock Spotlight is really optimized for Glock, etc. The Floodlight is a little more of a Jack of All Trades. Also, if you want a molded-in wedge, the Spotlight is the way to go."
Here are 3 different shots of the same PHLster Floodlight from Primary & Secondary, each with a different handgun aboard.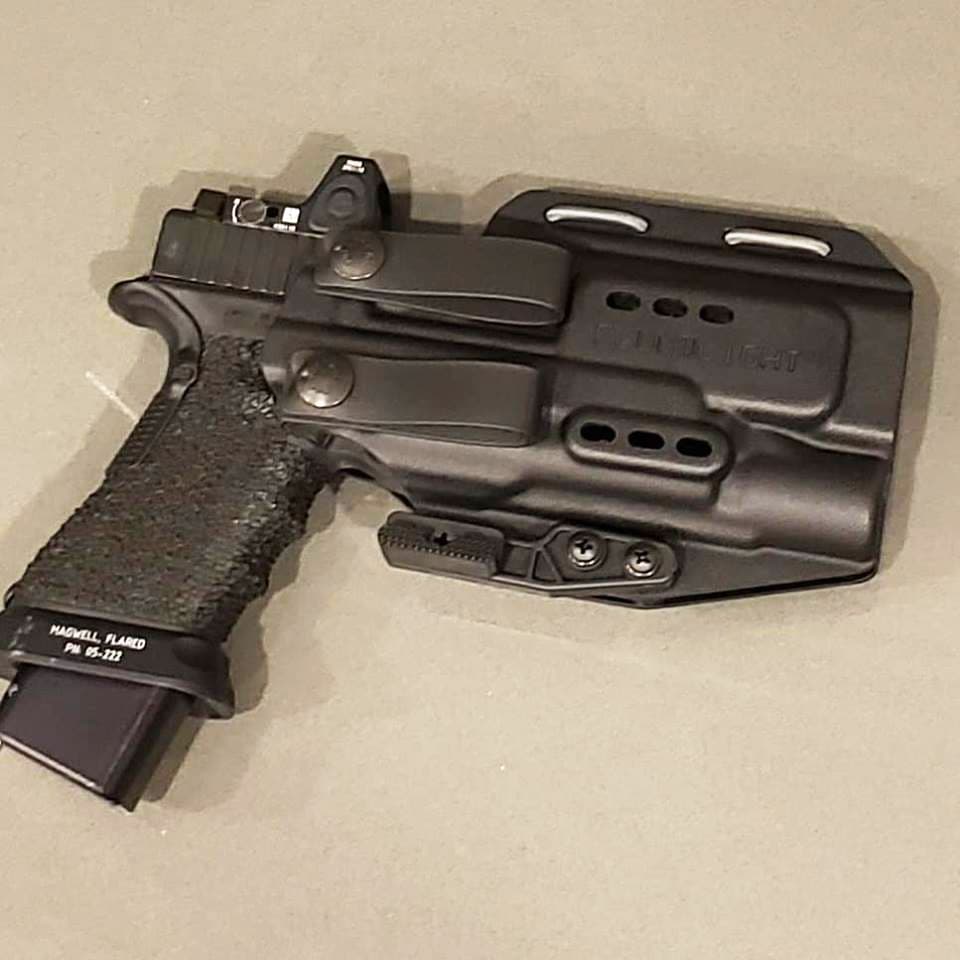 There are of course other options for how to mount the holster. A good one would be the excellent HLR clips from Discreet Carry Concepts (@discreetcarryconcepts, q.v.), as you can see here on these two pictures of someone I don't really know well enough to make fun of, but who is not only wrong-handed but owns a substantially nicer pistol than I do.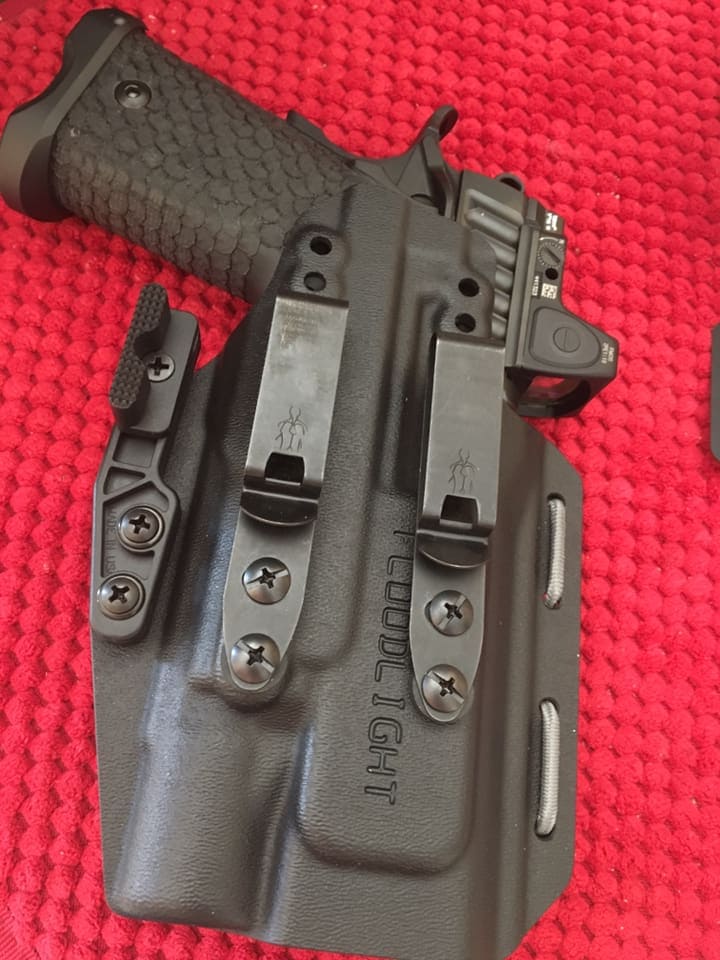 A full description and list of features can be found on PHLster's Floodlight page, but before you go try to parse through all that, check out these videos.
At the very least watch Caleb's. All the way to the end.
From Gun Nuts Media.
You can also check out this video from Scholl Security Group.
PHLster is online at PHLster Holsters.
The Floodlight can be viewed on the FLOODlight page.
To view more PHLster options, check out the entire Concealment section.
Many (not all) PHLster products are available on the BANG Aisle of Amazon Outfitters.
Some (not all) PHLster products can be be purchased from Weapon Outfitters.
If you're interested in a model-specific holster, take a look at the PHLster SPOTlight.
Follow PHLster for product updates and pithy observations on Jon's Instagram page.
That's all for now, go forth and conquer.
Is reading Breach-Bang-Clear worth at least $1 month to you? That's not even a lapdance! Consider backing us!
What is Patreon? It's a crowdfunding platform. Breach-Bang-Clear readers pledge from $1 to $50 a month to "House Morningwood" (our Game of Thrones house, complete with sigil!), to help us with expenses. We, in turn, give our supporters unique content, membership to a closed discussion group, and access to the "Morningwood Bazaar", which is basically helluva lot of unique discount codes (up to 60%) to numerous manufacturers and retailers. "Bend the knee" to House Morningwood and help us cover costs. Rise Before Dawn! 
If you wish to cite, syndicate, or curate our material, or if you're wondering about our please be so kind as to read our Terms, Conditions, and Disclosures.
Take heed! We have advertisers, sponsors, and affiliate relationships with some of the companies you will be reading about (particularly, but not limited to, archival posts). If you purchase one of those items, we will get a small commission from the sale at no additional cost to you. A lot of work goes into Breach-Bang-Clear; by making your purchase through one of our portals you'll be supporting our work. This will help us buy beer, bullets, and barbecue, and we won't have to put pop-up ads and other such stupid shit into our articles to pay our expenses.