Pennsylvania School to Arm All Students…
Pennsylvania School to Arm All Students…with rocks. And we're okay with that.

Stoning Some Murderous Asshole Seems Better Than Just Giving Up
Dr. David Helsel, superintendent of Pennsylvania's Blue Mountain School District, recently advised that every classroom should be armed with a bucket of rocks.
Said Helsel,
"Every classroom has been equipped with a five-gallon bucket of river stone. If an armed intruder attempts to gain entrance into any of our classrooms, they will face a classroom full students armed with rocks and they will be stoned."
He later explained further,
"At one time I just had the idea of river stone, they're the right size for hands, you can throw them very hard and they will create or cause pain, which can distract."
This is intended to come after a lockdown, as we understand it. A teacher can lock the room down with devices installed on the classroom doors, and students have been taught to go barricade as well.
A lot of folks have been mocking this decision, and we get that…but honestly, is it that bad an idea? Resistance has been shown time and again to knock an active killer out of their loop (and we're not just talking about face shooting them, either, though that's the best solution). Throwing rocks, swinging belts with heavy belt buckles, hurling heavy textbooks…any of that is better than curling up under a desk and waiting to die.
There may well be more ideal solutions out there, but you know what? Instilling kids with the idea that they can fight back is better than teaching them to be victims, which is what we've been doing for at least a generation or so.
We'll take the rocks over hiding, please. And let's add a cupboard or desk drawer full of bandages and tourniquets in every classroom too, along with some training in how to use them.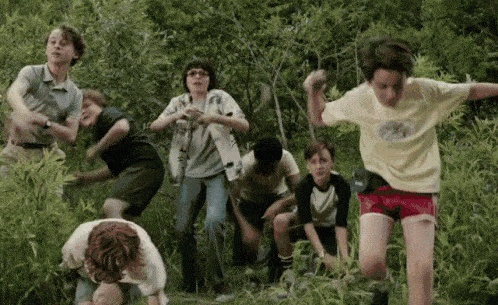 Read more on WNEP, Moosic PA.
---
Declare for Morning Wood!
Come, stroll the awe-inspiring aisles of the Morningwood Bazaar.  Earn the right to wear our sigil and speak our words.
If you wish to cite, syndicate, or curate our material, or if you're wondering about our please be so kind as to read our Terms, Conditions, and Disclosures.
Take heed! We have advertisers, sponsors, and affiliate relationships with some of the companies you will be reading about (particularly, but not limited to, archival posts). If you purchase one of those items, we will get a small commission from the sale at no additional cost to you. A lot of work goes into Breach-Bang-Clear; by making your purchase through one of our portals you'll be supporting our work. This will help us buy beer, bullets, and barbecue, and we won't have to put pop-up ads and other such stupid shit into our articles to pay our expenses.