Review | Peltor Sport Tactical 500 Headset
This review originally appeared online at Offgrid Magazine (@recoiloffgridmagazine).  It appears here in its entirety with the permission of both editor and author, "Big Red" McCarthy. Mad Duo
REVIEW: PELTOR SPORT TACTICAL 500 HEADSET
Patrick McCarthy, Offgrid Magazine
Much like insurance payments and dental check-ups, hearing protection often feels like a necessary evil. Every time we go to the range, we don our ear pro — not because we want to, but because we know we have to. The alternative is painful ringing in the ears and permanent hearing loss. So, many shooters still complacently shove foamies into their ears because they're cheap, disposable, and good enough.
However, hearing protection has come a long way in recent years. Electronics have made it possible to protect your ears from damage, but simultaneously retain your ability to hear conversations normally. Better still, this technology is no longer cost-prohibitive for ordinary consumers. For the price of a few trips to the range, you can pick up an entry-level set of modern electronic ear protectors.
PELTOR, a division of 3M, recently introduced two new models to its Sport Tactical hearing protection lineup. The basic Sport Tactical 100 has been out for a few years, so the new 300 and 500 models have added a mid-range and a high-end option to the company's consumer-oriented line. After seeing these headsets at SHOT Show in January we were looking forward to trying them out, and that opportunity has finally arrived. PELTOR was kind enough to send us a set of the flagship Sport Tactical 500 ear muffs to test.
We won't address the full tech specs of the PELTOR Sport Tactical line here, but you can check our previous article for those details. It should suffice to say that they're quite high-tech, with 3M SMART gunshot noise recognition tech, adaptive Dynamic Suppression Time that adjusts to your firearm and environment, and Clear Voice Tracking that actively allows the sound of speech through the filter.
The headset even has Bluetooth, so you can wirelessly make and receive calls, hear alerts, or listen to music while at the range. Bluetooth is exclusive to the Sport Tactical 500 model, but both this headset and the mid-range 300 model include a 3.5mm port for wired device connectivity.
This headset uses two AA batteries, or an optional 3M Alpha 1100 lithium-ion pack ($30) that can be recharged through the headset's micro USB port. With either option, the headset will give audible "low battery" warnings as the batteries begin to run out. The Noise Reduction Rating (NRR) is 26 dB, a slightly superior rating to most of its electronic competitors. MSRP for this model is $200, but you can purchase it online for about $150, or find the comparable 300 model minus the Bluetooth for about $110.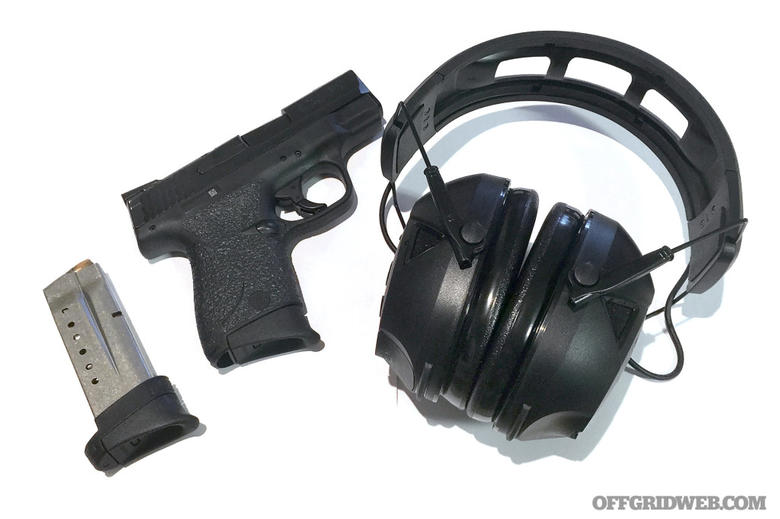 TESTING & INITIAL IMPRESSIONS
We tested the Sport Tactical 500 both outdoor and at our local indoor range, since the confined space creates a more challenging environment for hearing protection. Even while firing an AR-15 and a 12-gauge shotgun indoors, the headset's 26 dB NRR dampened noise to what we felt was a comfortable level. Admittedly, due to many years of shooting, driving loud cars and attending rock concerts our hearing isn't flawless, so your mileage may vary. But for more sensitive ears, doubling up with a pair of foam ear plugs could be a good option to reduce noise further.
As for the adaptive technology, we were thoroughly impressed. It was possible to hold a normal conversation without shouting, and to easily understand spoken replies. It's almost eerie how well it works, since you hear yourself so clearly that you assume the first trigger pull will produce a deafening blast through the speakers. But the PELTOR system detects the gunshot in an instant and reduces its sound to a comfortable thud. The dual microphones on the front of the muffs are also recessed and protected by foam to reduce wind noise.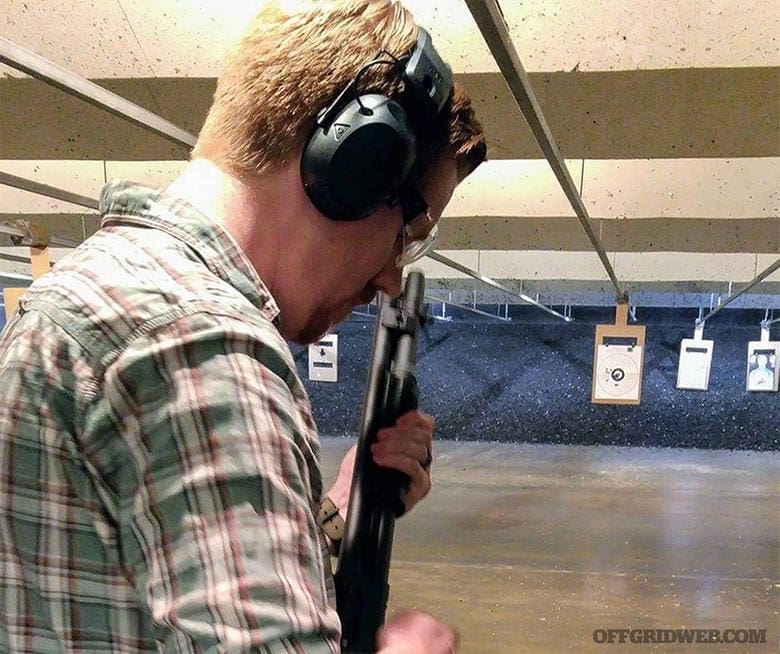 The volume is easy to adjust via buttons on the right ear muff, and the system even announces messages such as "power on" and "Bluetooth connected" into your ear. Speaking of Bluetooth, it worked smoothly and paired easily with our phones. We were able to play tunes wirelessly through the headset while shooting — and we could still hear ourselves speak between shots. Let's see your foamies do that.
The speakers' sound quality is more than sufficient for speech, but you do get a noticeable amount of white noise in the background of music unless you turn the headset's pass-through volume down. Plugging your device into the headset with the included 3.5mm audio cord improves sound quality a little, but it still isn't designed primarily as a music listening device, so don't expect studio-grade performance from its speakers. However, we do appreciate the ability to play and pause music, answer calls, and reject calls by pressing or holding the Bluetooth button on the right muff.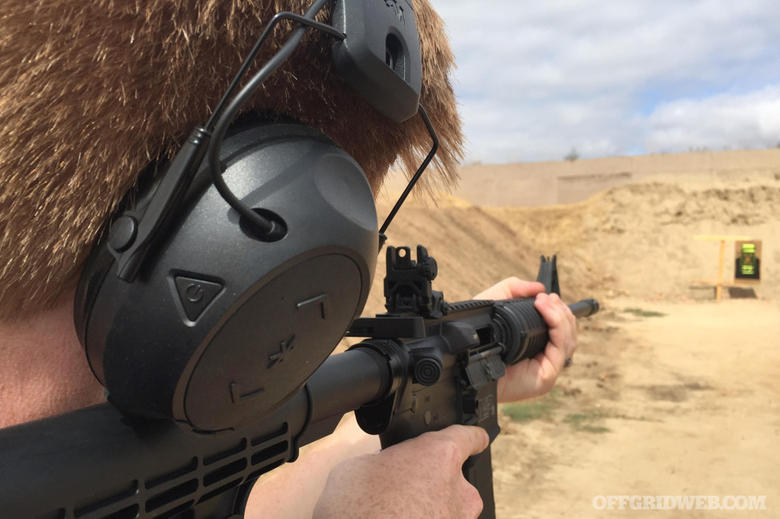 The downside to the Bluetooth connectivity is that it's easy to forget to silence your phone and become distracted by the unexpected ding of a text message during a drill. That's not a fault with the PELTOR headset by any means, but it's still something to keep in mind. If you need to focus, either turn off the Bluetooth when you start to shoot, or remember to silence your phone.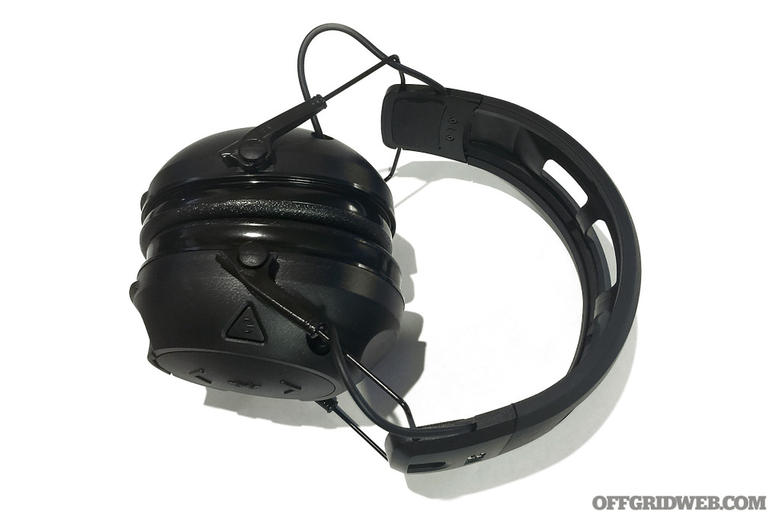 After more than two and a half hours of shooting the headset still felt comfortable, but produced some slight pressure across the top of the head. With the ear cups extended to their maximum reach, the headset fit this 6'5″ author's large head just right, but wearing it comfortably with a hat on would be difficult. So if you have an extra-extra-large head, you may want to try a pair before you buy them. It would've been nice to see an adjustable-length or flexible headband rather than only adjustable ear cups, but the existing range should be sufficient for most users.
Shooting long guns is made easier by the cut-outs at the bases of the ear cups, but the headset is still noticeable when you lean in for a cheek weld on the stock (unavoidable with over-the-ear protection). At the end of the range day, the headset folds and compresses down to a roughly 5.5″ x 5″ x 4″ package, and can be stored in the included drawstring microfiber bag.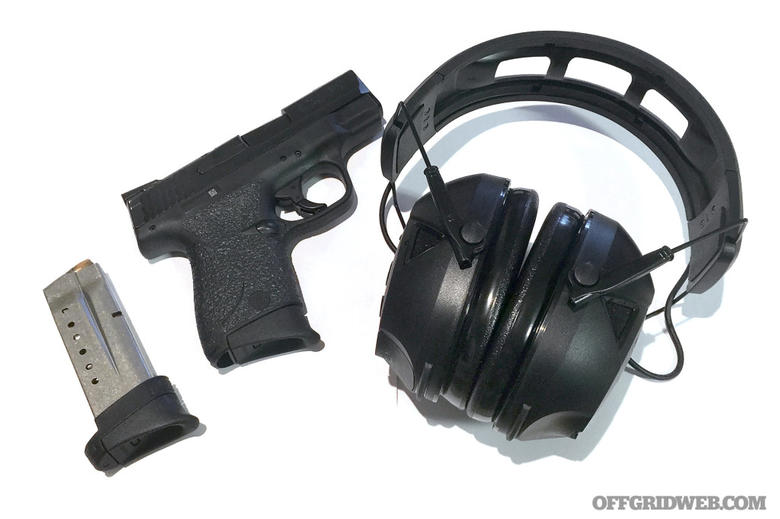 CONCLUSIONS
The PELTOR Sport Tactical 500 provides excellent ear protection and an impressive list of features for the $200 MSRP (or about $150 on Amazon). While we felt that comfort and adjustability still have a little room for improvement, and it would've been nice to see a standard lithium-ion battery instead of an optional upgrade, the rest of the headset is outstanding. In fact, it makes wearing ear protection at the range feel like less of a chore, and that's a real accomplishment.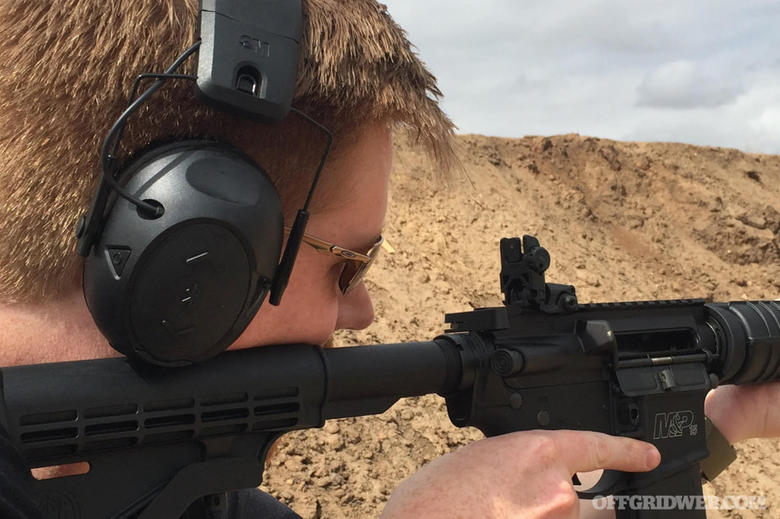 Pros:
Extremely sensitive and adaptable noise filter keeps gunshots quiet and conversations audible
Substantial 26 dB Noise Reduction Rating
Useful Bluetooth compatibility with wireless play/pause/accept/reject controls, and 3.5mm wired option
Recessed microphones reduce ambient noise and wind noise
Packs down for easy transport and storage
Cons:
Limited ear cup adjustment range; no headband adjustability
Headband design distributes weight across a small area, and may lead to mild discomfort during extended wear. We may try adding a padded headband sleeve to alleviate this.
Music sound quality is unimpressive compared to ordinary headphones
Rechargeable lithium-ion battery costs an additional $30
This article made possible in part by B5 Systems (@b5systems), a member of JTF Awesome.
This article originally appeared on OFFGRID.
This article originally appears here courtesy of the OFFGRID Magazine website. You can find them on Facebook, /OFFGRIDmag/ or follow them on Instagram (@recoiloffgridmagazine).
[arrow_feed id='49873′]
---
---
This article was lovingly prepared for you by the Breach-Bang-Clear News Team.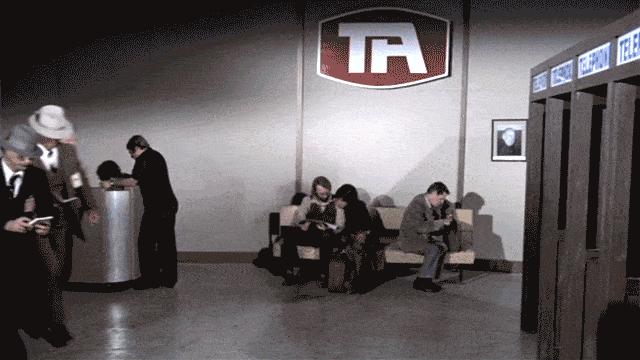 Mad Duo, Breach-Bang& CLEAR!
Comms Plan
Primary: Subscribe to the Breach-Bang-Clear newsletter here; you can also support us on Patreon and find us on Pinterest.
Alternate: Join us on Facebook here or check us out on Instagram here.
Contingency: Exercise your inner perv with us on Tumblr here, follow us on Twitter here or connect on Google + here.
Emergency: Activate firefly, deploy green (or brown) star cluster, get your wank sock out of your ruck and stand by 'til we come get you.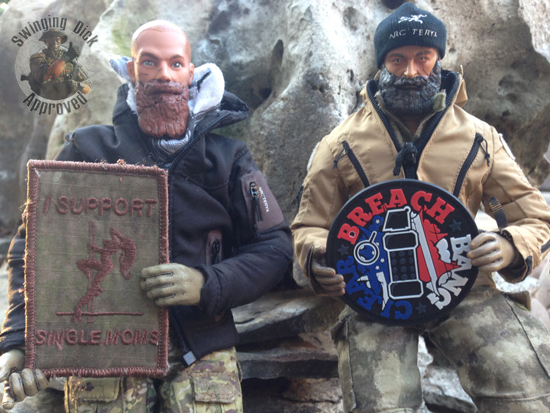 <