New Diplomatic Security Protocols and Obama's Notes from the First Debate
We don't care what your political affiliation is, or how you're going to vote (actually we do, but it doesn't apply here): this shit is funny.
Oh and by the way, the attack on the Libyan embassy was spontaneous. It was sparked by a video on YouTube. Pay no attention to the RPGs, mortars, crew-served weapons, the ambush in place to handle the QRF or the man behind the curtain pulling those levers.
Because YouTube videos create such dissension and unrest, all movies and publications like that will no longer be allowed. This will include the high production movie about killing Bin Laden (the one Obama invited celebs to the White House to talk about), the B grade movie about Bin Laden's zombie coming back from the dead (though that's an awesome idea) and anything with the word Akbar in it (to include anagrams). Mark Owens' book, any new prints of Mark Bowden's books, hell the fiction by Dalton Fury and Marcus Wynne – are all to be taken out of circulation. We will also be destroying all old and remastered versions of Lawrence of Arabia (and of course Seven Pillars of Wisdom). Effective immediately we will be sending consolation prizes and stacks of cash directly to anyone in Benghazi who might have suffered collateral damage during the attack on our embassy because it never would have happened if we hadn't been there in the first place. After all, violence in most Arab states is directly attributed to having Americans in their midst (or at least the presence of breathing Americans somewhere in the world).
Any Ambassador or diplomatic representative of the USA in an Arab state should quit being a whiny bitch and accept that sometimes there is risk. Carry a pocket knife. Buy a dog. Wear a bulletproof vest and a tinfoil hat.
Posters of Peter O'Toole are to be summarily defaced, as well as any post-9/11 photos of Bob Dylan (they might be misconstrued as representing Muamar Gadaffi). Lastly, all Federal employess and military personnel will refer to any citizen of Israel as "those guys" and grimace while doing so.
But we digress. These are the notes POTUS scribbed during the debate last night and the shit is funny.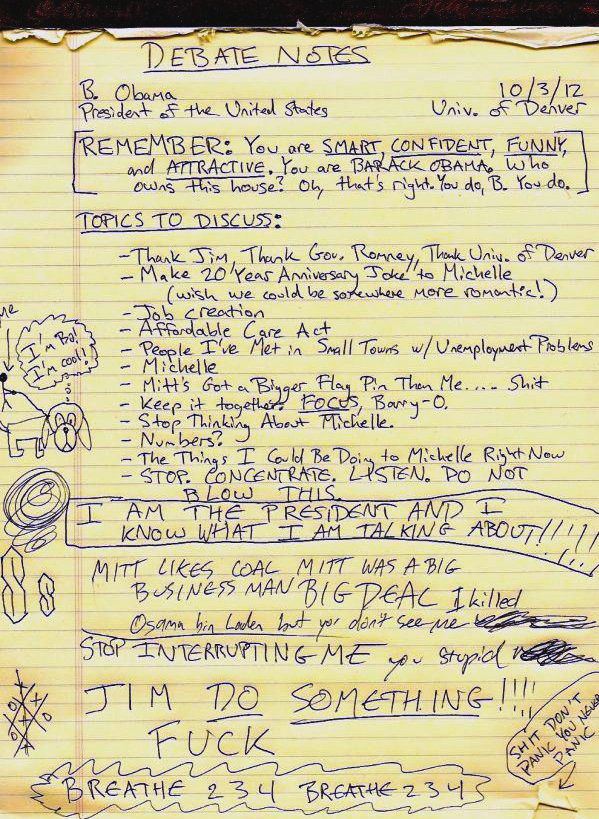 Mad Duo Clear!
The Mad Duo: We Fight Evil So You Don't Have To