Not my Circus, Not my Monkeys

DSG ARMS BADASS SHIRT
Look here, cupcake. When the Mad Duo says something is lethal, useful, or just plain "rad" (quotes because Swingin' Dick Kilgore said it), you can bet your ass they mean it.
With all of the political fuckery going on in our beloved country right now, the Mad Duo thinks it's time for a coup. Since no one else at the Spearmint Rhino last night seemed to be up for one, the Mad Duo changed their minds and decided it's time for a new shirt. Not just any shirt, mind you, but a shirt that lets everyone who gazes upon it see that the wearer of said shirt giveth zero fucks. Such a shirt should be bold, a little brazen, and should fill warriors' hearts with zeal and winsome wenches' panties with moisture.
That shirt has arrived and is available from DSG Arms. Behold the "Not my Circus, Not my Monkeys" tee! It's made from ring spun cotton, which the duo feels is perfect since "performance tees" don't do well for post-coital cleanup, which you'll need if you wear this shirt around women. The Duo also claimed to have reached 13 inches (in height) when in the presence of the shirt rather than their usual 12 inches.
The slogan on the shirt is also cool because it can be taken several ways. You might never know what the person is thinking, which is good, because anyone awesome enough to wear this shirt doesn't want you to know what they're thinking. If they did, they'd tell you. Or maybe punch you in the face. Either way, you'd be damn grateful that a person of that magnitude even recognized that you were there.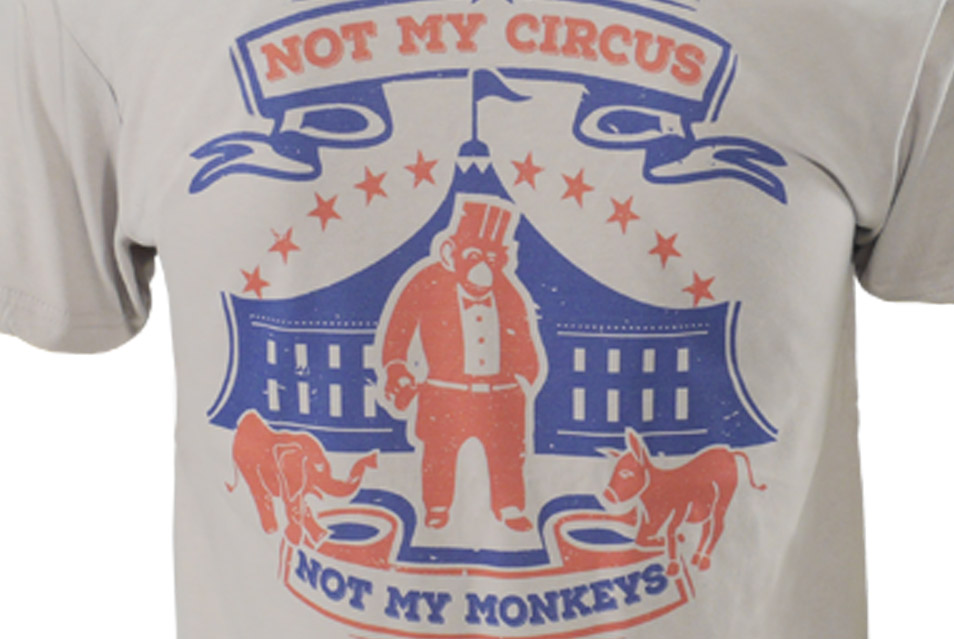 Lastly, the shirt just looks like a red, white and blue extravaganza of patriotism, badassery, and high fashion. Slim says he hasn't seen this much patriotic awesomeness in one place since he hid in Evil Knievel's jumpsuit. Look, if you want to grow your hair back and lose your beer gut, buy this shirt. It won't do anything for your hair or gut, but it's so awesome that the ladies will ignore your shortcomings and flock to you. It's just the nature of things. Go buy it at dsgarms.com. Don't be a loser, all the cool kids are doing it.
---
---

Mad Duo, Breach-Bang& CLEAR!
Comms Plan
Primary: Subscribe to our newsletter here, get the RSS feed and support us on Patreon right here.
Alternate: Join us on Facebook here or check us out on Instagram here.
Contingency: Exercise your inner perv with us on Tumblr here, follow us on Twitter here or connect on Google + here.
Emergency: Activate firefly, deploy green (or brown) star cluster, get your wank sock out of your ruck and stand by 'til we come get you.