Nighthawk Custom and Korth: One Gun – One Gunsmith

Korth Arms and Nighthawk Custom have announced a new joint endeavor which will be of interest to those who love high end blasters. Continuing what they describe as the principle of "one gun – one gunsmith" they have now created a line of firearms "sure to change the mindset of many revolver shooters." The new weapon will feature what is described as a "silky smooth" DA (Double Action) trigger, and that's a description we like (though usually we prefer it used when referring to MILFs).
Korth of course is the Germany-based firearms manufacturer that has been hand-making customers' guns since the mid-50s; Nighthawk Custom builds storied 1911s in their shop in Arkansas. Yes, the alliance of Arkansas and Hesse might seem improbable, but as both are known for high quality workmanship (and, alas, commensurate prices) it's not as outlandish as one might think. Remember, Nighthawk describes what they do as hand sculpting guns, not building them.
We don't have much information on them yet but we do know Searson and Reeder will be happy. And Kupari — well, Kupari will probably wet himself (more than normal that is). Evidently there will be three models to begin with: the Sky Hawk 9mm Luger, Mongoose .357 and Super Sport .357.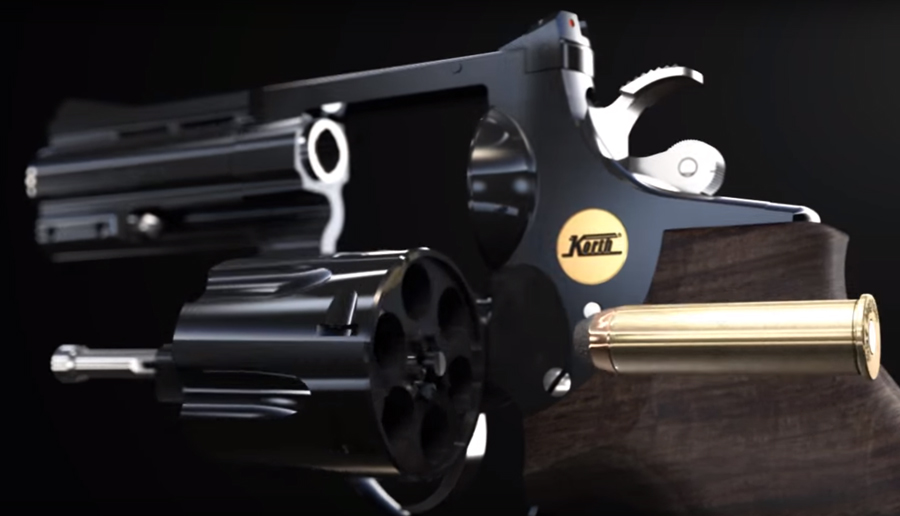 The SkyHawk (2 in. or 3 in. barrel) will have a proprietary ejection system and is machined from billet steel and aluminum. It will feature a solid gold front sight bead, Hogue grips, DLC coated frame and lanyard. MSRP $1699.
The Mongoose (4 in. barrel with a 3 in, 5.25 in. or 6 in. barrel optional) is a .357 they describe as a hand-built piece of functioning art. It will have an easy-access cylinder release, skeletonized high-speed hammer and polished trigger with a solid gold front sight bead. Finger-grooved Hogue grips come standard and custom grips are available. MSRP $3499.
The Super Sport is a 6 in. barrel .357 with their proprietary Roller Trigger (it has a five-way adjustable double-action mechanism), Lothar Walther cold-forged polygon barrel, Pic rail for accessories and a replaceable 9mm/.38 Special conversion cylinder if you want it. MSRP $4799.
More to follow. Now here's some gun porn for you. It's SFW unless you decide to get a little weird with it, but that's on you.

Mad Duo, Breach-Bang& CLEAR!
Comms Plan
Primary: Subscribe to our newsletter here, get the RSS feed and support us on Patreon right here.
Alternate: Join us on Facebook here or check us out on Instagram here.
Contingency: Exercise your inner perv with us on Tumblr here, follow us on Twitter here or connect on Google + here.
Emergency: Activate firefly, deploy green (or brown) star cluster, get your wank sock out of your ruck and stand by 'til we come get you.