Night Sights | XS Sights Expands with New Tritium License
With their new tritium license, XS Sights is doing some pretty interesting stuff with night sights. We're keeping track of what they're doing in case you want to make a change to your personal blaster.
3-Dot RAM Night Sights
August 8, 2019. XS Sights just released the new 3-Dot RAM (radioactive material) Night Sights. These sights feature a 3-dot tritium notch and post-sight picture with the rear sight blacked out for increased contrast. This design helps eliminate confusion between the front and rear sights and increases sight alignment and accuracy. The front sight, available in bright orange or green, features XS's proprietary Ember Glow Dot technology, which absorbs ambient light and glows in low light. Also, it glows brighter than the rear sight with the tritium lamp charge to help keep your focus downrange.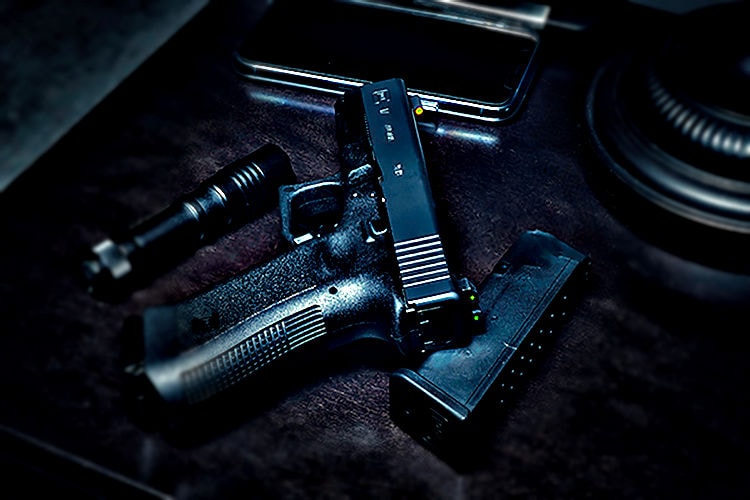 According to XS:
"Our high-performance night sights are purpose-driven tools fine-tuned for Law Enforcement use," said Zack Kinsley, Marketing Manager for XS Sights. "Having our own tritium license has significantly strengthened our capabilities.  We now test and use raw materials we didn't have prior access to, resulting in broader and more advanced product offerings that ensure front sight visibility at all times."
The steel RAM Night Sights are extremely durable and easy to install by hand or with a sight pusher tool.  All tritium sights from XS are backed by a 10-year, No-Questions-Asked Warranty.  The front blade width is 0.145" (3.68 mm) and the notch width is 0.170" (4.32 mm).  While height varies by model, all models fit standard holster options.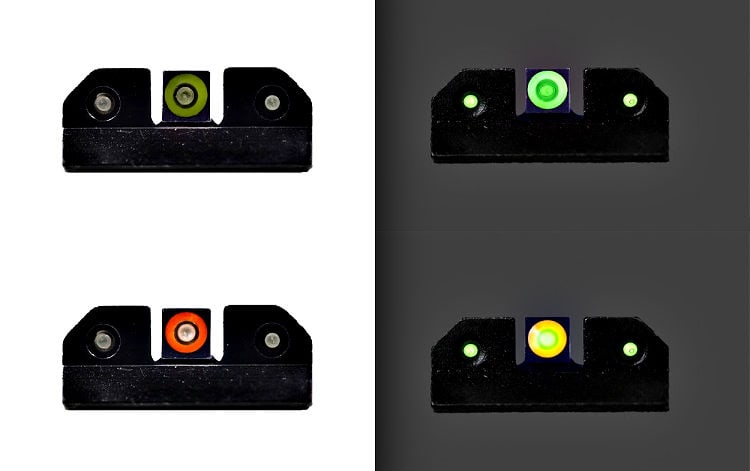 Features include:
Rear sight overhang to reduce glare in bright light.
Anti-reflective rear tritium lenses
Rear sight ledge
Choice of bright orange or green
The new XS Sights Ram Night Sights are available for multiple models from Glock, Sig Sauer, Smith & Wesson, Springfield Armory, and FHN.
New Tritium License Expands Opportunities
August 27, 2019. XS Sights just announced that they have received their tritium license and are now installing tritium into its own sights. The licensing process took two years to accomplish, but now they can access more opportunities within the night sight industry. Since receiving the license, they now offer the same tritium installation service to other OEM partners within the industry. The company also says that tritium installation services are available for customer-provided parts. By maintaining a large inventory of tritium, XS commits to significantly reducing lead time and inventory carrying costs to its customers.
According to XS:
XS offers an expanded array of manufacturing capabilities including rapid prototyping, MIM, additive manufacturing, glow technology enhancements, and automated quality control systems. XS has an on-site CNC machine shop to offer partners fast production runs with value engineering design assistance. All parts manufactured with the XS Sights logo are covered by a 10-year, no-questions-asked warranty program.
"Obtaining our licensing has been a substantial two-year project for our team," said Kellie Brunn, Co-Owner/Radioactive Safety Officer of XS Sights. "This licensing allows us to meet our core business objectives to be THE first-choice supplier for sights.
Learn more at xssights.com
Read more Breach-Bang-Clear coverage of XS Sights.

⚠️ Some hyperlinks in this article may contain affiliate links. If you use them to make a purchase, we will receive a small commission at no additional cost to you. It's just one way to Back the Bang. #backthebang