New MOLLEminus Kit Available from BFG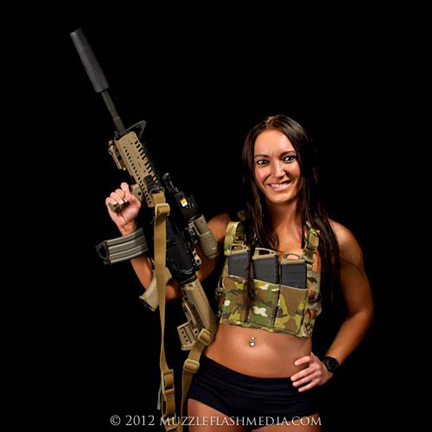 Thought we'd get your attention. That was Brianna Womick, modeling a Blue Force Gear RACKminus, the LBE that started it all. Now you can get the SPLITminus.
To the point:
We've told you about our dear, dear Blue Force Brittney before (we do really like her, though sometimes the way she stalks us can be unnerving), who handles the media for BFG when she's not outshooting all the boys on the range. Anyway, she e-mailed us earlier to advise that the new SPLITminus Chest Rig is finally available.
The SPLITminus is similar to the RACKminus (which is good kit, though we don't like the boob connotations in the name). It uses the same minimalist MOLLEminus features but has a pair of buckles in the front instead of a solid MOLLE platform, allowing you to bail out of your gear (to shuck it in time for a '96 or go prone) fast.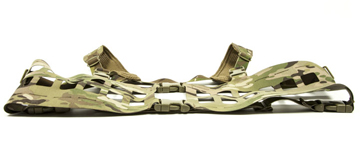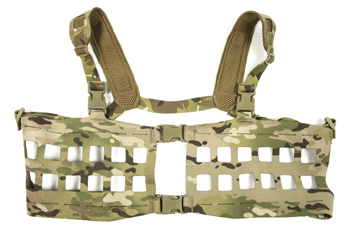 If you're unfamiliar with the SPLITminus stuff, it's very light and has almost no bulk. It's thin (like, half the thickness of a dime thin), strong (we've seen guys doing chin-ups with it) and four times as abrasion resistant as air textured nylon. It's all made of a single piece of something called the "ULTRAcomp™ laminate", which we don't know anything about but sounds really important (and is both antifungal and hydrophobic by the way).
According to Brittney, the RACKminus was basically developed to meet the needs of end users who liked the RACKminus modular chest rig, but preferred something that could be opened up or doffed easily to settle into the prone position.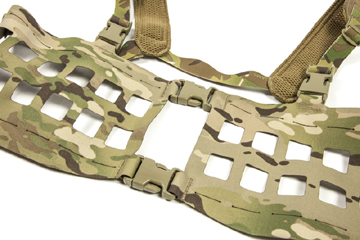 According to the press release she sent us, "SPLITminus is the simplest modular chest rig on the market and can be easily donned or doffed in seconds.  Simply un-buckle the two center buckles and drop.  The included mesh-lined shoulder straps are free breathing, MOLLE compatible and provide routing for communications wires, hydration tubes or antennas."
It's all compatible with legacy issue MOLLE/PALS pouches and, if you add it to the BFG Helium Whisper attachment system may actually allow you to defy gravity and levitate in place.
You can check the new SPLITminus here: http://www.blueforcegear.com/splitminus/
We'll close with a picture of our girl doing some hot work. She's awesome ain't she?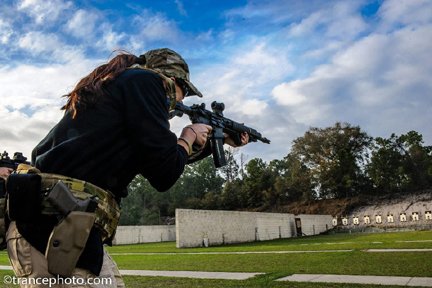 Mad Duo Clear!