New "Limited Availability" BFG Slings in Desert Digi
Check it out, especially you gyrenes. Our beloved Blue Force Brittney, one of the deadliest and carbine-shootin'est ingenue (grunts: ingenue) you will ever meet, has advised ALCON that Blue Force Gear has a handful of "overrun" slings leftover from a bunch they made for a "special order" for "specific customer".
We're guessing from that fact that the new slings are Desert Digital that this mystery unit was neither Ninja Force 17 nor the HoTacables.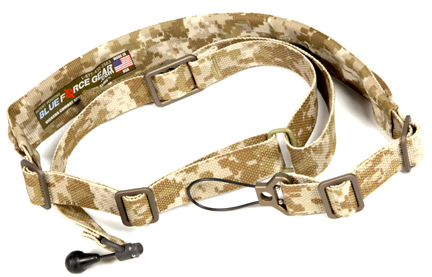 The new limited availability piece (there are less than 50 of them available, and when they're gone they're gone) is a padded convertible 2-to-1 point sling available in two versions. We're not sure how many of each version there are. One has the UWL-PB in the rear for weapons with rear eyelets and the other has a push button swivel and Burnsed Socket. Both slings have Rapid Emergency Detachment Swivels sewn in the front for emergency release and quick one handed two to one point conversion. The hardware, apparently also including some stuff they haven't released to the public before, is brown anodized aluminum.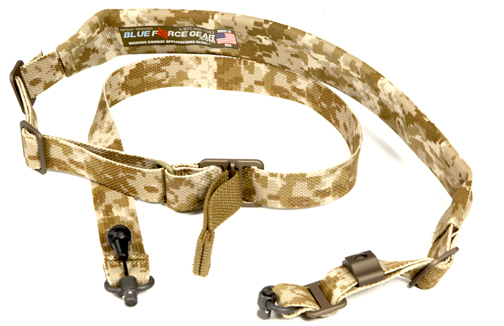 URL: http://www.blueforcegear.com/limited-edition/convertible-padded-vcas-in-desert-digital/
Don't forget their OD slings are back too (we should have told you that earlier, but we've been lazy) if you prefer a real green to that horrible "sage" crap so many places have. Get one of these here (there are a couple different styles of those too).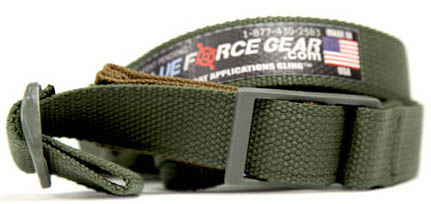 http://www.blueforcegear.com/categories/Vickers-Slings/
By the way, we were serious. That alleged green that goes along with the ACU and ABU is crap. It's as wrong as three men spooning in the shower and about as unnoticeable.
Mad Duo Clear