New lights and knives from 5.11 Tactical
We recently we had the opportunity to check out some new products being released from 5.11 at the 2014 BLADE show in Atlanta, Ga. The company has been expanding their entire product line, and continues to bring economical products to the military, law enforcement and commercial markets.  We aren't by any means covered in 5.11 products head to toe, but there are a lot of things they make that we like, particularly their cost effective flashlights and line of folding pocket knives. We had the chance to check out two new folders, and two new flashlights for the company, and we figure they're going to be very popular.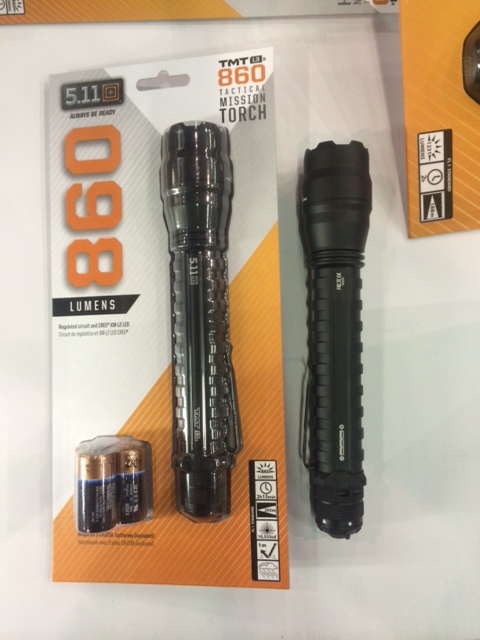 The 860 TMT "Tactical Mission Torch" runs on three CR123 Lithium batteries, and boasts a might 860 lumens of output. A handheld light, its still slim enough to fit in a slash pocket with its included pocket clip. Usually with a light that has this many lumens, run time suffers.  This is not the case with the TMT, the water resistant light has an impressive run time of 2 hours and 15 minutes with quality batteries. The flashlight also has a low mode, with a more reasonable 50 lumens for general task work. When used in load, you will get 29 hours of light. That's crazy, when you realize that it was only a few years ago that 60 lumens for 2hrs was the norm! This light might not be for everyone, with its longer body length. But for those needing some serious reach into the darkness, it should be considered.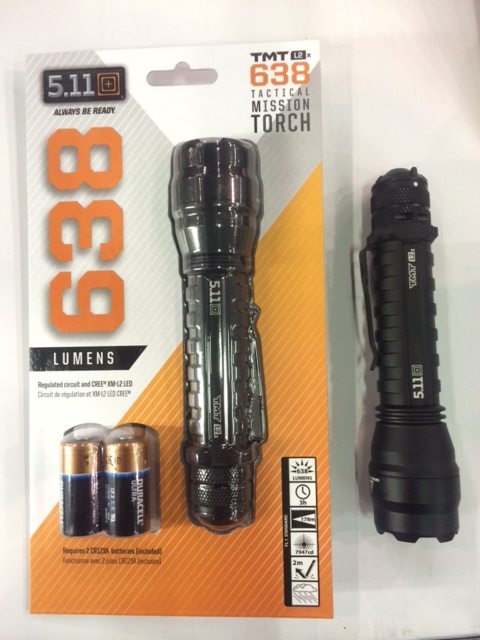 The next light from 5.11 is the 638 lumen version of their Tactical Mission Torch series.  It features a CREE LED bulb just like its big brother described above.  This model is probably better suited for everyday carry and runs on the 2 standard CR123 batteries.  With 638 lumens of output, and a 3 hour burn time this light will reach out to 178 meters of complete darkness. This model also has a low mode, giving you a very usable 52 lumens for an impressive 24 hours. The included pocket clip allows for bezel down carry in your favorite pair of tactical khakis (AKA "Tackis")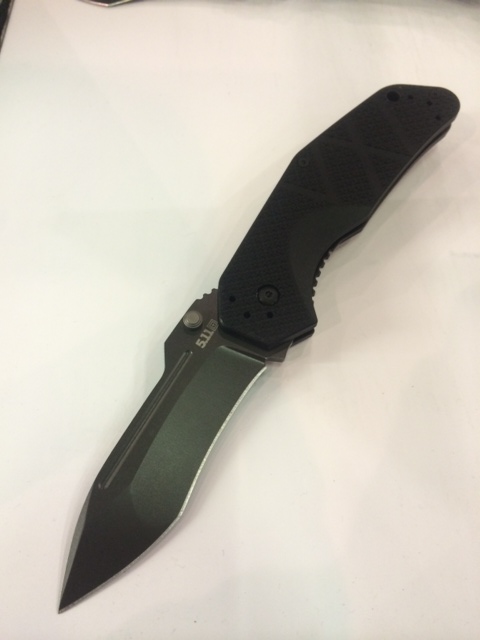 5.11 also released two new folding knives, with a very distinct profile.  The new RFA (Ready For Action) Assisted Opening Knife from 5.11 Tactical is crafted from AUS 8 steel for maximum tensile strength and edge retention, and features an integrated blood grove down each blade facing. It has a newly designed four way pocket clip which allows for your preferred carry position.  The folder also has an FRN scale handle, ambidextrous thumb studs, and their Assisted Opening Technology helps ensure quick deployment, reliable performance, and a secure grip in any setting.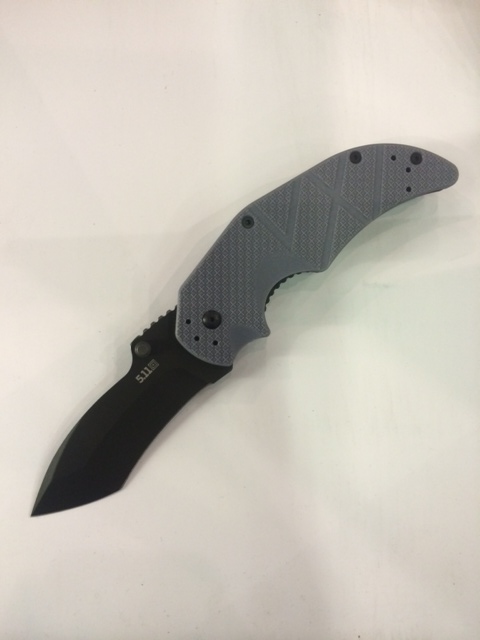 One last model was shown, which has not been released for added to their catalogue yet, but it will be soon. This blade is similar to the RFA, as it features assisted opening and the same materials. The difference lays in the uniquely shaped "hunch back" blade spine and similar profile along the back of the grip. It fills the hand nicely, and definitely has a distinct look to it. Check out the 5.11 Tactical knife line here, and be sure to scope out the TMT line of lights here.