Monday Morning Edge: New Gunhammer knives join DDR lineup
It's been a little while since lasted we linked up with Mr. Darrel Ralph from HTM Knives. Since the release of several new knives at BLADE Show year, Mr. Ralph has been diligently working on expanding his line of folders. The new additions to the "Gunhammer" line of knives will be available soon on the HTM website but we thought we'd give you a quick look (and a look at the 3″ Gunhammer too).
The Gunhammer was offered at first as a strictly custom folder, but HTM has now set out to provide everyone with the chance to own this great design. 100% American made, these knives have flippers reminiscent of the commander style hammer of a 1911 pistol. Even the angle of the grip is very similar to those beloved sidearms. We were given the chance to handle the new knives and were very impressed with how smoothly the blade slides open.
Note – severalof our minions own DDR knives, but none use them as "task knives." These knew Gunhammers might change that.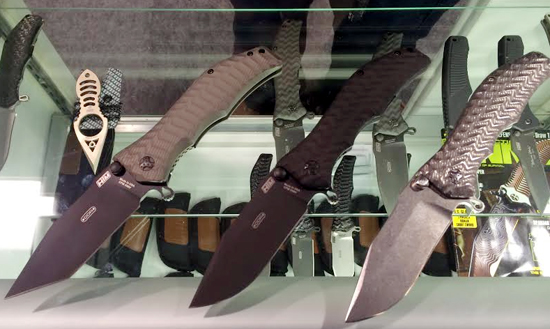 What's not surprising is the presence of that same sort of attention to detail and craftsmanship Darrel Ralph designs have always been known for. Offered in both "flipper" and assisted opening configurations, both lock with a positive, pleasing audible CLICK. The scales are nicely textured for a positive but not overly aggressive bite when wielding. The finish is in rugged Ceracote, in various earth tones and basic black with others that are stone washed. The entire line will feature S90B steel blades and titanium liner locks.
It's telling that while Darrel has been tweaking the design since 2004, it is just now that the seasoned bladesmith is at finally happy with design. Read more by following the links; check out HTM Knives here or Darrel Ralph's page here. We'll let you know as soon as the new Gun Hammers are widely available. You can also keep an eye on DDR's Facebook page here.