NEED TO KNOW: Week of November 28

Need to Know, provided by the Grey Cell Information Network: World events marginalized this week by mainstream media.
•TPP Sharpens China's Focus on South America
•Current Maskirovka Operations in the Balkans
NEED TO KNOW: Week Of 28 November
David Reeder
---
Turkey Begins to Turn
The past three weeks have seen a dramatic shift in President Recep Tayyip Erdogon political leanings, and subsequently Turkey's reliability rating as a NATO ally. Turkey has threatened to join the Shanghai Cooperation Alliance, a Sino-Russian backed regional trade partnership that encourages Eastern trade while discouraging Western involvement. Defecting to the SCO would make Turkey's European Union membership all but impossible. Just within the last 24 hours Ankara has announced its intention to increase trade conducted with Russia, China, and Iran. Such commerce, clearly not what the EU would prefer, is an effort to bolster the Turkish lira, which has been the worst performing emerging market currency since the President Elect Donald Trump won the US election.
Immediately after announcing Turkey's interest in switching sides, the EU announced they would not be considering Turkey's membership any further this year. At the same time, German defense officials began immediately searching for basing alternatives for its anti-ISIS bombing air campaigns. This is a further extension of the earlier immigrant feud's tit-for-tat, resulting from Germany not being allowed to visit its troops at Incirlik Air Base.
Turkey has received nearly $4 billion dollars to stop immigrants from flooding Europe. That's an effort Erdogan is now threatening to stop, should the EU stop considering Turkey's inclusion. Ankara's threat to join the SCO is not an idle economic. According to Michael Kaplow, a Middle East analyst and policy director of the Israel Policy Forum, Turkey's move away from the West will have far-reaching long standing consequences.
"If Turkey were to actually join the SCO, it would, of course, drastically alter relations with the US and NATO. It would be viewed as a rejection of the Western alliance and make it incredibly difficult to include Turkey in any type of high-level strategic dialogue, given concerns about Russian expansionism," he said, pointing out that only Turkey, unlike other NATO members, is receptive to SCO dialogue.
The SCO is a significant world player, especially in Asia. Counted in total, full and observer SCO states control 40% of the population of the entire world, and substantial influence or direct authority over its largest oil and gas reserves — and two of those countries are nuclear powers. If they successfully woo and include Pakistan and India, as is expected, that will become four nuclear powers.
As a result of Turkey's schizophrenic behavior, it is proving it self to be a less than stable regional ally. Unless tensions are eased, Turkey will probably continue its move away from the West, and the West will match the distance and pull away from and increasingly isolate Turkey. Romania, Bulgaria, the Kurds and Montenegrins, and Kazakhstan and Tajikistan may find themselves the recipients of more EU and Western aid and attentions should Turkey completely separate from NATO. All this may very well be part of a more elaborate Russian plan to trip up NATO, reducing NATO's influence in the region while increasing that of the Russia-dominated Collective Security Treaty Organization.
In the Business Insider interview linked below, geopolitical expert Ian Bremmer explains that, in theory, Turkish SCO membership would not absolutely militate Turkey's exit from NATO. In practice however, it would severely strain relations between Ankara and other NATO member nations. All may not be as dire as it seems, however; Erdogan is probably just looking for leverage. He has a number of political aims, including a mitigation of US reliance on the Syrian Kurds, the extradition of moderate Imam Muhammed Fethullah Gülen (whom Turkey considers a terrorist) from his self-employed exile in the United States, and other goals.  As Bremmer explains, it's doubtful this is a signal of a historic and strategic shift away from the West. In fact, many existing SCO members don't necessarily want Turkey to join. However it develops, Putin will do his best to ensure this is a slow and painful process for Turkey and the transatlantic alliance. He knows that a rogue and dysfunctional NATO ally Turkey is of greater use to Moscow than a defector to the Shanghai Cooperation Organization Turkey.
See more:

http://www.businessinsider.com/turkey-russia-china-shanghai-cooperation-organization-2016-11

http://smallwarsjournal.com/jrnl/art/partnership-instead-of-alliance-the-shanghai-cooperation-organization-as-a-mechanism-for-ch


---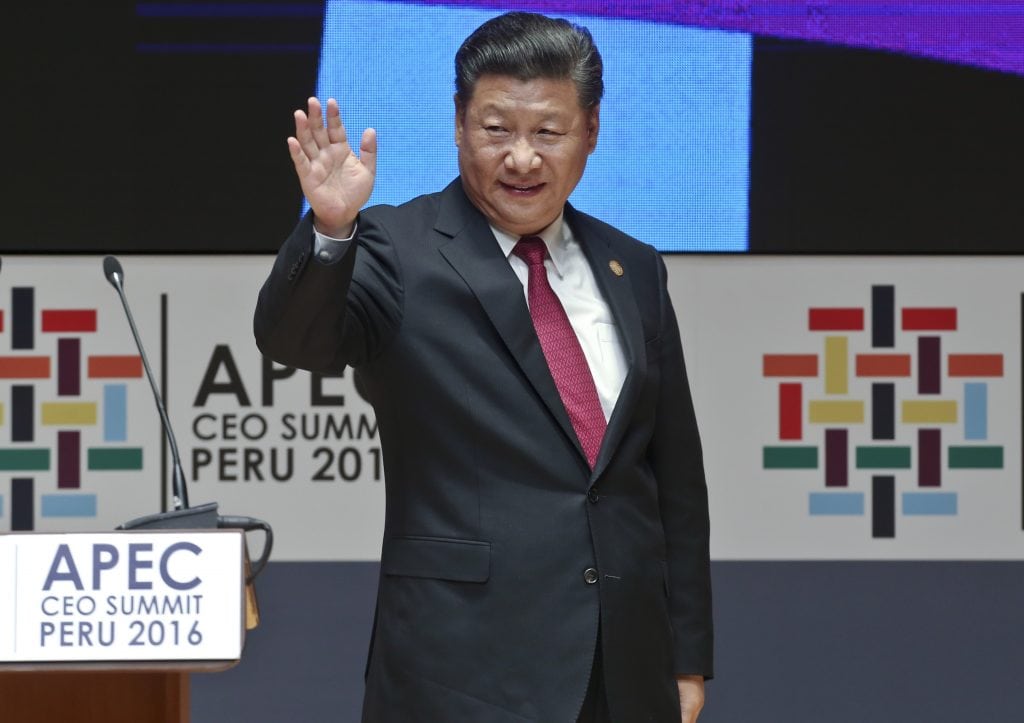 TPP Sharpens China's Focus on South America
Anxious to step into the perceived leadership void created a retreating US, China's President XI Jinping used the 2016 Asia-Pacific Economic Cooperation summit in Lima, Peru to showcase his country's deep regional investment over the past 10 years. He also reaffirmed China's dedication to the area for the substantial future, promising a $500 billion increase of investment into South America by 2020.
Ecuador, Peru and Chile are China's major economic and trade partners in South America. The trade volume between China and South America increased by a factor of more than 20 to nearly $240 billion USD by 2015. China is the second largest trade partner and the third largest investment country to South America, and South America is China's seventh largest trade partner.
By not leading the Trans Pacific Partnership, a plan that excludes China, the US will allows the forward progress of the competing Chinese plan, the Regional Comprehensive Economic Partnership. This in turn excludes the US. The general consensus is that the TPP was doomed from the start and too cumbersome to enforce, so its death is likely the best way forward at this point. Trump may see this as a deal to be avoided.
"Instead of negotiating with 12 countries in the TPP, Trump thinks he can get a better deal for Americans if there are fewer countries at the table," says Stuart Trew, trade economist at the Canadian Centre for Policy Alternatives and co-author of "The Trans-Pacific Partnership & Canada: A Citizen's Guide."
China is determined to continue strengthening its influence in South America. China said it will actively participate in bilateral and multilateral trade deals, with the goal of deepening reform and opening up its economy, regardless of what direction the Trans Pacific Partnership or the China-backed Regional Comprehensive Economic Partnership ultimately takes.
China's increasing economic influence is far greater than that of its military, but it does have a military presence. For instance, the Peace Ark, a Chinese Navy hospital ship, has visited various Caribbean countries in the past. Chinese troops have participated in the UN MINUSTAH mission in Haiti, and Chinese officers routinely visit Latin American countries. Reciprocal visits by military personnel from Mexico, Chile, Peru, and other countries are commonly made to the China's Army Command College, their Navy command School, the Defensive Studies Institute, and its Naval Research Institute. Such missions will almost certainly be incrementally increases as well.
The bottom line remains that China has no intention of leaving the US back yard and is determined to stay for the long haul.
See more:
http://fortune.com/2016/11/24/china-tpp-trade-deal/

http://www.globaltimes.cn/content/1017347.shtml
---

Current Maskirovka Operations in the Balkans
In news related to some of what we touched on last week, Serbian and Montenegrin law enforcement recently arrested dozens of individuals tied to an apparent Russian plot designed to alter the outcome of Montenegrin Parliamentary elections. Caches of weapons, uniforms, cash and electronic surveillance equipment were seized by authorities prior to the operation's execution phase. The Russian citizens were then kicked out of the both Serbia and Montenegro. Serbian conspirators like the former Serbian Commander of the Gendarmerie, Bratislav Dikic, remain in custody and are pending trial. Some of the detained personnel were said to have been participants in recent Crimean and Ukrainian conflicts, further implicating Russia in regional operations designed to manipulate political outcomes to Russia's benefit.
Pro-Russian Prime Minister of Serbia, Aleksander Vucic, was unable to prevent the expulsion of the Russian operatives from his country. He soon became the target of what may have been a reprisal attack. The threat has been described as a reminder to regional politicians that they hold power only so long as the Russians permit them to. In other words, Balkan democratically elected officials serve at the pleasure of Putin and Russia's pleasure and regional design.
Seventeen years after the disintegration of Yugoslavia, Russia actively works to maintain a high level of regional political tension. Serbia has long been backed by Russia; that relationship has in fact been likened to that between the US and Israel. Serbia refuses to recognisz Kosovo's independence, while Bosnia's sovereignty is under constant pressure from Serb and Croat separatists. Stjepan Mesić, a former Croatian president, claims that leaders of both communities are seeking to break up Bosnia, warning that it could lead to a new war.
Albania and Croatia are NATO members. Serbia is a Russian ally, and Montenegro has become an object of Moscow's motivations because of its increasing alignment with the West, a relationship that could close off the Adriatic Sea to Russia's military.
Several nations in the region are squarely under pressure from Putin's Russia due to both geography and history. Russian attempts to influence the Balkans is a continued demonstration of Putin's intention to block aspiring NATO ascensions. His goal is to turn the former Soviet Republics back towards the East. Events surrounding the elections in the Montenegro, where long-serving Prime Minister Milo Djukanovic has taken strident efforts to join NATO, are clear indications of this.
This past May, Montenegro completed its negotiations with NATO. The next step is parliamentary ratification of the treaty. By influencing the parliamentary elections in Montenegro, Russia stood a chance of defeating the NATO ratification. While Djukanovic has a horror-movie worthy pile of skeletons in his closet, he does have the confidence of NATO. As a defensive alliance, NATO is primarily concerned with regional military capabilities and Montenegro appears to have made the required progress. Djukanovic's apprehension of Russia is to NATO's advantage.
For its part, Russia has been particularly irked by the region's westward lurch, particularly the growing influence NATO is gaining amongst former Soviet Republics. The strategic location of the disputed states potentially constricts Russian freedom of movement and reflects a western regional hegemony that would economically benefit the area.
Russia will not concede the avenues of approach without resistance.
See more:

You can find Grey Cell online here; follow them on Facebook here: /GreyCellLive/.
---

---

Mad Duo, Breach-Bang& CLEAR!

Comms Plan

Primary: Subscribe to our newsletter here,get the RSS feed and support us on Patreon right here.

Alternate: Join us on Facebook here or check us out on Instagram here.

Contingency: Exercise your inner perv with us on Tumblr here, follow us on Twitter here or connect on Google + here.

Emergency: Activate firefly, deploy green (or brown) star cluster, get your wank sock out of your ruck and stand by 'til we come get you.

About the Author: It might not be too surprising that David Reeder, who never met a $50 word he didn't like, one of the "leaders" of the pedagogic and frequently obstreperous Breach Bang Clear team — insomuch as they have a leader (the terms orchestra conductor and rodeo clown are equally apropos). A former POG who tastes like chicken, Reeder cannot play the harmonica. He founded Breach-Bang-Clear quite accidentally at his young son's behest several years ago. He is the Mad Duo's Chief Wretched Flunky and Breach-Bang-Clear's HMFIC. A LEO for many years and former AF Security Forces SNCO, he was an O/C at the National Homeland Security Training Center for many years and a longtime MOUT instructor at the Bold Lighting UWS. Reeder has appeared on Fox News Business and written for a number of publications, from US News & World Report and Military.com to RECOIL Magazine and Soldier Systems Daily. All of that sounds way cooler than it actually is. You can read more about him here. Follow his banality on Instagram, @davidreederwrites.

"I have no taste for either poverty or honest labor, so writing is the only recourse left for me" Hunter S. Thompson

"Some editors are failed writers, but so are most writers." T.S. Elliot

"Either write something worth reading or do something worth writing." Benjamin Franklin