Must Have Garment: The Pledge of Allegiance Shirt
Listen to the opening statement of Unapologetically American:
"People have a visceral reaction to the words Unapologetically American. We find this amusing, because it isn't like we're going around saying 'I hate all other cultures'. We're simply saying, once again, that America and its ideals are pretty freakin' awesome and we're awfully sick of hearing hippies and socialists whine about how we are actually some great evil bestowed upon the world.
Holy dogshit, it's like they're our cousins, separated at birth by the evil unwashed masses of assclowns. They even spelled 'hippies' right. These guys are unapologetically Mad Duo approved! Even if they weren't, though, check out this shirt. If you don't pre-order one of these, or ask your family to get you one for Christmas, you may need to have a blood test done. You might just be a hippie yourself.
That said, you can probably salvage things and redeem yourself by quickly reciting the Pledge of Allegiance and watching a video of Ronald Reagan on YouTube. Do so before you are overwhelmed with entitlement mentality lassitude and stupidity, then order one of these shirts.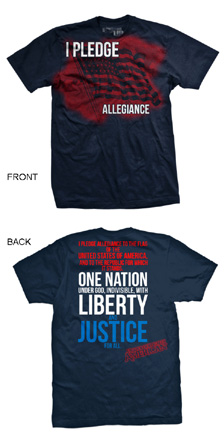 http://www.unapologeticallyamerican.com/mens-gear/ipledge.html
Please go follow them on Facebook and tell 'em Breach-Bang-Clear sent you. If you're not up for that, at least get the damn shirt. It's a message we could all stand to see and hear more frequently, regardless of our political stance.
Mad Duo Clear!
About the Authors: Richard "Swingin' Dick" Kilgore and Jake "Slim" Call are the HMFICs at Breach-Bang-Clear (breachbangclear.com). They write for current and former military, LEOs, contractors and trained and educated responsible armed citizens. They are the most door-kickingest, trigger-pullingest action figures in the tactical operator tactically operational world. Subscribe to them and stay informed about TTPs, new kit, and latest in what's stoopid (and occasionally inspiring) in the military and modern society or check them out on Facebook.