M&P M2.0 Pistol – the New Smith & Wesson is Here
M&P M2.0 Pistol – the New Smith & Wesson is Here
We've been getting RUMINT for months now about the new Smith M&P (SSD talked about it as far back as August), and today the manufacturer confirmed it. We reckon this to be wise; this will keep the impact unmitigated by the vast amount of noise coming out of SHOT 2017. Smith describes the release as the "new pistol platform for the future." While that's a pretty grand statement, there's no doubt this will be one of the most talked-about product announcements of the year, though with the recent arrival of the PD10 and CZ's P10C (and the difference in MSRPs), the new Smith will certainly have some competition.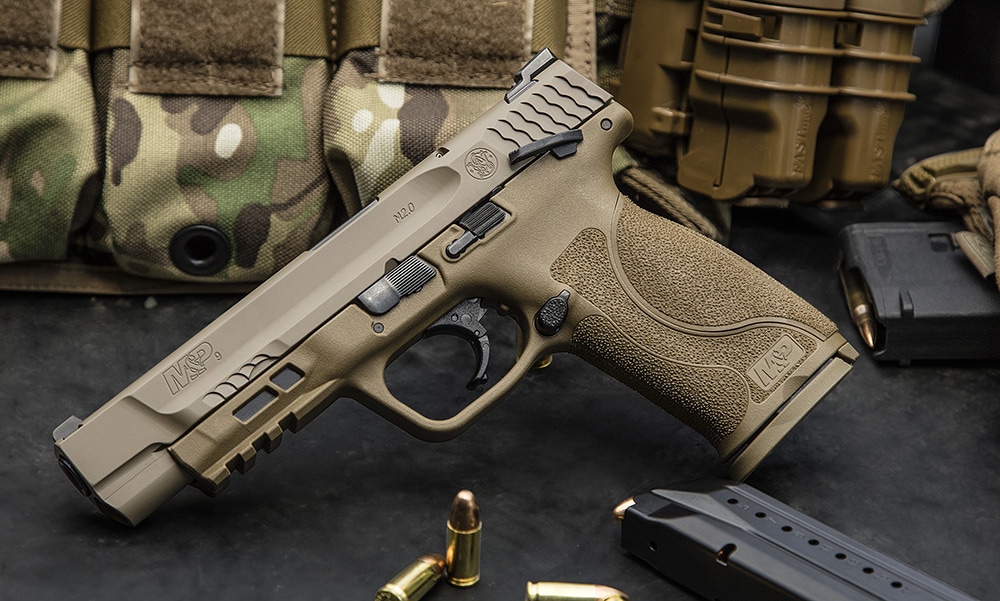 Whether such competition matters remains to be seen — the first M&P has been, alongside the Glock, one of two handguns effectively dominating the market for years. Proponents of the 1911, Springfield, Ruger, Beretta, et al might not like to hear it, but facts is facts. Gravity works and most people buy Glock or Smith.
The new M&P is, as expected, a striker-fired polymer pistol, but it's built on a steel chassis. Their formal release promises new features very nearly from front to back, including the trigger, grip, frame, and finish. The pistol will be rolling out en masse with 9mm, .40S&W and .45 versions available simultaneously, but the President of American Outdoor Brands Corporation (S&W's parent company), references additional product line expansions in the coming year. He says they'll "establish a completely new family based on [the M&P M2.0] platform."
Interestingly, the .45 version has a manual thumb safety.
Among the features they describe are the following (in their words):
• Available in 9mm, 40 S&W and .45

• Available in black or FDE

• Ships with two (2) magazines

• M&P pistol's optimal 18-degree grip angle, providing a natural point of aim

• M&P pistol high grip-to-barrel bore axis – more comfortable to shoot, faster aim recovery

• Four interchangeable dimensional palmswell grips for best-in-class fit: S,M,ML,L

• New aggressive M2.0 textured grip for enhanced control

• New front cocking serrations

• New M2.0 crisp trigger with lighter trigger pull

• Tactile and audible trigger reset

• Accurate 1 in 10" twist 9mm and 40S&W, and 1 in 15" twist .45 Auto M&P M2.0 barrels

• Extended rigid embedded stainless steel chassis to reduce flex and torque when firing

• Tactical white 3-dot steel sights for quick target acquisition

• Ambidextrous slide stop, reversible magazine release, and optional ambidextrous thumb safety

• Simple M&P take-down lever, for easy disassembly and maintenance

• M&P pistol sear deactivation lever – safe take-down without having to pull the trigger

• Armornite® – hardened nitride durable corrosion resistant finish on barrel and slide

• Cerakote® FDE finish over Armornite® on Flat Dark Earth M2.0 slides
None of our crew was involved in the writers' event that first showed off S&W's new blaster, but some of those who were there seem tentatively optimistic about the weapon's performance.
Clay Martin of Guns America, for instance, says,
"The 2.0 version now has a steel skeleton that extends the length of the frame, underneath the polymer. The frame is much more rigid now, and recoil is noticeably lessened. I am not an engineer, but I am assuming this acts like rebar in concrete. Whatever the magic, it is working. The new frame is a huge step forward. It is easy to identify the new M2.0, since the steel frame is visible via windows on either side of the dust cover near the rails. In fact, that is now where the serial number is located."
One must filter Martin's review with the knowledge that GA is an S&W distributor (you can buy a 2.0 from them), but his prose is typically one of the candid everyman, so we reckon his review is worth reading. You can do that here.
The manufacturer's product page can be found right here.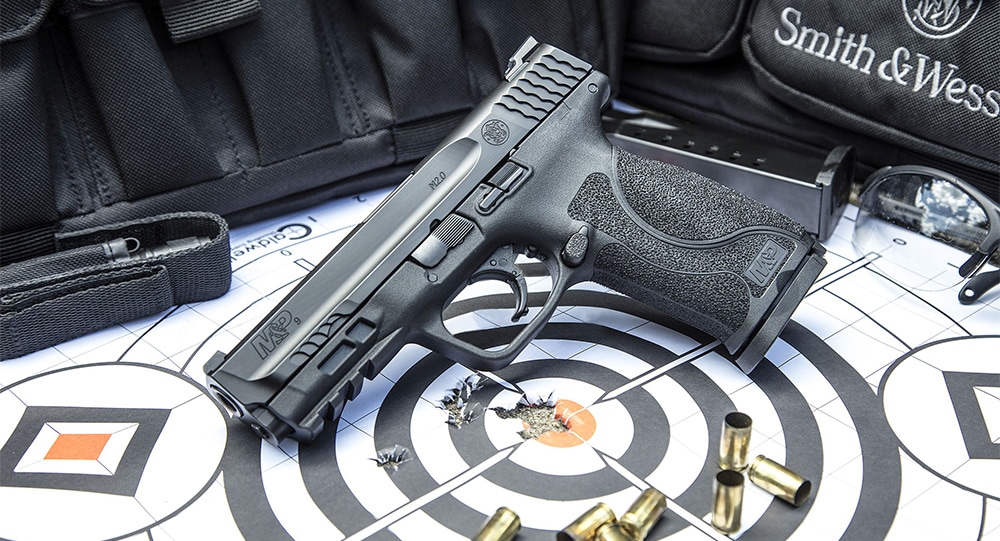 Alternately, you can watch the following video, which was apparently filmed either on the military range at Arktichesky Trilistnik or Planet Hoth, we can't tell.
You can find S&W on Instagram, @smithwessoncorp.
Enjoy Breach-Bang-Clear? How about doing us a solid. Back us by joining Great House Morningwood – you'll get stupid awesome rewards for it.