Eyes On | The Gerber Golok Machete
Those of you who've done any Brit military autobiographies, or about the Jungle Tracking School Brunei, know what a Golok is. Norseman recently received a Gerber Golok in a #writermailcall — here's his Eyes On.
When I first heard that Gerber was coming out with a brand new machete, or more specifically adding a Golok to their machete line, I couldn't wait to get my hands on it.
Gerber Golok | As Much Chopper As It Is Bashing Beast
That day has finally arrived, and I have in my greasy little mitts a true monster of a wood basher. Based on a tradition Golok design, it's heavy in the hand (deceptively heavy, I might add). Not at all uncomfortable, just a little surprising at first contact so I know they got that part right.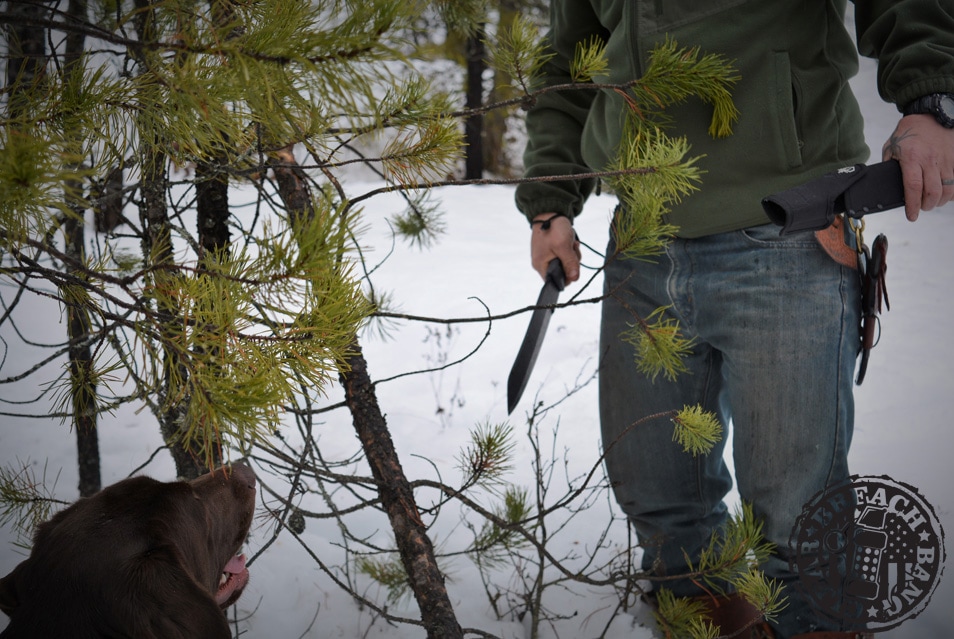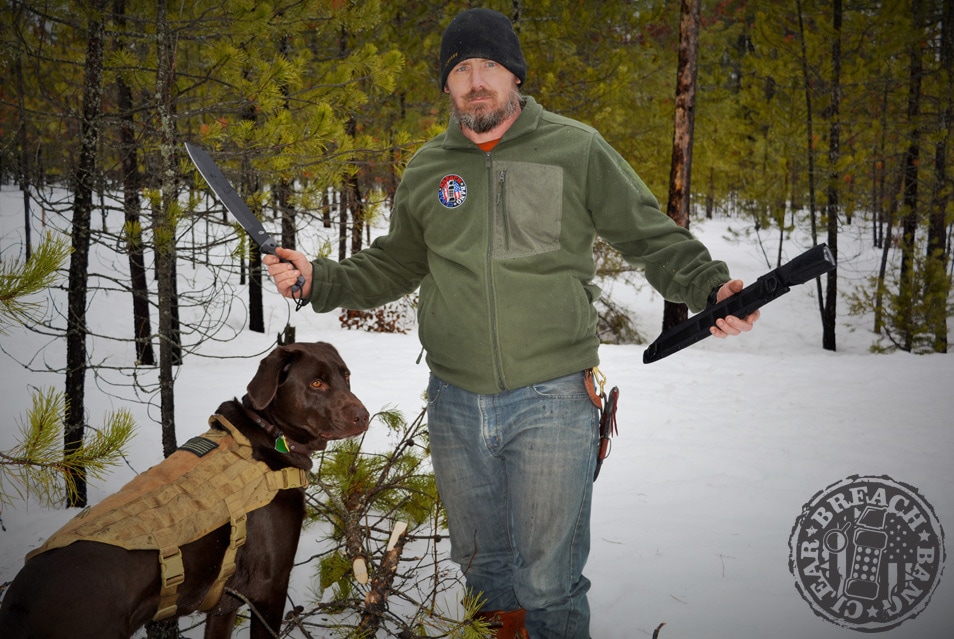 This beast is a full quarter inch at the ricasso and tapers to an eighth inch at tip before it terminates at the primary bevel. Gerber claims that this is the thickest blade in their machete line, and I have no reason to doubt that claim whatsoever.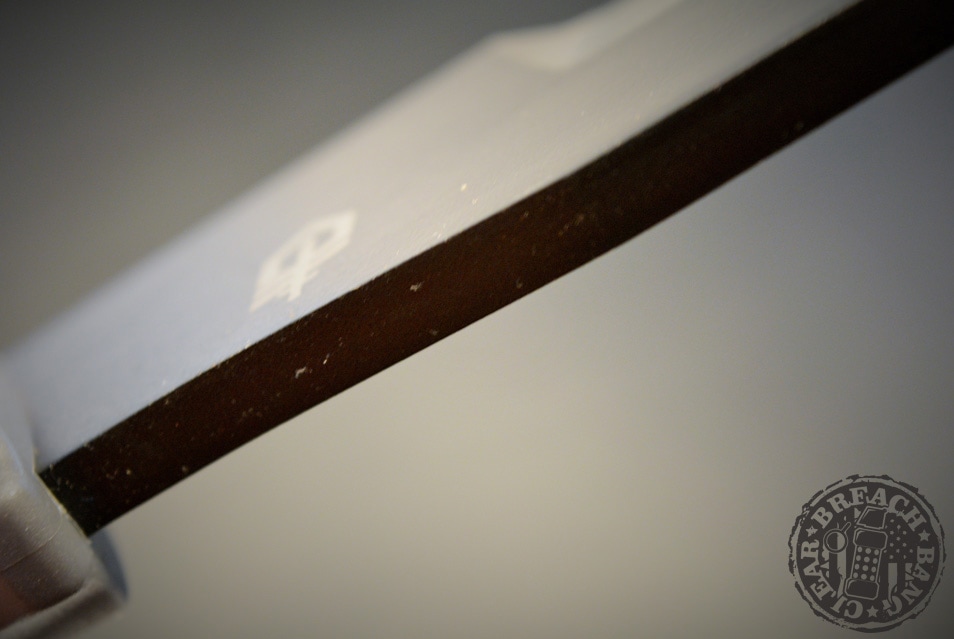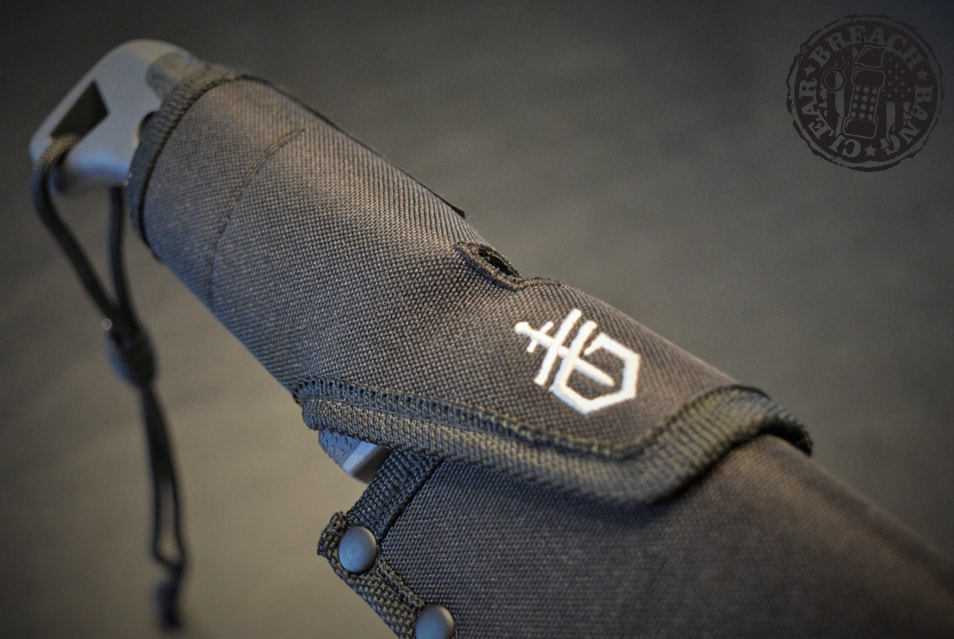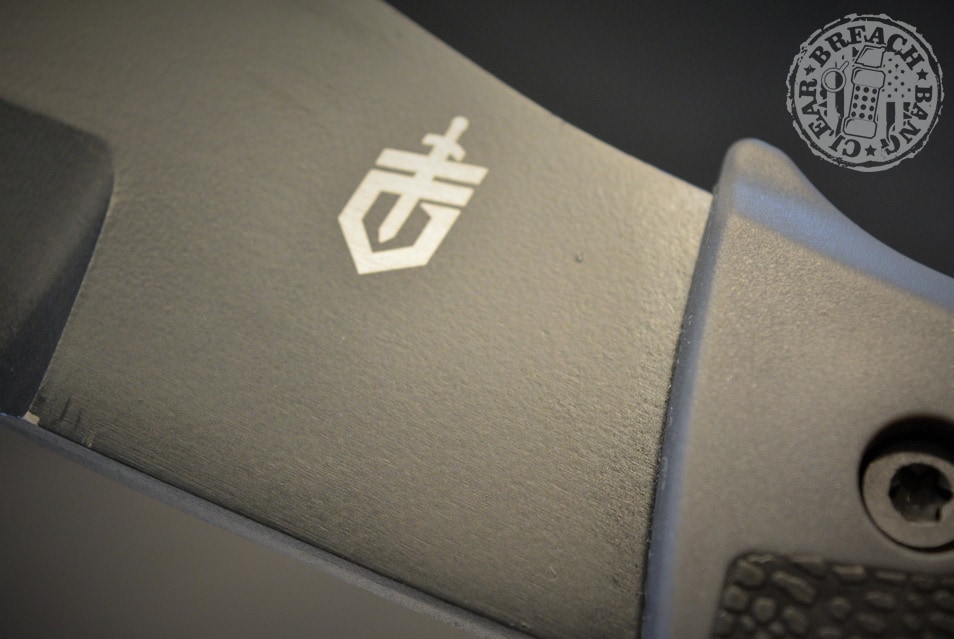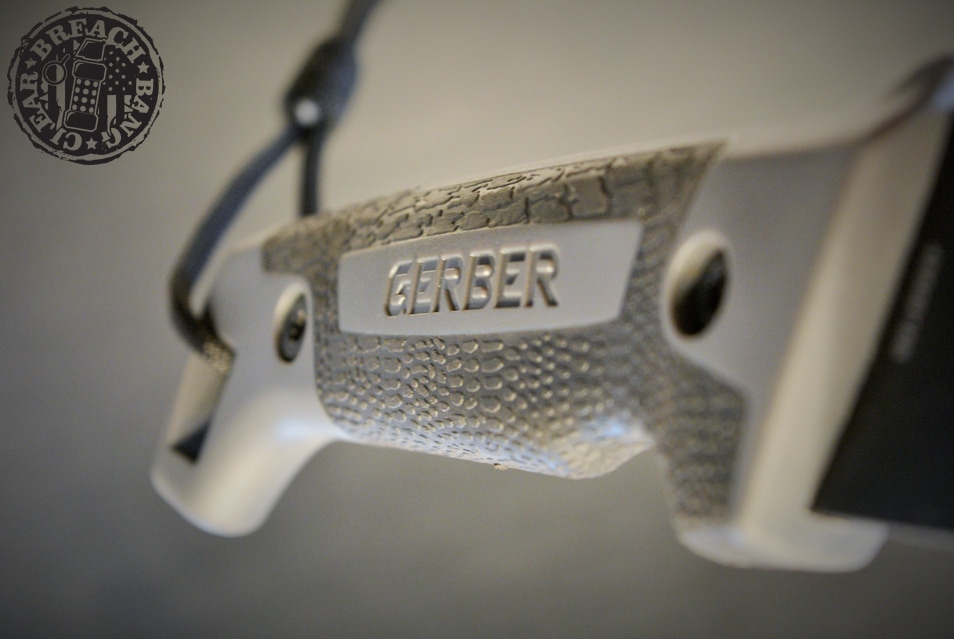 The sheath is stitched and riveted nylon with what I assume is a plastic insert. Gerber mentions three methods of carry with twin D loops, molle compatible straps, and a belt loop. The quality seems to be a little suspect, but I've been wrong before and am willing to give them the benefit of the doubt.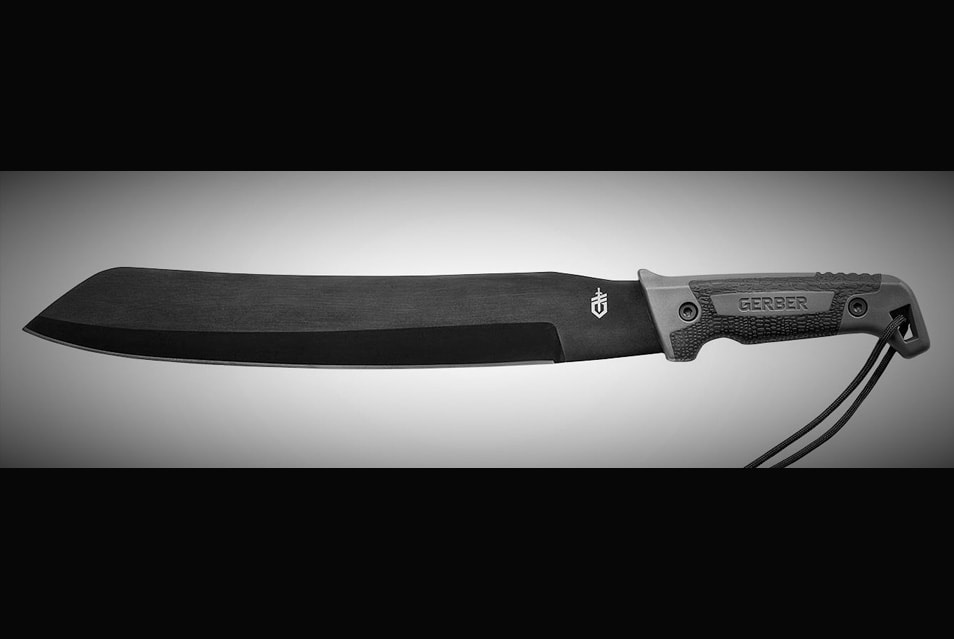 If you know me then you know I love big chopper blades, and this blade has the potential to fit right into my collection of working tools. Will it stand up or fall short? That remains to be seen but I am more than willing to put it through the paces for better or for worse.
Here are the nuts and bolts according to Gerbers' website and the packaging:
• Overall Length: 19.0″
• Blade Length: 12.9″
• Weight w/o sheath: 25.3 oz.
• Blade Material: MN65 steel
• Dual tapered blade design
• Full tang construction
• Handle with Gator Grip overmold (polypropylene)
• Adjustable lanyard
• Sturdy Sheath with dual D-loops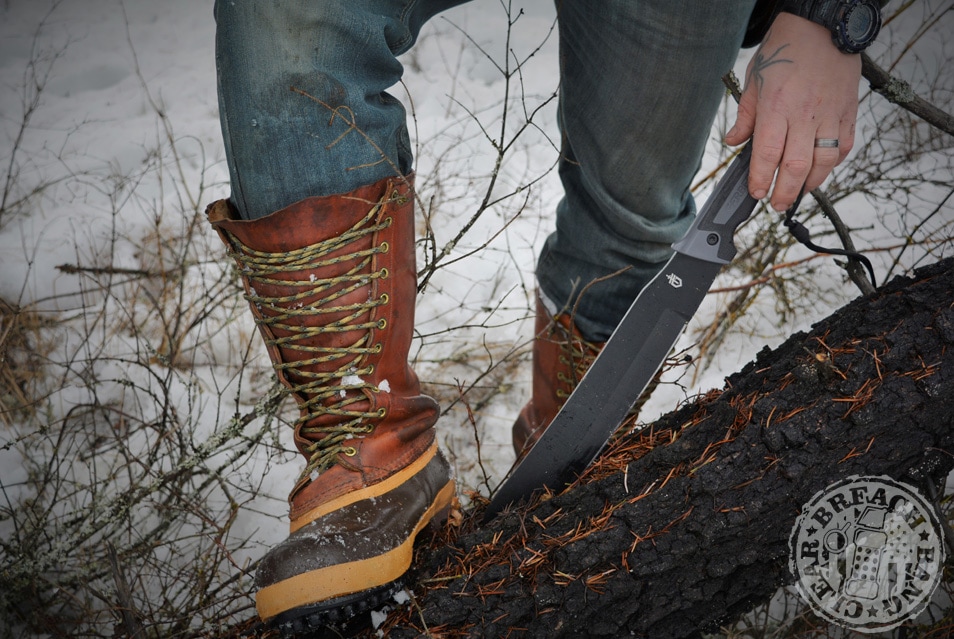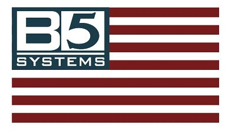 I don't suppose it surprises anyone that this model, like many others, is made in China. At first glance it seems they've cracked the nut on getting quality fit and finish out of the Far East. As far as the rest of the manufacturing goes, we'll have to evaluate and report. It just so happens I have a fair amount of property to clear out when the snow melts, and I can't think of a better way to spend a day or three than hacking and slashing my way through acres of fresh pines and deadwood. You better pack a lunch Golok, because your ass is about to get worked.
-Norsemans Survivology
Subscribe to our newsletter here. Do it.
---
---
Mad Duo, Breach-Bang& CLEAR!
Comms Plan
Primary: Subscribe to our newsletter here, get the RSS feed and support us on Patreon right here.
Alternate: Join us on Facebook here or check us out on Instagram here.
Contingency: Exercise your inner perv with us on Tumblr here, follow us on Twitter here or connect on Google + here.
Emergency: Activate firefly, deploy green (or brown) star cluster, get your wank sock out of your ruck and stand by 'til we come get you.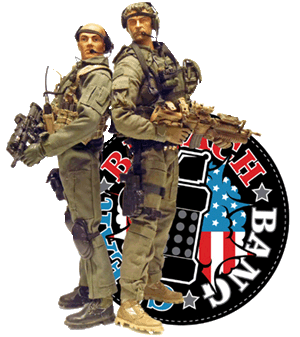 About the Author: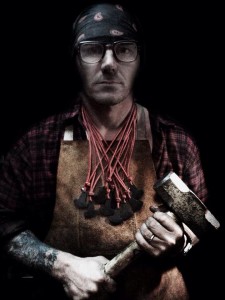 Gunny "Norseman" Williams enlisted in the Marine Corps in 1993 and deployed to Mogadishu, Somalia in 1995 as a grunt. He was one of only two SLUGs out of fifteen to make it through Sniper Indoc and attend the USMC Scout Sniper School, graduating on his first attempt and later attending Urban Sniper, Urban R&S, Advanced Sniper, Sniper Employment Officer and the Mountain Sniper/High Angle Shooting Course. As you might expect, after some time ramrodding a Sniper Platoon in the FMF he attended the Formal Schools Instructors Course and was selected as a Scout Sniper Instructor for the First Marine Division. There he was the primary instructor for the survival and .50 SASR portions, specializing in fieldcraft and combat tracking. (Note: it was there at Horno that David Reeder, our editor, met both Williams and Mad Duo Freddy; they instructed a class together. This was the start of a long and improbable badass tale.) Not too much later he received orders to the Mountain Warfare Training Center at Bridgeport. Since retiring he has continued to contribute tot he survival community as a Brother of Bushcraft and is also the HFBIC (Head Fucking Blacksmith In Charge) of the forge at Survival Hardware.