Military Morons: the Olight S Mini Ti

This article originally appeared online at Military Morons. It appears here in its entirety with MM's permission. If you're a regular reader of Breach-Bang-Clear, you already know that's one of the sites we keep an eye on. The reviews there are succinct, unfailingly thorough, and honest. Mad Duo
Olight S Mini Ti
As seen on Military Morons.
The S Mini Ti (S1R) is the smallest CR123A battery compatible flashlight from Olight. It's a very compact EDC flashlight, powered by a single CR123A lithium battery (included), with a maximum output of 550 lumens. It ulitizes a Cree XM-L2 LED with TIR optic lens and delivers an artifact-free, balanced beam. The S Mini has four brightness levels and a strobe mode, covering an output range of 0.5 to 550 lumens.
The "Limited Edition" S Mini series of Olights are their smallest CR123A-compatible flashlights, and are available in a variety of body materials and finishes. There's the S mini Cu, which utilizes copper alloy as its body material, and is available in Raw Copper, Rose Gold and Black finishes. There's also the S Mini Br, a raw brass which patinas over time. Then there's the S Mini SS (Stainless Steel), which has a stainless steel body with grey PVD coating. Shown here is the S Mini Ti, which has a titanium body and is available in Polished, Bead Blasted and Rainbow PVD finishes. The S Mini Ti Rainbow PVD is featured here. Each "Limited Edition" variant is limited to 9999 pieces. Not very 'limited' in a rare sense, but more so than their standard run quantities.
Key Features of the S Mini Ti:
Cree XM-L2 LED and PMMA TIR lens

Powered by any CR123A or RCR123

Brightness increases or decreases gradually: when the flashlight is switched on/off, it will light up or fade gradually to protect eyes from the stimulation caused by sudden brightness changes

Lockout mode can be activated on the side switch for protection against accidental activation

Reverse polarity protection circuits

Removable spring clip

Timer Setting: Short (3 minutes) and long (9 minutes)

Water resistance rating IPX8 (Immersion to a depth of 1m or more)
Impact resistance 2m
Weight 1.7 oz (including battery)
Length 2.15″, bezel/tailcap diameter 0.83″
Flashlight

CR123A battery

User Manual
Advertised run times are as follows (on a fresh CR123 battery):
| | | | | |
| --- | --- | --- | --- | --- |
| Mode | High | Medium | Low | Moonlight |
| Lumens | 550 step down to 300 | 60 | 12 | 0.5 |
| Run time | 1.5 + 120 mins | 8.5 hrs | 64 hrs | 30 days |
The S Mini Ti comes in an attractive cardboard gift box, with a battery installed and the instruction manual. That's it; no pouch or accessories. The box could have been made a lot smaller.
At 2.15″ long and 0.83″ in diameter, the S Mini Ti is the smallest and lightest CR123-compatible flashlight that Olight offers. It's really tiny. The small size isn't realized until it's held in the hand. The S Mini is essentially the non-rechargeable version of the S1R Baton previously featured, which is itself a very compact flashlight. I've illustrated them both below, next to each other. The S Mini and S1R have different bodies; the S Mini incorporates the spring clip groove into the into the push button area instead of behind it. The push button area on the S Mini is rounded, vs. the hexagonal cross-section of the S1R. The raised push button switch prevents the S Mini from rolling if the clip is not installed. The S Mini also lacks the magnetic charging tailcap on the S1R Baton, which further reduces its overall length.
One of Olight's signatures is the blue PVD (Physical Vapour Deposition) coating accents on the bezel and switch rings. The entire S Mini Ti Rainbow version is PVD coated in a very attractive multi-coloured finish. It's actually more of an oil slick instead of rainbow finish, as the main colours are blue, green and purple.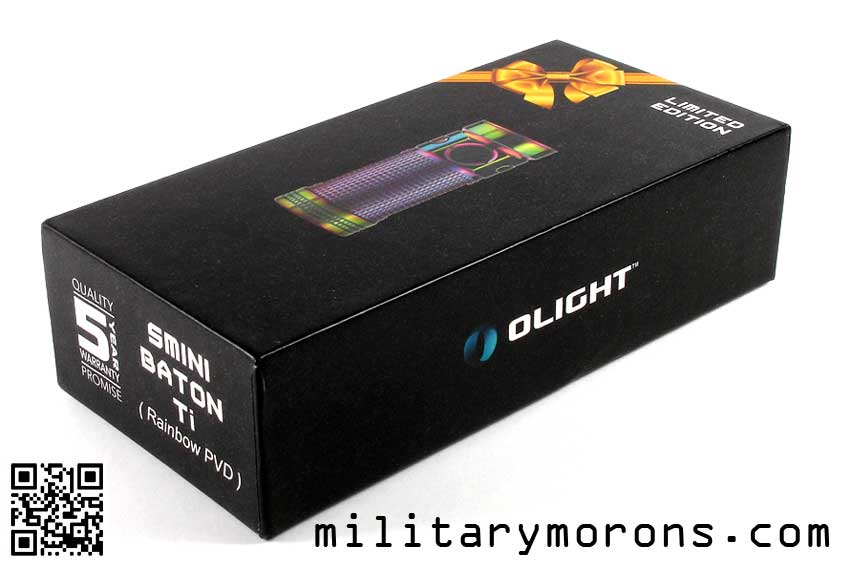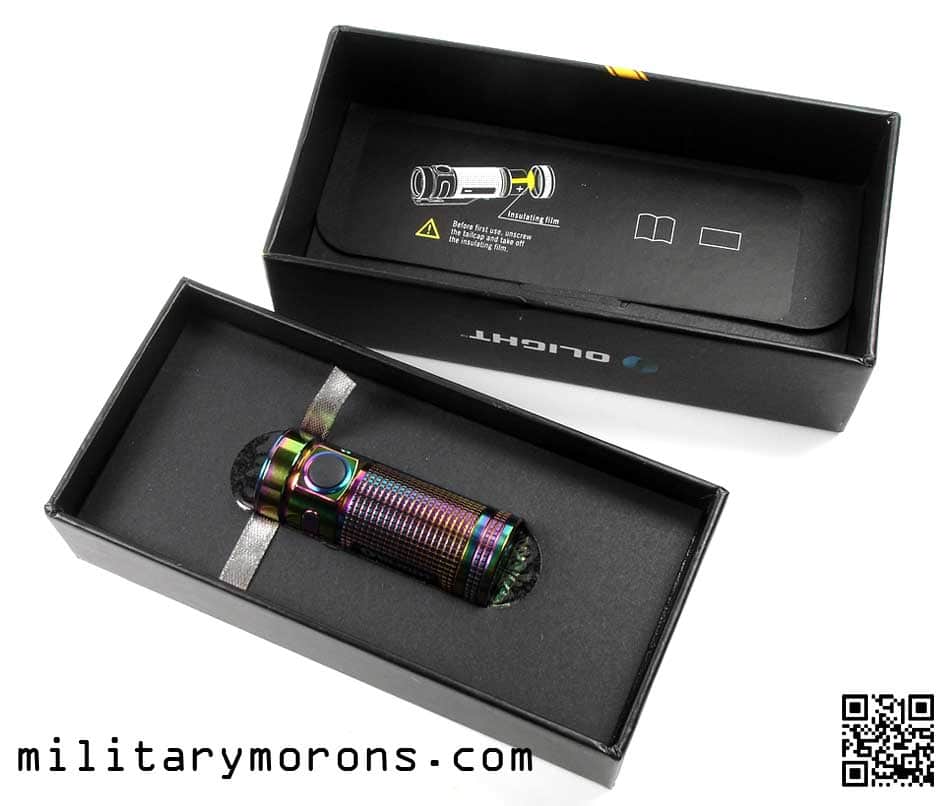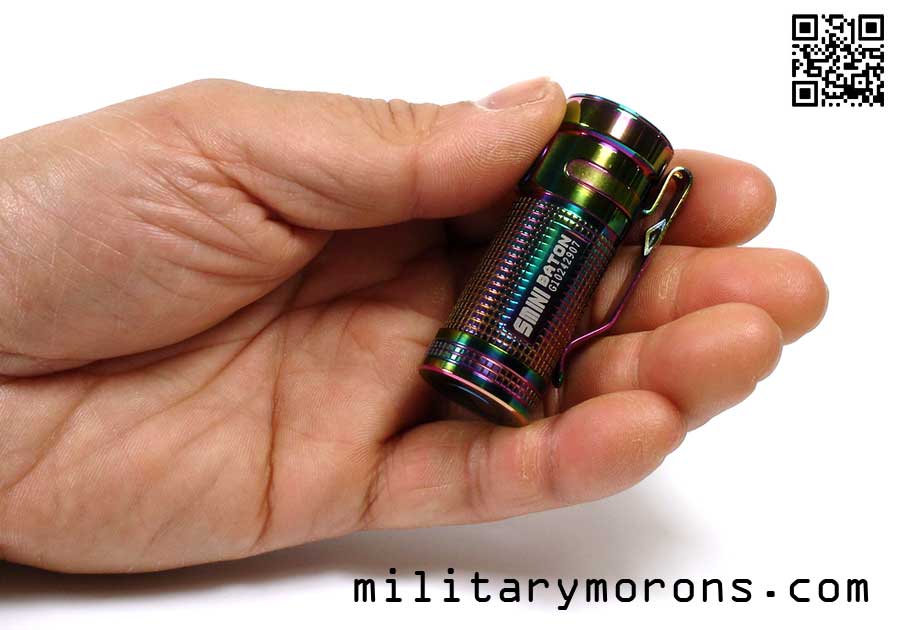 The S Mini body and tailcap are knurled for a secure grip, and each S Mini is individually serial numbered on the side. While the PVD coating is scratch resistant, it's definitely not scratch proof. Removing the clip will scratch the clip groove, as illustrated in the photo below of the clip removed, so don't do it just out of curiosity. I prefer to leave the clip on and find the light more useful that way. The clip is not reversible; and is oriented for bezel-up carry in a pocket. It can also be clipped to the brim of a cap. The clip has a small lanyard hole should you want to attach a lanyard to the light; since the tailcap does not provide a lanyard attach point. It's also slightly shorter than the S1R clip.
The S Mini comes with a single CR123A battery. The positive end of the battery is installed facing the rear, as per the marking etched inside the cavity. Any CR123A or RCR123 battery can be used in the S Mini. The shorter tailcap of the S Mini lacks the magnetic and charging properties of the S1R Baton, so it can't be attached to a ferrous surface or the battery recharged in the light (unless you replace it with the tailcap of the S1R Baton, which is compatible, but won't match the finish).
Operation (all operations are performed with the side switch):
From OFF: Press -> last memorized mode -> Press -> Off (only the moonlight, low, medium, and high modes can be memorized when the light is off. The Turbo and Turbo S modes will only be memorized as high modes for 10 minutes. After that, the memorized mode will revert to the medium mode)
Moonlight mode – From OFF: press and hold for more than one second -> moonlight mode -> Press -> OFF
Change brightness level – From ON: press and hold side switch to automatically cycle through low -> medium -> high -> low (repeat). Release switch to select level. Press again to turn off.
Strobe – Triple click side swtich -> strobe -> Press -> OFF
Lockout mode – From OFF: press and hold side switch for about 2 seconds. The light will enter moonlight mode briefly then switch off. To exit lockout mode, press and hold the switch for more than one second and the light will enter moonlight mode.
Timer – the light has a short timer (3 minutes) and a long timer (9 minutes). From ON, double click and hold to access timer settings from current brightness level. The light will blink once to indicate the short timer is activated. Double click and hold again and the light will blink twice to indicate the long timer is activated. The light will either turn off in 3 or 9 minutes depending on what timer is set. When the timer is up and the light turns off, the light will return to the last timer setting when the user is about to enter timer again.
So, every since I started carrying the S1R Baton, it's become my favourite EDC light; along with the light from the H1R Nova. Both are very compact and provide two different beam types for different applications. The S Mini gives both of them a run for their money due to its compactness; and the only practical feature it gives up is the ability to charge an RCR123 battery in the light; and the 900 lumen Turbo-S mode of the S1R.
The S Mini is well presented in the gift box and I can't think of anyone who wouldn't be happy upon receiving one as a gift. When I told my wife that I was revewing yet another flashlight, and that she might like to actually use this one; she was skeptical until she saw it. Besides the compact size, the uniqueness and beauty of the rainbow PVD finish really caught her fancy. She almost felt it was too small, and feared losing her grip on it until she had used it for a while and got used to it. Even in very small hands, you're pretty much using two fingers and a thumb to hold onto it. It's about the same size as a wine cork. That being said, the small size guarrantees that it doesn't take up much precious space in a purse or pocket; making it very convenient to carry. As mentioned before, performance of the S Mini is very similar to that of the S1R, so read that write up for more details. As with the other CR123 Olights, the amount of light coming from such a small, convenient package is impressive. It'd be difficult just to get one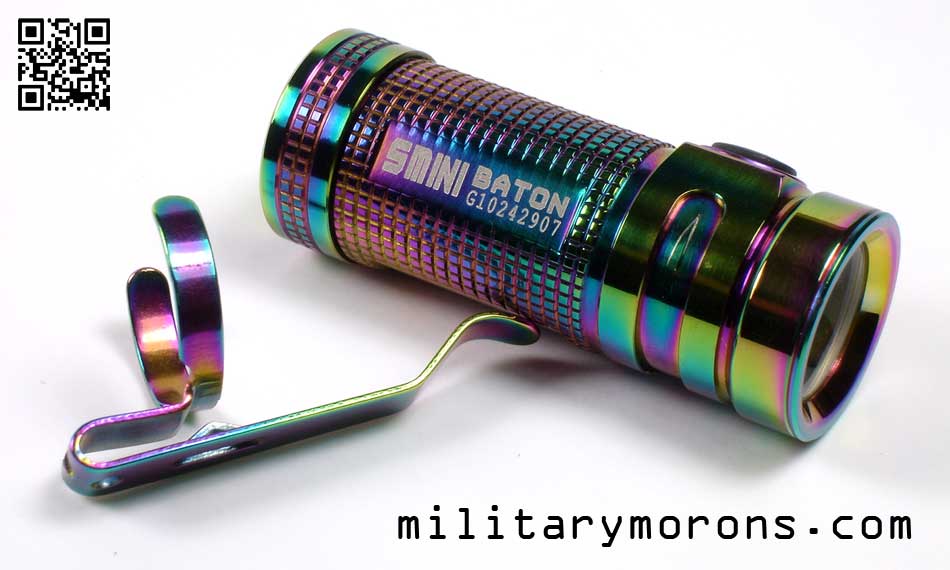 5.11 Tactical (@511tactical) is a member of JTF Awesome.
This article originally appeared on Military Morons.
Military Morons is on Twitter, @militarymorons. You can also follow 'em on Facebook right here. We highly recommend you do. You can find 'em on Facebook, /militarymoron/. 
---
---
This article was lovingly prepared for you by the Breach-Bang-Clear News Team.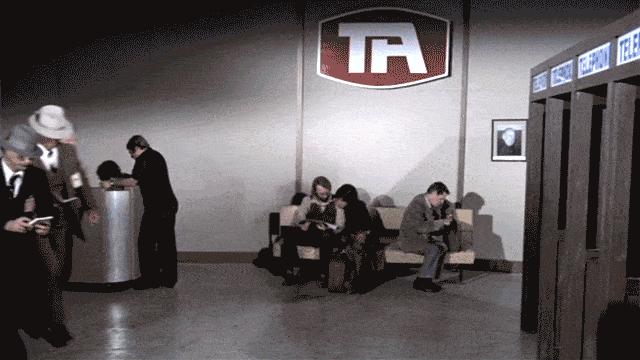 Mad Duo, Breach-Bang& CLEAR!
Comms Plan
Primary: Subscribe to the Breach-Bang-Clear newsletter here; you can also support us on Patreon and find us on Pinterest.
Alternate: Join us on Facebook here or check us out on Instagram here.
Contingency: Exercise your inner perv with us on Tumblr here, follow us on Twitter here or connect on Google + here.
Emergency: Activate firefly, deploy green (or brown) star cluster, get your wank sock out of your ruck and stand by 'til we come get you.