Men With Beards Hoodie Now Available
Warning: do not wear the Men With Beards Hoodie without first reading the directions. These garments are potentially very harmful to sissies, hipsters, social justice warriors and anyone who thinks that gender-neutral titles at MCRD are okay (rifleperson? WTF?).
Buy your blasters, blaster parts, and ammunition at dealer cost. 

This is the Men With Beards hoodie. It reflects the gritty, pipe-hitting truth that it's not guns that kill people – men with beards do. That's not supposition or hyperbole, it's an aphorism.
Grunts: aphorism.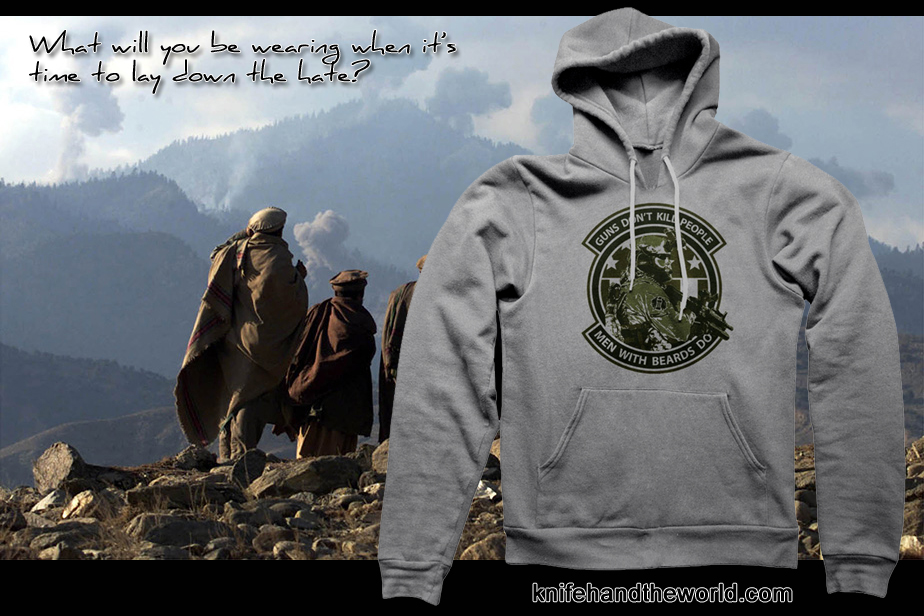 Warning: The Men With Beards hoodie should not be worn by pussies, Sean Penn admirers or any POTUS who fake cries on television. Not ever. It could seriously cause you to burst into flames, especially if you whine a lot or make shit up. These shirts are woven of double rectified face kevlar, hewn into tiny, precious, deadly bits with a hand forged tomahawk recently honed on the petrified bones of a a big dick boss T-Rex. The whiskers are taken from the chin ghillies of assorted badasses engaged in mirth, mayhem and/or direct action in foreign lands while the smell of cordite and burnt insurgent still lingers in the air. The best ones are lined with the skin of irhabists and cannibals, but we can't guarantee you will receive one of those when you order. It's pretty hit or miss. Kind of like when most of you take a piss.
grunts: irhabists


Why yes, you can read and support Breach-Bang-Clear. ↑ There's a good way to do it. ↑
In any case, the collected hairs of those warrior beards are then beaten by buxom, scantily clad maidens until soft as silk using war hammers blessed by Hephaestus, Ilmarinen, and Vulcan in turn (and in that order). They are then rinsed in a solution of pacifist hippie tears (POTUS tears are typically false and have no mojo) prepared by boiling over a fire built from the wood of a recently hugged tree and imbued with essence of Einherjar, woven into cloth by mostly naked redheads and finally sewn into a garment using Chobham armor thread infused with minotaur semen.
The result is a garment utterly suitable for anyone embarking upon the wrathful delivery of Liberty and the vanquishing of evil (or even righteous world conquest, though most of the time we frown upon the idea).
Note: we aren't fucking around about the spontaneous combustion. If you wear skinny jeans, one of those white belts with shiny stuff on it or have any issue whatsoever with justified, well-delivered bloodshed, do not put on this shirt. You will no kidding burn to a crisp, right there. You might even shit yourself first. Just don't.
Buy yours here from Knife Hand Apparel.
For The Dread Pirate Roberts' rodent problem. 
---
Declare for Morning Wood!
Come, stroll the awe-inspiring aisles of the Morningwood Bazaar.  Earn the right to wear our sigil and speak our words.
If you wish to cite, syndicate, or curate our material, or if you're wondering about our please be so kind as to read our Terms, Conditions, and Disclosures.
Take heed! We have advertisers, sponsors, and affiliate relationships with some of the companies you will be reading about (particularly, but not limited to, archival posts). If you purchase one of those items, we will get a small commission from the sale at no additional cost to you. A lot of work goes into Breach-Bang-Clear; by making your purchase through one of our portals you'll be supporting our work. This will help us buy beer, bullets, and barbecue, and we won't have to put pop-up ads and other such stupid shit into our articles to pay our expenses.