Mega Lumens Monday: Surefire XC1B, G2X MaxVision, and G2Z MaxVision

Mega Lumens Monday – A Hallowed Day of Lumens
Patrick Roberts
SureFire has given us cause for celebration on this hallowed day of lumens, and has dubbed it Mega Lumens Monday! So what do they have in store for us? An updated 300-lumen Surefire XC1 called the XC1B, and handheld G2x and G2Z lights with an 800-lumen MaxVision beam.
The previous model of XC1 received mixed reviews since its introduction in mid-2015. Some loved the performance of the 200-lumen light with MaxVision beam pattern, while others made noise about not liking the activation switches or it not being bright enough. Surefire addressed both of these complaints with an updated activation switch system that still allows the momentary-on that the previous model did, but also has a constant-on mode that you can activate with a downward tap on the activation paddles of the cross-bolt type switch. On top of the new activation switch system, they also built 300 lumens of face-melting light into the tiny little light.
While we won't know exactly how much more throw the beam gives a shooter til we get out hands on one for testing, I fully expect it to be about a third brighter than the outgoing model … because math.
But if you'd prefer an off-weapon handheld light but still need all the lumens, the new Surefire G2X and G2Z might just be the ticket. The form factor of the new lights appears not to have changed much at all, but they now include an 800-lumen MaxVision beam when the light is in high out mode, and a dainty fifteen lumens in low output that sounds ideal for reading a map when your spouse nags you into submission.
SureFire says that the new XC1B will run $299 MSRP and will be on the site soon HERE. The G2X will have an MSRP of $109 and can be found HERE, and the G2z will carry an MSRP of $120. You can find the G2Z HERE.
I'm sure that all of you knuckle draggers are dying to get your hands on one of the upgraded lights, but you can get in line behind me. I'm in pressing need of an XC1B in my life to put through my personal, proprietary, patented brand of product hell (like that alliteration?).
Brought to you today by SureFire (/SureFire/). A member of JTF Awesome.
[arrow_feed id='49663′]
---
---
Breach Bang Clear
Breach-Bang-Clear: tactical news, gun news, new developments in the firearm industry, updates from the tactical community, and of course tactical gear reviews.
Breach-Bang-Clear is the online publication of choice for Warrior Scholars, Renaissance Persons, Responsible Armed Citizens, Vetrepreneurs, Adventurers, and people who want to think and be dangerous.
If you wish to share or repost, please so kind as to follow our terms and conditions.
Comms: Our PACE Plan
Primary: You should immediately subscribe to the Breach-Bang-Clear newsletter here; you should also be reading all our pontifications and every single Op-ED we publish.
Alternate: We present superb gun pr0n, knife pr0n, and tactical industry news on on the Breach-Bang-Clear Facebook page; there will be more of that, and some military humor as well, on our Instagram account (@breachbangclear), so be sure to check in there frequently.
Contingency: There will be an additional chance to read tactical news, gun reviews, outdoor gear reviews, adventure equipment reviews, and blade pr0n on our Google + account;
Emergency: Activate firefly, deploy green (or brown) star cluster, get your wank sock out of your ruck and stand by 'til we come get you.
T&C: All original material published by Breach-Bang-Clear is the copywritten property of Breach-Bang-Clear, Inc. If you wish to repost, republish, or otherwise share our content, feel free to reproduce an extract of up to 225 words and one complete, unaltered image, preceded by attribution crediting the source and author's name, to include a link to the Breach-Bang-Clear home page, with a link back to the full article on our website, BreachBangClear.com. You do not require our permission to do this. Please do not reproduce our content in its entirety without contacting us first. We do allow full syndication on a case by case basis (credited, and posted with a canonical link, as is common practice and in good form) but only when mutually agreed upon beforehand. If you wish to reproduce a complete article, please contact us for permission to publish first.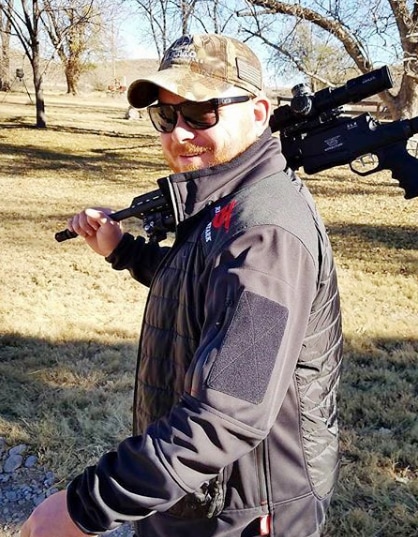 About the Author: Patrick Roberts is a former Boy Scout (like many of our crew, come to think of it), accomplished writer, and gun-loving leprechaun shooting nerd based in Texas. A former senior writer at TFB and a founding member of Firearm Blog TV, he recently struck out on his own with a new site called The Firearm Rack. You can check out some of his videos on The Firearm Rack YouTube Channel here. Roberts describes himself as a, "…firearms enthusiast that values the quest for not only the best possible gear setup but also pragmatic ways to improve his shooting skills across a wide range of disciplines. He values truthful, honest information above all else and had committed to cutting through marketing fluff to deliver the truth." You can follow him on IG if you're so inclined, @thepatrickroberts.