Mega Lumens Monday Round 2 | 500 Lumen Scout Light & 1200 Lumen EDCL2
Mega Lumens Monday round 2 is upon us, with a 500 lumen Scout and a 1200 lumen EDCL2. Breach-Bang-Clear
Mega Lumens Monday No. 2: More Lumens in the Scout & EDCL2
Patrick Roberts
Well, shit fire! There are more new lights to celebrate with another Mega Lumens Monday. SureFore is getting serious about taking on all contenders in the high-lumen game and leaving them in their dust (at least according to their numbers on paper, but you know what they say about assumptions).
First up is a single cell Scout light called the M300C that boasts a 500-lumen output single-mode head.
The M300C, as previously mentioned, can run for an hour on a single CR123A battery before going dark, more than enough time if you're using your light properly. The previous Surefire Scout light had near half the output of the new M300C and probably wasn't well suited for anything beyond close range engagements, but this new light will offer enough horsepower to make mid-range engagements more plausible. I personally can't wait to put one or two of these lights through the ringer, and possibly use them to replace my aging and less-than-reliable Streamlight ProTac Rail Mount 2 lights on some of my rifles.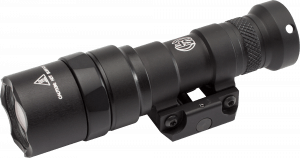 It appears that Surefire has used the widely-adopted Scout mounting system on the new line of Scout lights (that would make sense, wouldn't it?). So finding a mount that puts your light in just the right position shouldn't be hard with a ton of options on the market, but if you want to roll with the included Pic rail mount like a plebe, you can do that too. Surefire has also seen fit to offer both lights in tactical black as well as panty-dropping flat dark earth. Both will carry an MSRP of $299 and will be offered with the push button tail cap with the high-speed tape switch being an additional accessory.
Gone are the days of dim Scout lights. Huzzah!
SureFire also announced a face-melting 1,200 lumen EDC light that should make high lumen junkies happy. The EDCL2 features a two-mode tail cap switch that gives you five lumens with a slight depress of the button, while a full press signals all 1,200 luminary pixies inside the EDCL2's innards to spill through the crenelated bezel. Surefire says the light will run off two CR123A batteries, giving a run time of one hour at 1,200 lumens and sixty hours in the five lumen mode.
The pocket clip is interesting to EDC users since the clip appears to be capable of not only being used bezel-down, but also with the bezel of the light towards the sky. While that might not be the preferred carry method, it sure is useful if you want to clip a 1,200 lumen light to your hat when you need two hands for …. stuff ….
The new Surefire EDCL2 will have an MSRP of $179 and appears to be available on Surefire's website HERE. But if the Surefire M300C Scout light is more your bag, that one will carry an MSRP of $299 and can be found HERE.
Brought to you today by SureFire (/SureFire/). A member of JTF Awesome.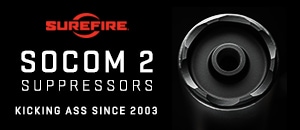 Follow SureFire on Instagram, @SureFire_LLC.
[arrow_feed id='49663′]
---
---
Breach Bang Clear
Breach-Bang-Clear: tactical news, gun news, new developments in the firearm industry, updates from the tactical community, and of course tactical gear reviews.
Breach-Bang-Clear is the online publication of choice for Warrior Scholars, Renaissance Persons, Responsible Armed Citizens, Vetrepreneurs, Adventurers, and people who want to think and be dangerous.
If you wish to share or repost, please so kind as to follow our terms and conditions.
Comms: Our PACE Plan
Primary: You should immediately subscribe to the Breach-Bang-Clear newsletter here; you should also be reading all our pontifications and every single Op-ED we publish.
Alternate: We present superb gun pr0n, knife pr0n, and tactical industry news on on the Breach-Bang-Clear Facebook page; there will be more of that, and some military humor as well, on our Instagram account (@breachbangclear), so be sure to check in there frequently.
Contingency: There will be an additional chance to read tactical news, gun reviews, outdoor gear reviews, adventure equipment reviews, and blade pr0n on our Google + account;
Emergency: Activate firefly, deploy green (or brown) star cluster, get your wank sock out of your ruck and stand by 'til we come get you.
T&C: All original material published by Breach-Bang-Clear is the copywritten property of Breach-Bang-Clear, Inc. If you wish to repost, republish, or otherwise share our content, feel free to reproduce an extract of up to 225 words and one complete, unaltered image, preceded by attribution crediting the source and author's name, to include a link to the Breach-Bang-Clear home page, with a link back to the full article on our website, BreachBangClear.com. You do not require our permission to do this. Please do not reproduce our content in its entirety without contacting us first. We do allow full syndication on a case by case basis (credited, and posted with a canonical link, as is common practice and in good form) but only when mutually agreed upon beforehand. If you wish to reproduce a complete article, please contact us for permission to publish first.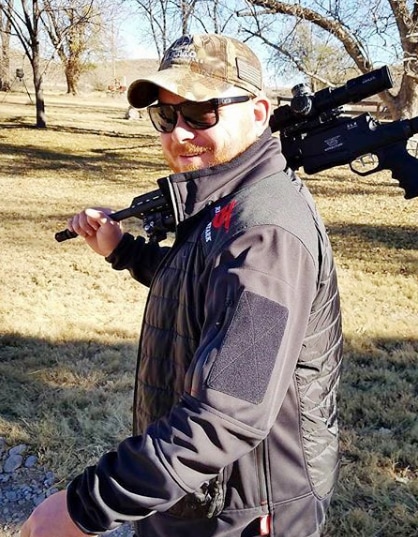 About the Author: Patrick Roberts is a former Boy Scout (like many of our crew, come to think of it), accomplished writer, and gun-loving leprechaun shooting nerd based in Texas. A former senior writer at TFB and a founding member of Firearm Blog TV, he recently struck out on his own with a new site called The Firearm Rack. You can check out some of his videos on The Firearm Rack YouTube Channel here. Roberts describes himself as a, "…firearms enthusiast that values the quest for not only the best possible gear setup but also pragmatic ways to improve his shooting skills across a wide range of disciplines. He values truthful, honest information above all else and had committed to cutting through marketing fluff to deliver the truth." You can follow him on IG if you're so inclined, @thepatrickroberts.