Don't Bleed Out: Gear Locker's Review of the Pocket DARK
EDC/Medical Trauma kits – Don't be stoopid, don't bleed out. We talked about this last week in an article, wherein we mentioned the Dark Angel DARK and Pocket DARK. The Gear Locker recently ran a short review of the latter and let us share share it with you:
The Pocket Dark
via The Gear Locker
DARK Angel Medical sent us their newest product, the Pocket D.A.R.K.  It is a 4″ x 4″ medical kit that can fit into your cargo pants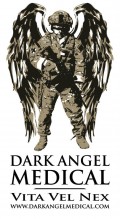 pocket, your vehicle, or your bag.  It allows you have the essentials at hand for treating that medical emergency.
The Pocket D.A.R.K weights in only at 7 ounces and you do not even know you have added it to your bag. We at TGL are carrying it in our 5.11 Triab 18 everyday.  Dark Angel has even added a 2 inch belt loop for the guys that want to run this kit on their belt, which is perfect if you are out on the range, a sporting event, etc. You now have another mounting option to add to the list of features.
If you are wondering what comes in the Pocket D.A.R.K. vs. their Complete Kit, here you go:
SWAT-T: It is a great tourniquet and pressure wrap,. You can use it to fashion a sling or wrap around the rib cage area.
QuikClot Combat Gauze: The Z-Fold, which is in the green packaging comes in a 12′ length and has the haemostic agent baked into it. Helps when you have a severe bleeding issue.
4" Israeli Bandage:  It is a great multi-purpose bandage. Think of it as a multi-tool for compression bandages.
Nitrile Gloves: One Pair is part of the kit.
If you are looking for a great kit that you can keep on your as your EDC, then you need to check out The Pocket  D.A.R.K..  It retails for $84.95 and comes in Black and Tan.
You can order directly from DARK Angel Medical's Website.
Read the original article at http://www.thegearlocker.net/2012/12/pocket-d-a-r-k/
Mad Duo, Breach-Bang-CLEAR!