Marines wear MultiCam (and other Scorpion W2 news)
That's what the Association of the US Army assures us on Facebook as they post a link to an Army Times article. Big Army released a stunningly anemic announcement last Thursday (after duty hours) about their new camouflage. To wit, they are transitioning to the camouflage pattern known during the developmental phase as Scorpion W2. Scorpion W2 resembles the well known MultiCam pattern in several ways (hues not the least) but the two are not the same (though they do share the same name – Operational Camouflage Pattern).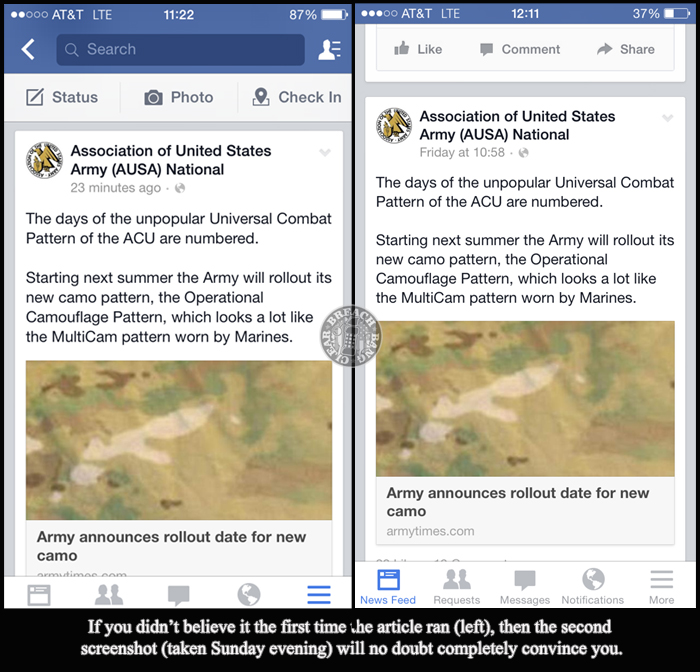 So, despite AUSA's assurance that Marines wear MultiCam (though we're pretty sure they've been wearing MARPAT for at least a little while), you can rely upon the fact that the Army will be wearing the Operational Camouflage Pattern, or OCP. Whatever that is. Using the acronym 'OCP' has been tantamount to saying MultiCam for several years now, but such is no longer the case.  It's a seemingly harmless semantic distinction but rest assured some Sergeant Major, S4 NCO, MILSIM professional or internet commando somewhere is going to get butthurt about it – remember how so many people confused "ACU" with "UCP"?
Small wonder people say the military has its own language. Given how the camouflage change process has gone so far there's one expression most people should know; "fraud, waste and abuse". But, no point dwelling on that now.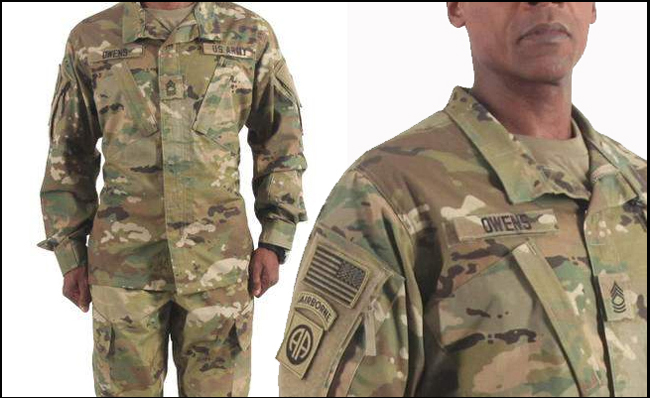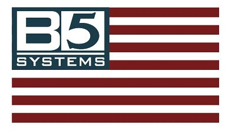 In any case, we're guessing Soldiers will begin seeing uniforms in Scorpion 2. er, OCP, um the new OCP sometime next Fall (though we could be pleasantly surprised). If we're really lucky they'll rewrite or update AR 670-1 to be suitably ambiguous before that happens – especially if they try to draw a distinction between OCP (you know, MultiCam) and OCP (Scorpion 2). Note that the Scorpion being adopted has been modified from its original form (the one from about a decade ago) and will apparently have further IR updates in the future.
There has yet to be an official announcement about book-end patterns or a NATICK- and PEO-soldier based reality show.
You can read some history of the Scorpion pattern here on SSD if you're interested (especially if you're too young or new to service to remember OFW (Objective Force Warrior) or Future Force Warrior (FFW), "Land Warrior" and all the other "upgrade programs" from back in the day. If we sound old and cranky, it's because we are. At least 2 of our minions are old enough to have worn DCUs with BDU tapes and patches during Desert Storm and all of them were around when BDUs and DCUs started going away – basically our crew is like the 2 old judges up on the wall from the Muppet Show. We're watching all this camouflage fuckery and laugh out loud, "You guys suck!"
A decision has been made (thank God) and hopefully Joes and Janes will benefit thereby, both in garrison and deployed. We just wish they'd included a built-in digital camo reflective belt – but hey, maybe they'll make that a part of the new PT uniform. In all seriousness, we're glad the long, grinding wait is over and we congratulate our Soldier friends on a relatively successful conclusion. We're sorry you had to wait through over a decade of war for them to sort it out.
You can read some more about the Scorpion W2 OCP ACU here on Soldier Systems Daily (there's as much interesting info in the comments and the article), over here on Kit Up! and also on Gear Scout. We would suggest avoiding the Association of the Army, as apparently someone there is relatively clueless.
*cue someone saying the Army should have gone to MARPAT in 3…2..1…*