Made to Order TruckVault – Perfect for Fury Road

Made to Order TruckVault – Perfect for Fury Road
Apocalypse Josh, Breach-Bang-Clear News Desk Guest Anchor
Got a lot of gear, tools or equipment you haul around in your truck, van or ute*? Sensitive or valuable stuff you don't want a'wanderin' off or getting trashed? Sometimes tossing it in a duffle and throwing a tarp over it just won't do the job.
Luckily there are professional solutions available. One such is TruckVault — a reputable company with multitudinous modular offerings.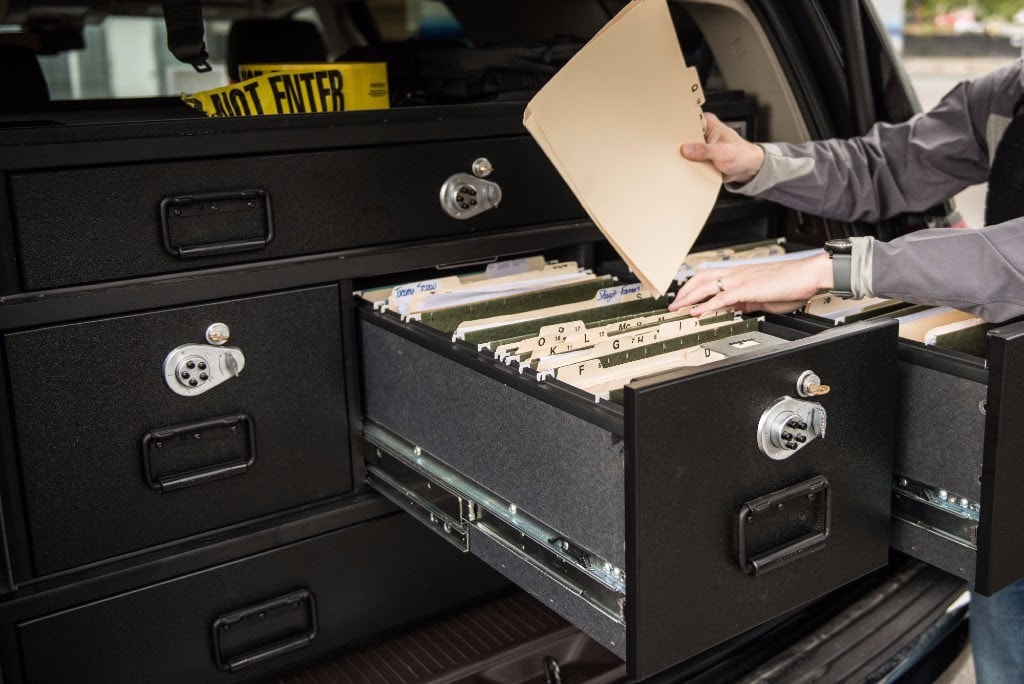 Grunts: multitudinous.
TruckVault has been in business since 1995 and are recognized worldwide as a leader in the secure in-vehicle storage solution market. Their mission statement is simple;
"Manufacture and sell superior quality secure storage and logistics support solutions to Public Safety officials, Businesses and Outdoor Enthusiasts and back this up with constant product improvement processes, a limited lifetime warranty and a dedication to customer service that we go unrivaled."
This has apparently served thousands of happy customers well.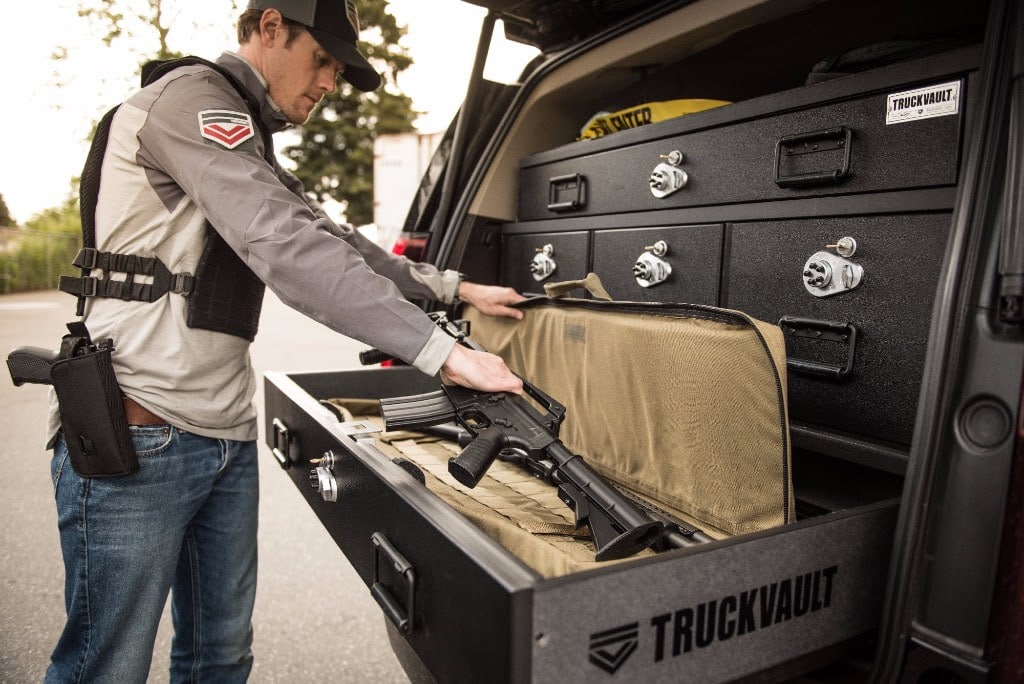 TruckVault has a solution for damn every secure in-vehicle storage need you can imagine, whether it be for a Pick-Up, SUV, Sedan, Van or any other vehicle on the road today. In addition to their wide array of stock designs, they will also work with you to address specific, custom needs.
Their team of "…highly skilled Territory Representatives" are tasked with walking customers through every step of the design. They tell us they take great pride in their products and the quality they represent, and thus far we've seen no reason to doubt it.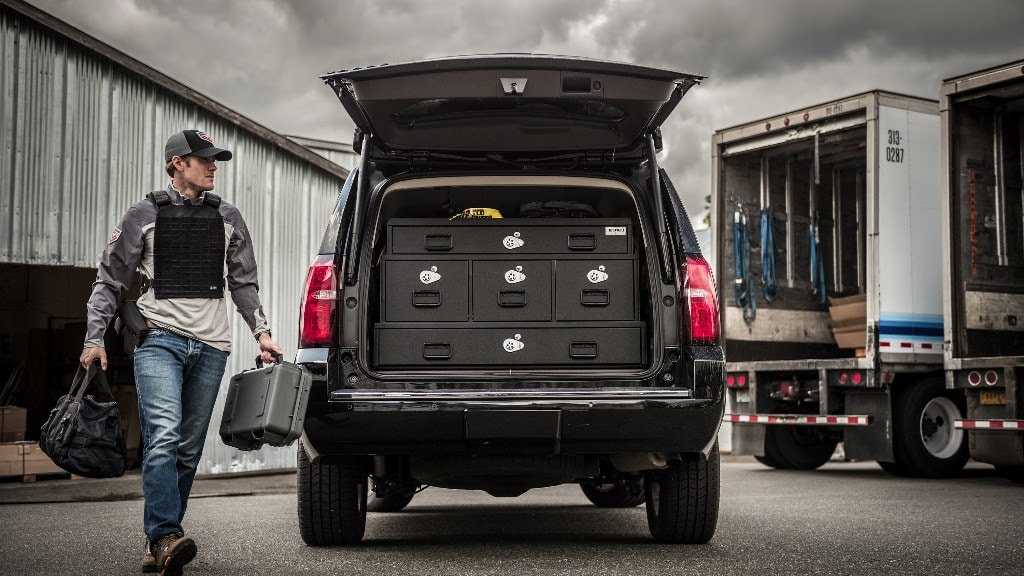 In fact, some of their best product enhancements have come from customers' abilities to think literally outside and inside the box. It's essentially a customer design process.
TruckVault pledges to be able to customize the size, number and orientation of the drawers of a customer's storage system to create virtually any necessary configuration. If you have tanks, tool boxes, or other equipment what needs ter be squared away, they says, just provide 'em with detailed measurements and they can customize something to fit.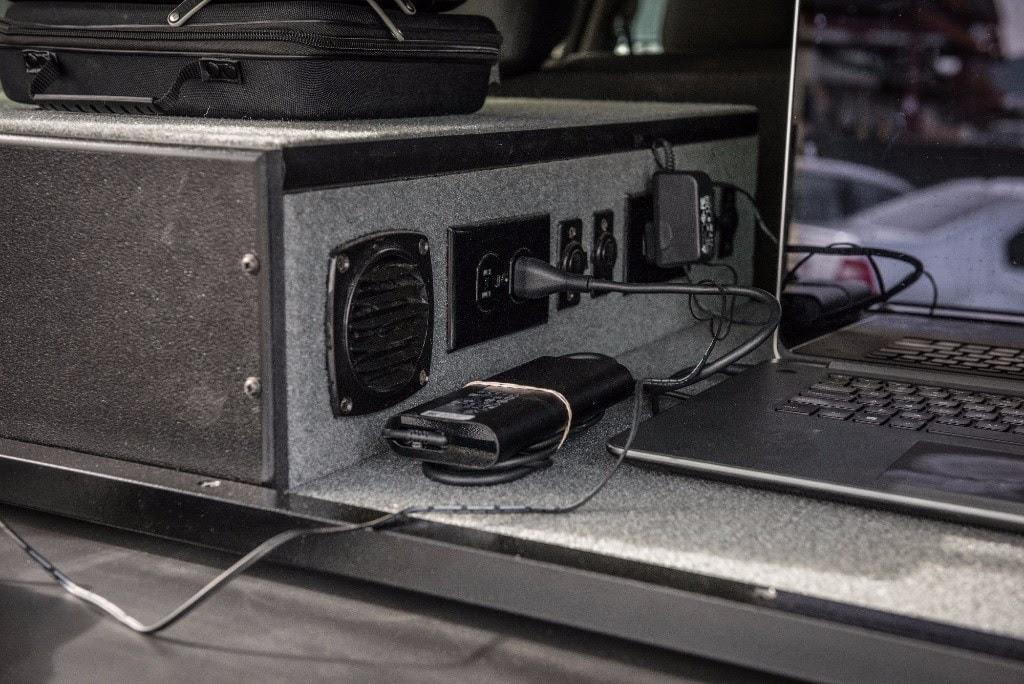 Protection from the Elements
Open back vehicle like a pickup or ute? Waterproof and dustproof, the Extreme Series TruckVaults adds function to uncovered trucks with virtually no trade-off. Haul cargo, equipment or debris, enjoy every aspect of the open cargo area, while adding a secure base layer to thwart a growing community of criminals.whilst you're away doing  the work.
Standard or taller Magnum height units (*snicker, Magnum) balance cargo priorities and needs. In either case, the unit structure can carry 2000 pounds of cargo on its surface without flinching. Choose drawer configuration, fine tune divider options and complete your pickup's transformation to secure performance vehicle.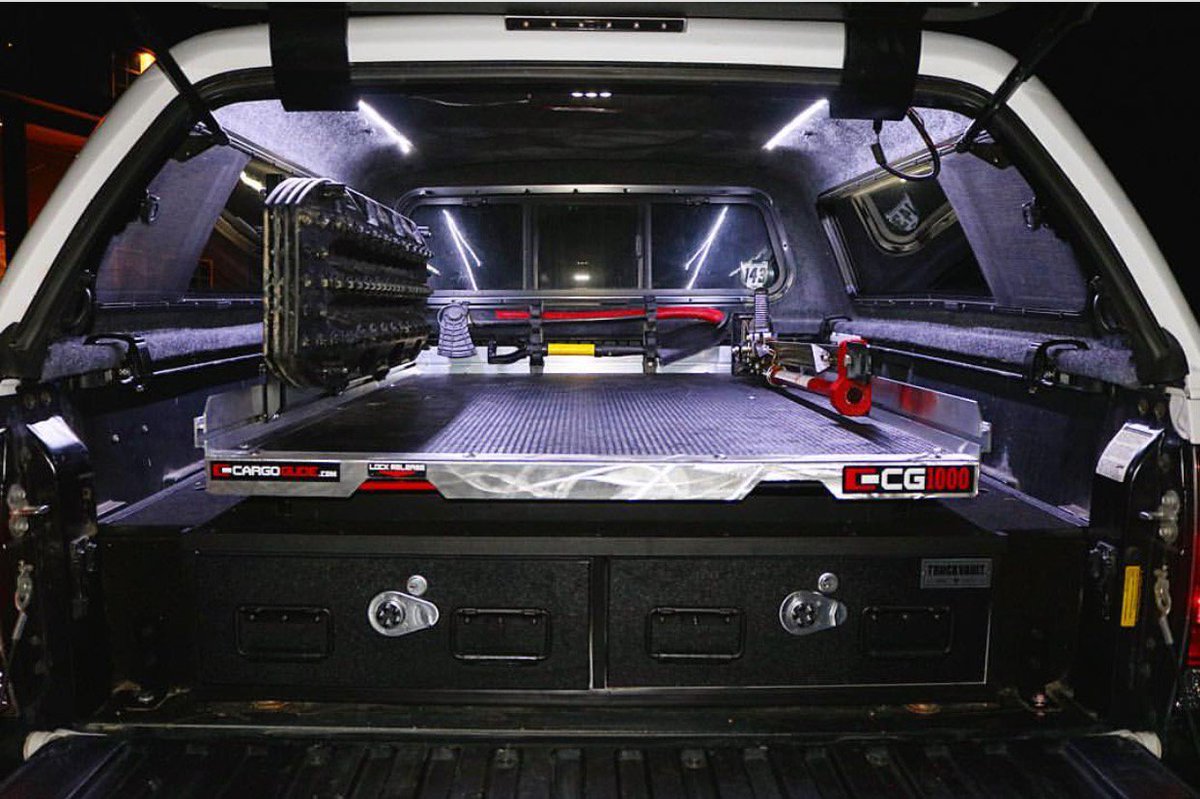 Have a specific need or a custom idea for a build? Give them a call to start designing your ultimate secure in-vehicle storage system. Looking at the options I've be imagining a bug-out vehicle with a households worth of loot that Mad Max would be envious of! Or a dive-truck to suite all of Jacques Cousteau's needs.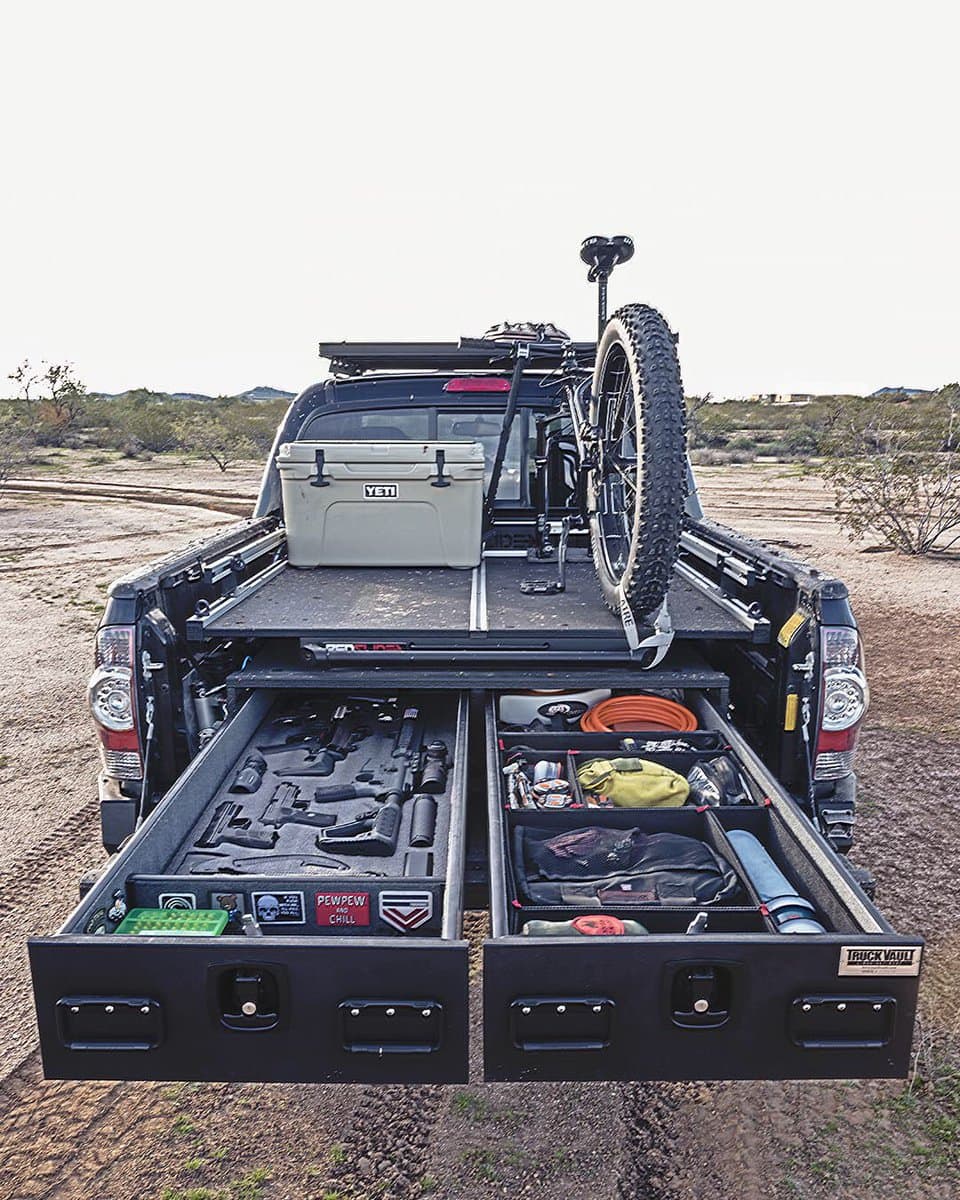 Security At your Fingertips: Command Centers!
TruckVault's line of Command Centers allow their customers to stack multiple drawers, cubbies, and other storage systems to maximize the secure storage space available. If you're looking to turn your vehicle into a rolling command post, with all administrative, comms and operational gear secure at your fingertips, then the Command Center line might be for you (and damn sure beat hauling stuff around in milk crates in any event). Power, desk-space, whiteboards, computer workstation, filing cabinets, specimen or evidence lockers, plan, blueprint or map storage areas? Can do!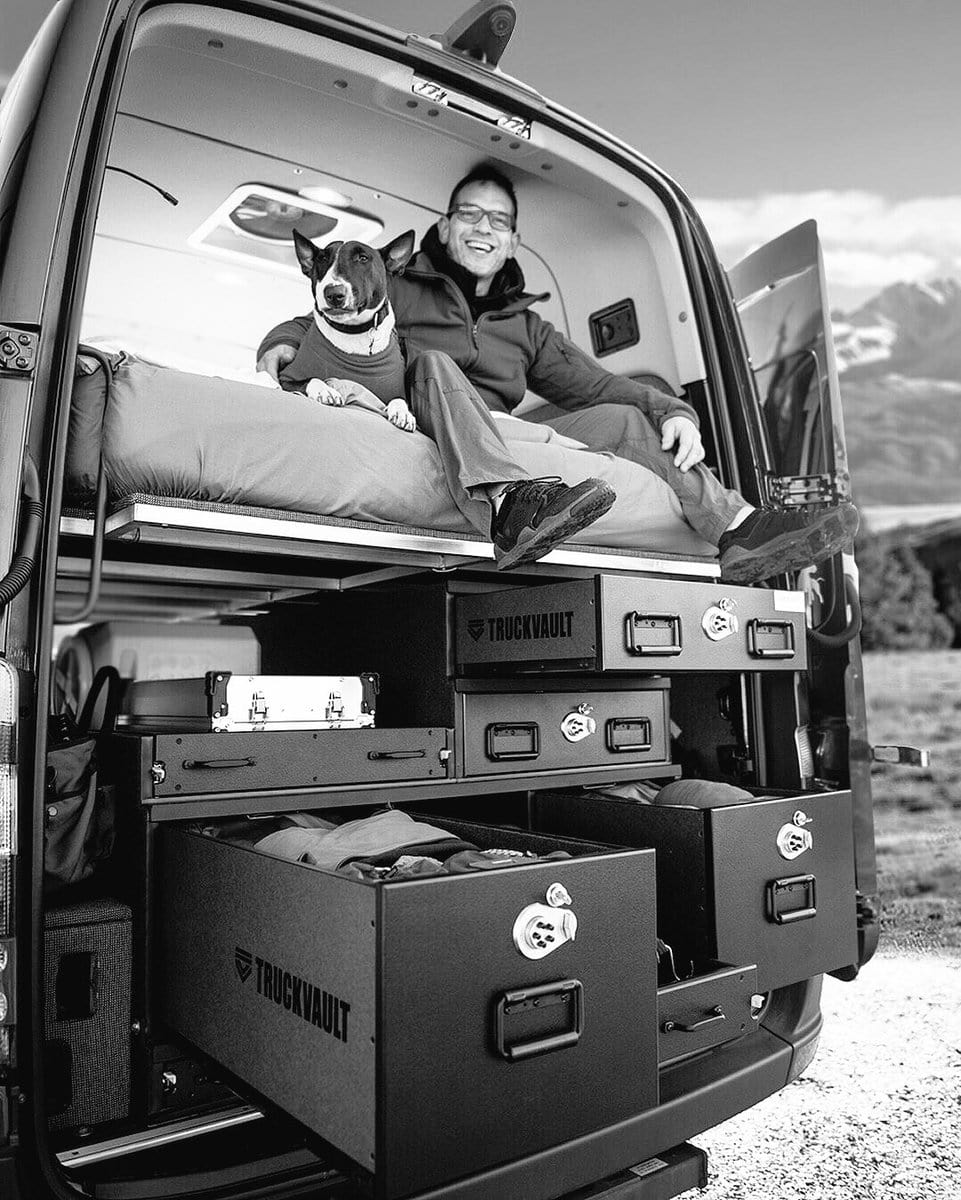 Military Applications.
TruckVault products look to be well suited for meeting a wide array of military/LEO/tactical needs (and standards). As they tell it, their,
"…history of building high quality, reliable, and rugged secure in-vehicle storage solutions, which perform flawlessly under harsh environmental conditions, make us a smart choice for securing whatever valuable or sensitive equipment you have."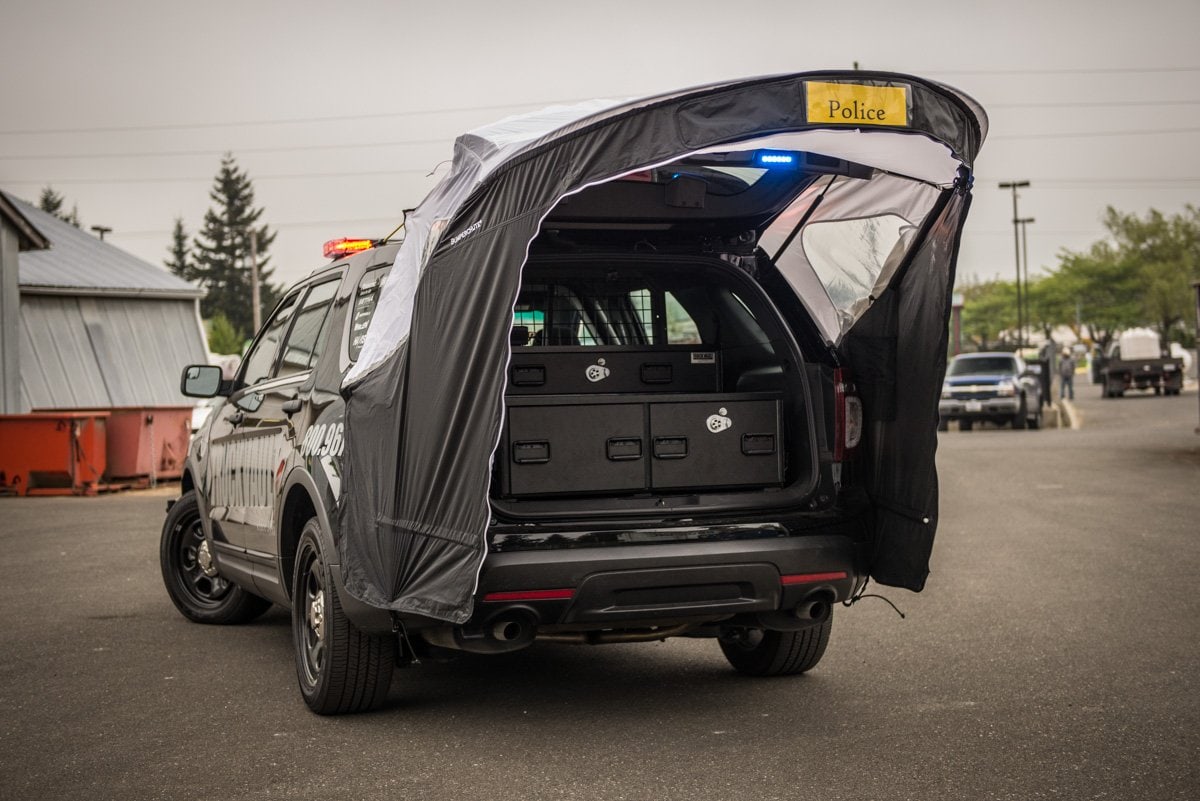 "Hot or cold temperatures, mud, grit, dust, water are of no concern when out on tactical field operations when your sensitive equipment and or firearms are secured in a TruckVault."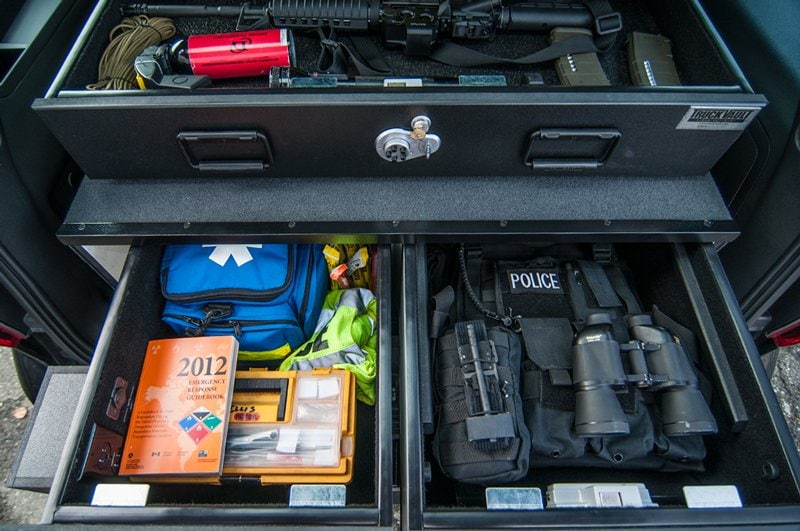 "Regardless of your pick-up bed size and length we make a TruckVault product that will enhance both your security and organizational needs. We have designed numerous models both for covered and uncovered pick-ups that fit and conform to your bed dimensions and are available in both standard and magnum height versions."
"Carpeted units are designed for pick-ups with toppers and feature heavy duty locks, full length drawers and a divider package that helps you organize your stored items efficiently. A top load capacity of 1,000 lbs. will ensure you will arrive safely with your cargo."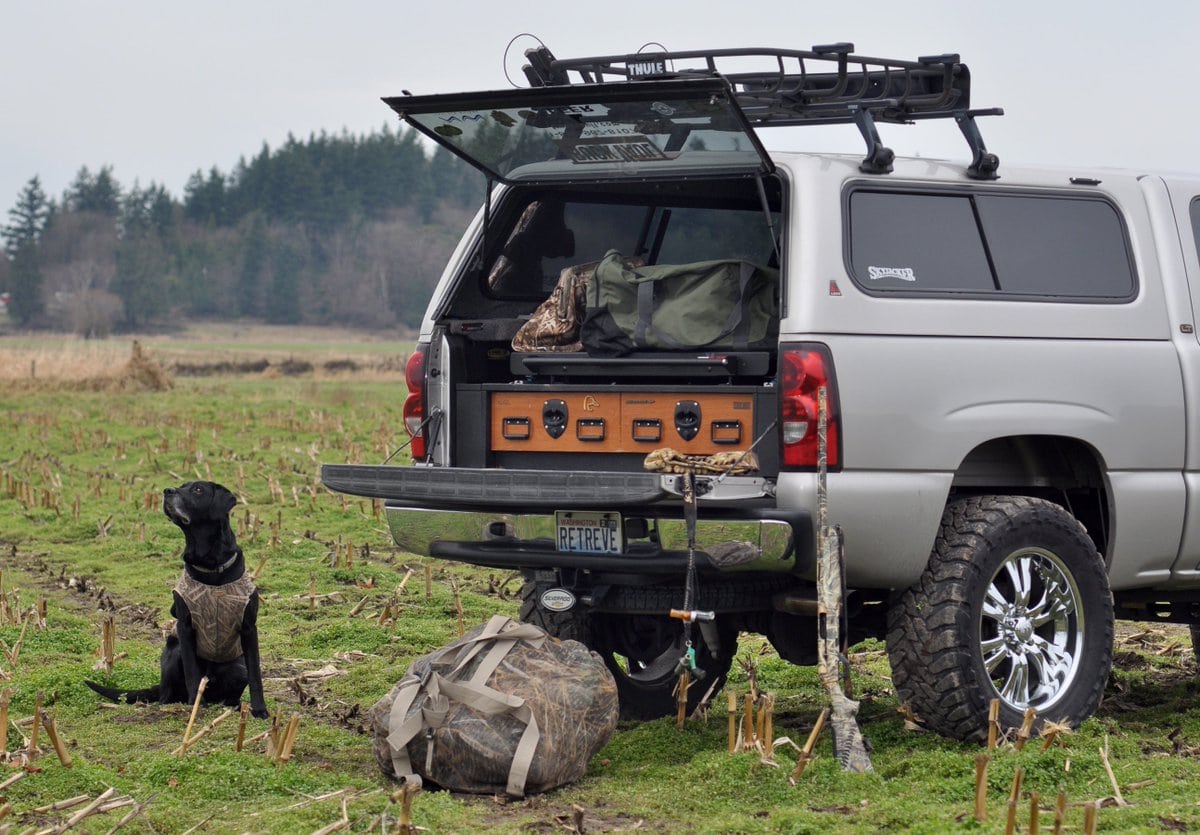 You want custom features? TruckVault have them.
"Order yours in a variety of beautiful hardwood finishes and then deck it out with in-drawer lighting, tie down rails and top it off with an electronic key fob locking system for a sleek look and you have the ultimate in secure in-vehicle storage that your work or hunting buddies will be sure to be envious of.

For the ultimate in our pick-up line you will want to check out our The Extreme Series All-Weather TruckVaults that are designed for pick-ups without toppers and feature tough heat applied spray on armor coating and bulb sealed/compression locked drawers to keep dust, grit, crud and water out. Add tie down rails to this unit, which boasts a top load capacity of 2,000 lbs., and you'll truly have an in-vehicle secure storage system to be reckoned with."
No matter the secure storage needed for your pick-up, it's pretty damn likely TruckVault has an answer for you.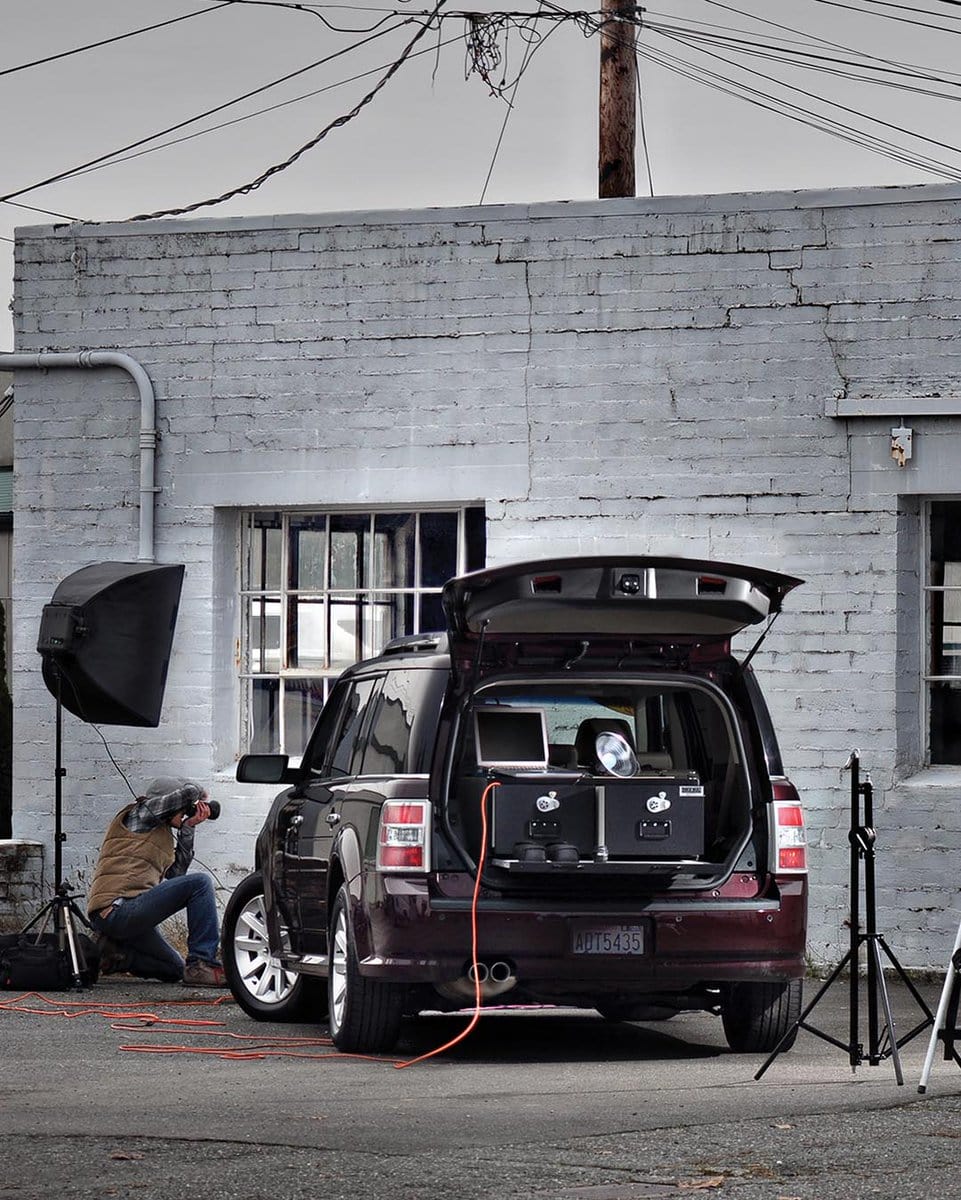 This kit makes me really makes me wish I had reason and facility to deck out my personal vehicle. Alas, 'till I do, I'll just have to ride eternal on the Fury Road.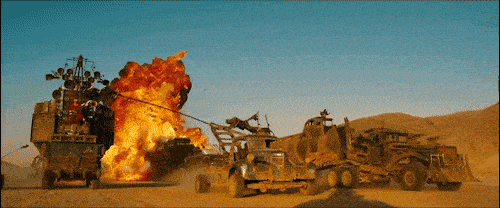 *Aussie slang for utility vehicle, not the Indian tribe.
5.11 Tactical (@511tactical) is a member of JTF Awesome.
---
---
If you wish to share or repost, please so kind as to follow our terms and conditions.
Mad Duo, Breach-Bang& CLEAR!
Comms Plan
Primary: Subscribe to the Breach-Bang-Clear newsletter here; you can also support us on Patreon and find us on Pinterest.
Alternate: Join us on Facebook here or check us out on Instagram here.
Contingency: Exercise your inner perv with us on Tumblr here, follow us on Twitter here or connect on Google + here.
Emergency: Activate firefly, deploy green (or brown) star cluster, get your wank sock out of your ruck and stand by 'til we come get you.
T&C: All original material published by Breach-Bang-Clear is the copywritten property of Breach-Bang-Clear, Inc. If you wish to repost, republish, or otherwise share our content, feel free to reproduce an extract of up to 225 words and one complete, unaltered image, preceded by attribution crediting the source and author's name, to include a link to the Breach-Bang-Clear home page, with a link back to the full article on our website, BreachBangClear.com. You do not require our permission to do this. Please do not reproduce our content in its entirety without contacting us first. We do allow full syndication on a case by case basis (credited, and posted with a canonical link, as is common practice and in good form) but only when mutually agreed upon beforehand. If you wish to reproduce a complete article, please contact us for permission to publish first.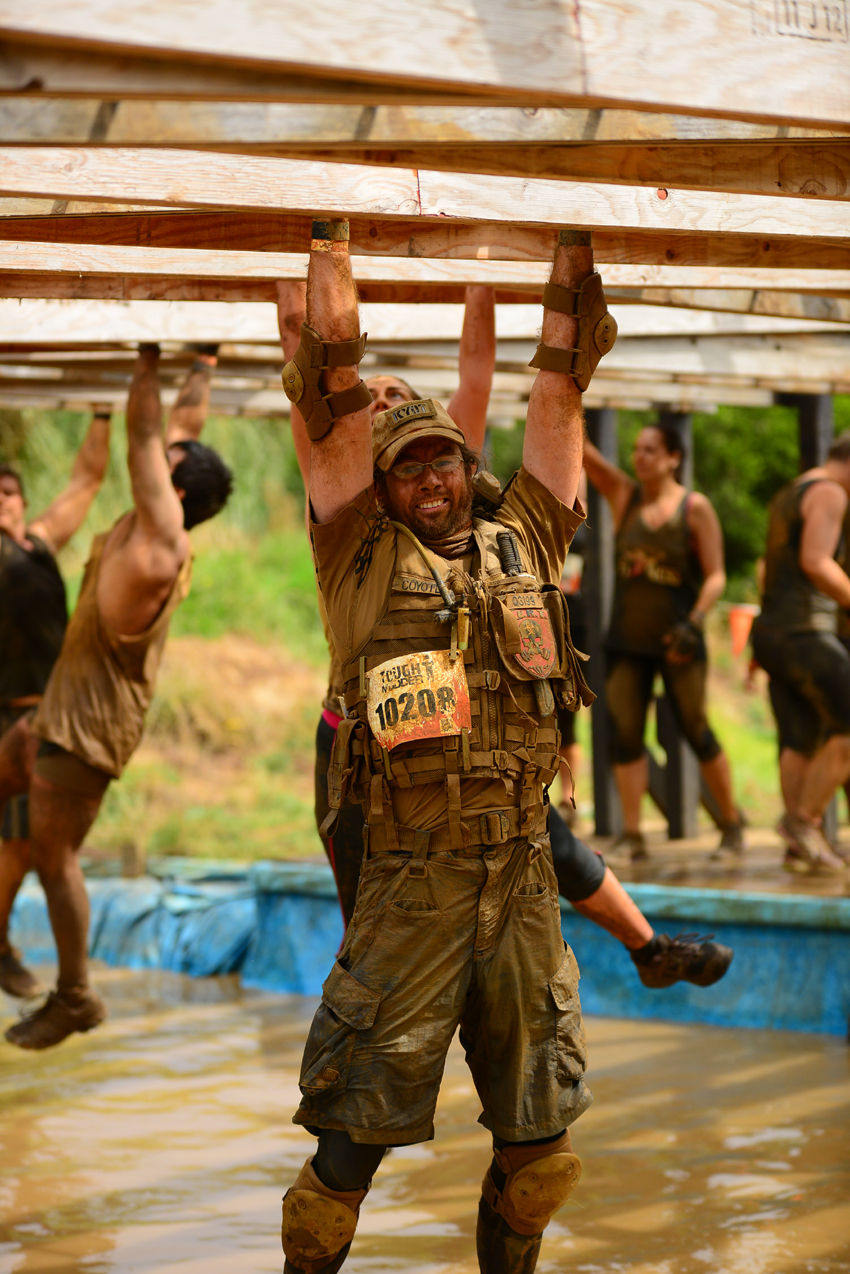 About the Author: Josh Orth is a second generation expat currently dwelling in the arguably civilized outskirts of Melbourne, Australia. He's lived in deserts, jungles and urban sprawls around the world and traveled/adventured into assorted inhospitable places all over the globe, from near-dystopian parts to cities to Gabon, west Africa. Thus he has a keen sense of the speed with which the trappings of 'civilized Western life' can disappear. This has led him to begin writing about his interests and observations when it comes to the gear, skills and other necessities of self reliance of being equipped for whatever a capricious, occasionally indurate life might throw at him. This isn't by any means to say our eccentric friend truly experiences genuine vorfreude about dystopian life, but if he had to he might not complain. Read more by Josh at Apocalypse Equipped.
Grunts: vorfreude.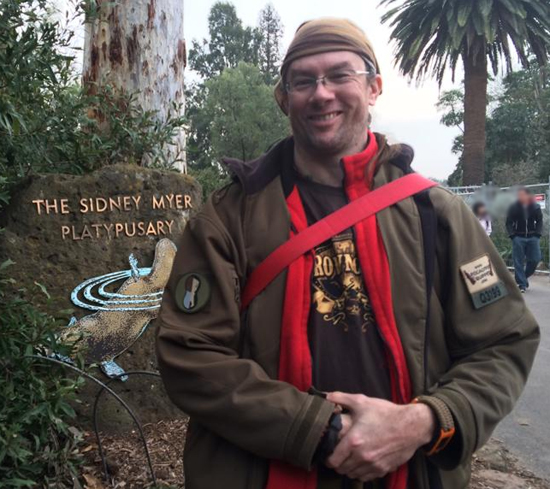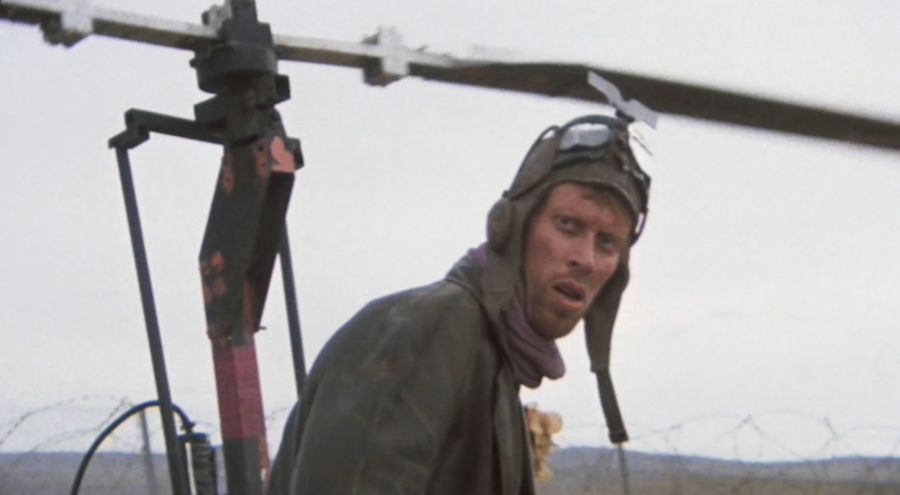 We're not saying Josh flies a PL-12 Airtruk. We're just saying this guy and Josh have never been seen in the same room together at the same time.