MNKF: New & Shiny Edition

Monday Night Knife Fights: New & Shiny Edition
We've yet to meet anyone who doesn't like a great knife, so we thought we'd show you a few new ones. Some of these just debuted at SHOT Show 2017.
1. The first comes from TOPS Knives. They were founded in 1988 and have been making knives ever since. Their founder's resumes show extensive backgrounds in the military. They use this combined knowledge and skill to enhance their designs.
Here's what TOPS has to say about the I.C.E:
In Case of Emergency – The I.C.E. Dagger was designed with law enforcement and military personnel in mind. It will serve as a backup blade in case their firearm is inoperable or inaccessible. The ICE Dagger's compound grind combines a ferociously strong tip with an edge that slices through flesh and material effortlessly. It is comfortable in forward and reverse grips. The finger ring aids in rapid deployment and retention of the blade and has contours to maximize its ability to be used as an impact weapon. Add in a smartly designed Kydex sheath that provides multiple carry options and it's easy to see why this knife will be popular.

Specifications

Overall Length: 7.75"

Blade Length: 3.0"

Cutting Edge: 2.88"

Secondary Cutting Edge: 2.88"

Blade Thickness: 0.13"

Blade Steel: 1095 RC 56-58

Blade Finish: Black Cerakote

Handle Material: Black G10

Knife Weight: 4.5oz

Weight w/ Sheath: 6.5oz

Sheath Material: Black Kydex

Sheath Clip: Neck chain or beta loops

Designer: Andy Tran

MSRP: $180 or $190

There are two options on the ICE Dagger. Basic option comes with a neck chain and then customers can add whatever clip system they prefer for attaching the knife to a belt or their gear. 2nd option costs $10 more and comes with Beta material loops that give multiple options for carry.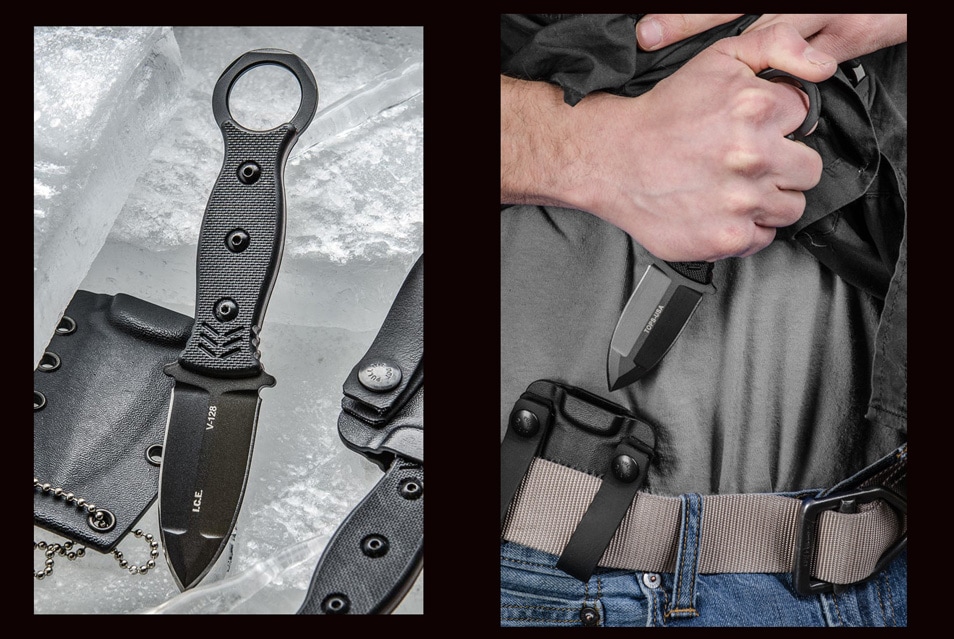 You can locate TOPS Knives online and the I.C.E. Dagger here.

2. The second blade is from DoubleStar Corp. They call it the CrashHawk, a mix of a crash axe and tomahawk; hmmm…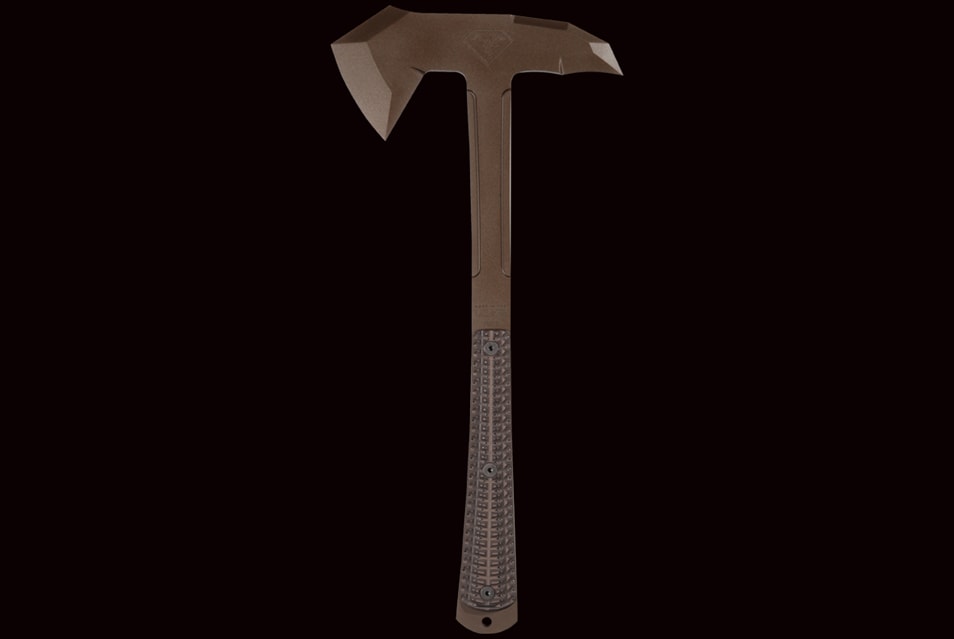 DoubleStar Corp, manufacturers of high-quality, US-made AR components, rifles and pistols, is proud to announce the first edged weapon that brings the best elements of a crash axe and tomahawk together in the truly modern "CrashHawk". The Wrath was purpose-built, combining the close proximity weapon, chopping capability of a crash axe with the multi-use functionality of a tomahawk from prying to piercing, splitting and breaching.

The face and beard of the Wrath have the power and stroke to cut the A-pillar out of a full-size car and still maintain surgical precision in the proper hands. Utilizing a scalloped spike, the Wrath increases penetration with the same slicing effects of serration and will go right though most sheet metals with ease. Cabrera custom designed the handle and texture to give the right amount of retention without being too abrasive on the hands. Last but not least, DoubleStar's selection of .285 S7 tool steel is way beyond bullet-proof. The Wrath weighs in at 2 lbs. 1 oz. and measures a compact 16.5″ with an MSRP of $564.99.
Here's more about DoubleStar, in their own words:
DoubleStar Corp. was formed when customers of J&T Distributing, a leading supplier of thousands of AR parts and accessories, requested complete rifles and pistols crafted from the same high-quality, U.S.-made components. DoubleStar now supplies not only the commercial market but military and law enforcement forces across the world with rugged and dependable firearms.
Here's a video to tell you a bit more.
Finally, to keep your knives in the best condition possible, check out the F23 Knife Maintenance Kit, collaboratively designed by Breakthrough Clean & Jake Hoback Knives.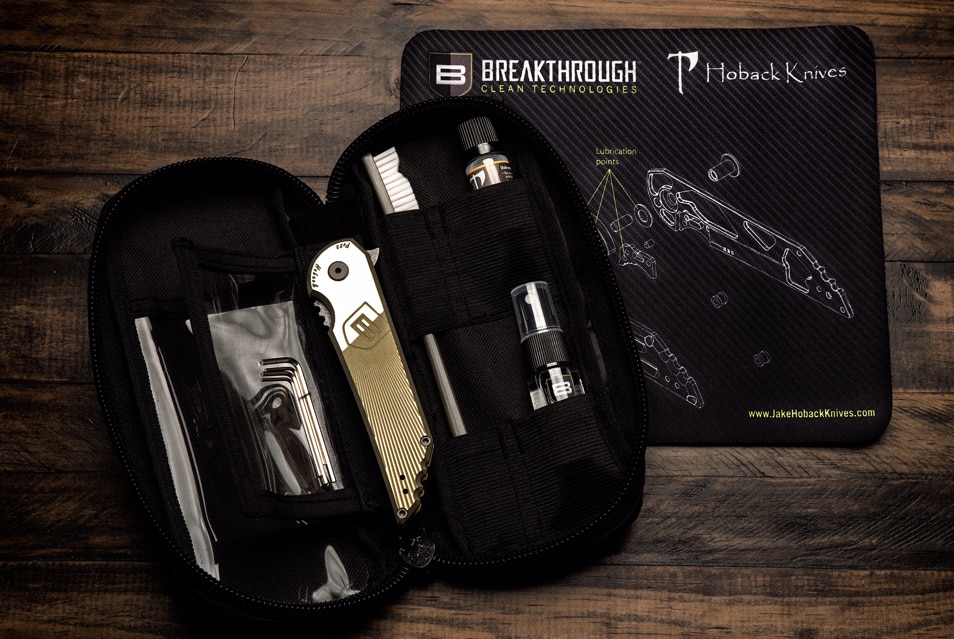 The F23 Knife Maintenance Kit addresses a need in the industry for the ongoing care and maintenance of knives. Although cleaning kits are very common in the firearms industry, and everybody knows you have to clean a gun to keep it in top operating condition, there are many knife users and collectors who are unaware that they need to clean and maintain their knives in a similar way.

Jake envisioned a product that could cater to the specific needs that knives have and firearms don't, and partnered with Breakthrough Clean Technologies to design an edged-tool lubricant that features a boundary additive to aid in lubricating, protecting, and enhancing the operation of all types of knives (especially folding knives).
The F23 Knife Oil is a specifically-designed knife and cutlery lubricant. Jake spent months testing different formulations and additives in search of an effective, long-lasting lubricant that won't evaporate. The goal was to create a lubricant that will protect edged weapons and enhance the bearing and pivot movements on a folding knife. Special attention was also paid to the capillary effect that is present when joining two pieces of steel together; it is critical to provide and retain sufficient lubrication in those capillary spaces.

The F23 Knife Maintenance Kit includes:

Formula 23 Knife Oil

Breakthrough Clean Solvent

Cleaning Brush (Plastic)

Cleaning Cloth

Knife Disassembly Tool Pack (Allen Wrenches)

Knife Cleaning Mat

Storage Pouch

Jake Hoback Knives PVC Patch
The maintenance kit will run you $35.00 U.S. You can find the F23 online right here.
*Featured image credit: forumopencarry.org
---
---
[wdi_feed id="23″]
Mad Duo, Breach-Bang& CLEAR!
Comms Plan
Primary: Subscribe to our newsletter here, get the RSS feed and support us on Patreon right here.
Alternate: Join us on Facebook here or check us out on Instagram here.
Contingency: Exercise your inner perv with us on Tumblr here, follow us on Twitter here or connect on Google + here.
Emergency: Activate firefly, deploy green (or brown) star cluster, get your wank sock out of your ruck and stand by 'til we come get you.