Low-Light Shooting Tactics and Self-Defense
Low-lighting shooting tactics, which are often more required for self-defense than "complete illumination" tactics, are a skillset unto themselves. Here's one take on some aspects of them, courtesy of Guns & Ammo. Breach-Bang-Clear

Low-Light Shooting Tactics and Self-Defense
News Desk via Guns and Ammo
Low-Light Shooting Tactics and Self-Defense are complicated; there are however tools and practices you can use to alleviate this. A flashlight is an essential tool that offers several uses; it can illuminate the environment for identification of potential threats and hazards, provide a momentary advantage by blinding an assailant, and serve as an impact weapon. A flashlight can also be used efficiently as a headlight for a handgun. A recent Guns and Ammo article discusses the difference between flashlight shooting technique training for on-duty situations and using a flashlight in civilian self-defense.
"Like many diligent shooters, the student had spent a lot of time and effort agonizing over the best flashlight shooting technique and the most effective low-light tactics. Although I certainly respected his efforts, as a civilian CCW permit holder, I feel that there was very little correlation between what he had trained to do and what he would actually need to do in a defensive shooting situation."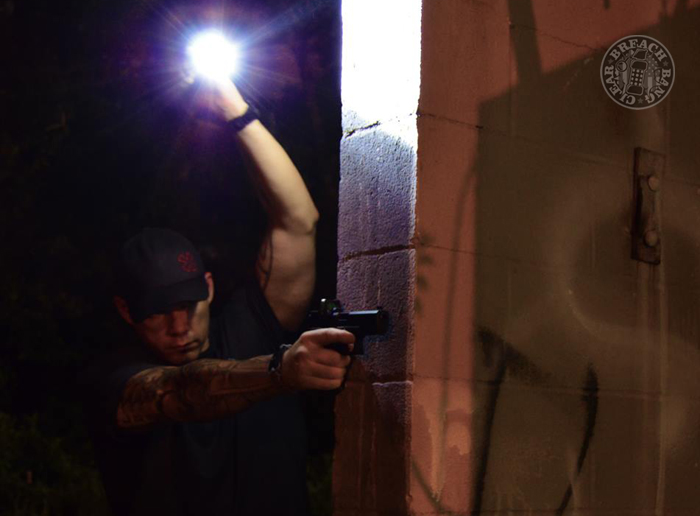 "I always make a point of remembering that I am a civilian and the most likely application of my skills will be in a self-defense context. That means that my decision-making process should also be rooted in the logic of self-defense, not an excuse to apply my training."
Read the rest of the article on Guns & Ammo here:
Low-Light Shooting Tactics and Self-Defense
Additionally, we published Tactical Professor's article on flashlight shooting last July. You can read that here:
Friday Fundamentals 04 | Shooting With a Flashlight
---
Support Breach-Bang-Clear.

Click on the ad below and visit a sponsor. Help us pay our ebject minions the paltry sum they so obviously don't deserve.
If you wish to cite, syndicate, or curate our material, please be so kind as to read our Terms and Conditions.
---
From the News Desk…
Breach-Bang & CLEAR!
We're not comparing ourselves to these folks at all — hell, we'd be more qualified to join the Justice League. We're just saying these are people you should know.