Lot of Casket for the Cash: Seahorse Protective Equipment Cases

It makes sense to spend a little bit of money to protect your expensive rifle (or four dozen cheap Hi-Points) during transportation. The last thing you want to do when you reach the end of your journey is find your optic smashed. Today, we bring forward another option for your consideration Mad Duo
There are a lot of big names in protective carry cases out there, producing hard polymer products to protect your valuable firearm. Unfortunately many of these cases cost as much as a new gun, pricing themselves out of the hands of many shooters who need them. Fortunately, we just discovered a company we'd never heard of, let alone had experience with. This is pretty embarrassing, since they've been in business since 1997.
Seahorse Protective Equipment Cases is based in La Verne California, and has been producing rugged polymer cases for nearly twenty years. They offer a solid unconditional lifetime guarantee on all their cases, and produce everything here in the good ole' USA. Obviously these are things we like when looking for a new rifle case.
They produce a range of polymer cases that are airtight, waterproof and full of features, for significantly less than their competition. After scoping out their selection at SHOT Show 2015, we were impressed with their designs and requested one for review. A few weeks later, a sample arrived.  Seahorse provided us their SE-1530 case, in their very FDE "desert tan."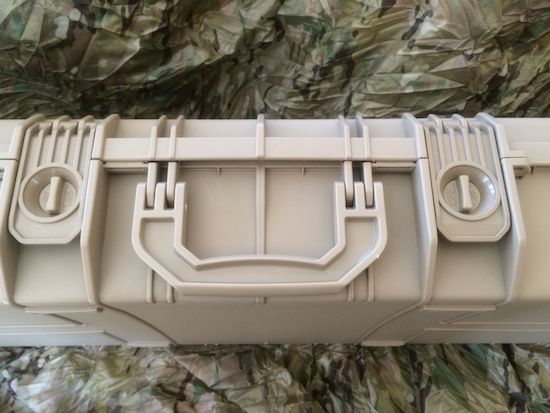 Seahorse produces a wide range of rugged polymer storage cases, but currently only one size rifle case (the case we reviewed). With an exterior of 46.6"x 16.7, the case is large enough to fit most common firearms. We had no trouble fitting shotguns, most of our bolt guns, or two tricked out AR-15 carbines inside. The inside measure 44.5" long with a width of 14.29" and depth of 6.22". Realistically, this case is pretty much "one size fits most", and will work well for every gun but long barreled bolt actions. If you plan on using the case for your ARs, AKs, or SCAR Heavy, you are good to go. You will even have room left over for a pistol and magazines!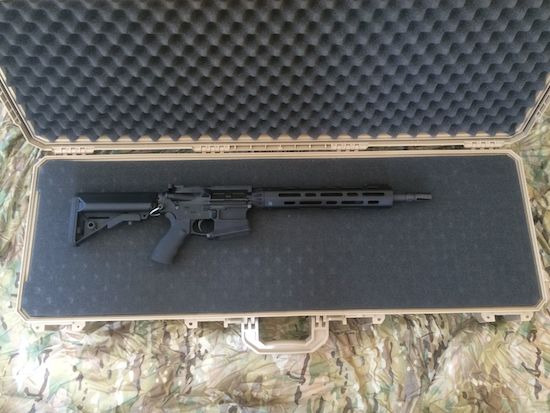 The case itself is constructed of impact resistant polymer, with four large locking bars for closure. We like that they left locking tabs off the far ends of the case, as we generally view these as an unnecessary inconvenience.  Each of these locking tabs houses a recessed, rotary secondary lock. These are easy to engage even with gloves, and really don't need to be used (although we would use this feature when flying with our firearms). Along the same side of this case, you'll find six molded pockets for large master locks to further secure the contents. The lid of the case features a full-length rubber gasket, which is recessed and won't fall out randomly like those in other cases we've used over the years. It also overlaps with the main body of the case, to provide added strength to the design. The lid's interior holds a section of egg-crate style foam that also stays in place when opening.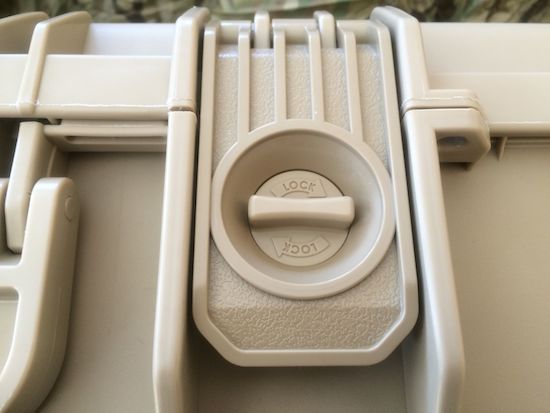 The main body of the case has a built-in, unobtrusive self-purging valve and two large carrying handles. The handles are large and comfortable to hold, even with a heavy load inside the case. Hinged to swivel away for storage, the handles hug the side of the case closely when not in use. A side handle allows "briefcase" carry, but you'll likely use the top handle most as you wheel the case around. Seahorse uses two wide, 3″ Urethane wheels with ball bearing to facilitate a smooth glide on both concrete and or interior flooring.  The body of the case also has molded-in mounting bosses underneath the interior foam, allowing you to hard mount the case should you need to.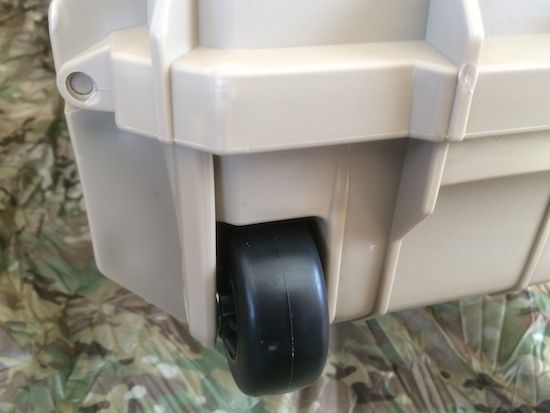 Seahorse cases have the option of precut, grid pattern foam so you can cut it out to fit specific equipment. The foam itself is 2" thick and the case is double lined so you can actually sandwich more firearms underneath the top layer. This provides you the ability to carry up to four long guns in a very small space. Our recommendation is that if you order a case with the cut-out foam and fit it for a specific firearm. But do it the right way. Use chalk to outline the gun, or pull the foam out and trace the outline with sharpie on the underside. This will look sharper, and not leave permanent marker lines everywhere. 

Overall we think the Seahorse cases are pretty solid, especially for the price. The rifle case with cut-out foam is only $128! It's no featherlight at nineteen pounds, but will hold up to the task of protecting your gear from breakage and moisture. The company offers a selection of other cases as well, and after using this model we plan on picking up one of their laptop cases. We think you'll be amazed by their quality and pricing; we're impressed with both, especially for an American-made product.
Check out Seahorse Protective Equipment Cases or follow them on Facebook. You'll be glad you did. 
Mad Duo, Breach-Bang& CLEAR!
Comms Plan
Primary: Subscribe to our newsletter here or get the RSS feed.
Alternate: Join us on Facebook here or check us out on Instagram here.
Contingency: Exercise your inner perv with us on Tumblr here, follow us on Twitter here or connect on Google + here.
Emergency: Activate firefly, deploy green (or brown) star cluster, get your wank sock out of your ruck and stand by 'til we come get you.